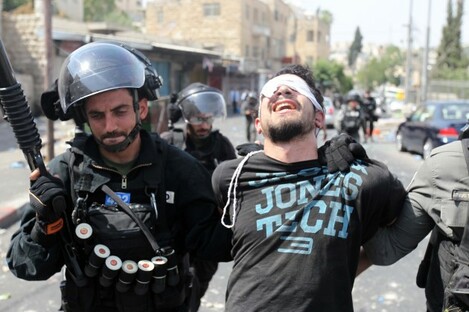 Israel says new security measures are needed but Palestinians say they have no right to implement them. Source: Muammar Awad/PA Images
EIGHT PEOPLE HAVE been killed in several days of violence following new Israeli security measures at an ultra-sensitive holy site in Jerusalem.
The Haram al-Sharif/Temple Mount site is central to the Israeli-Palestinian conflict.
It is the third most holy place in Islam and the most revered site in Judaism.
The compound is located in east Jerusalem, an area that was occupied by Israel in 1967 and later annexed in a move not recognised by the international community.
The removal of controversial metal detectors from the site in the early hours of this morning has been greeted with jubilation on the Palestinian side.
Israeli police officers are seen dismantling metal detectors outside the Al Aqsa Mosque compound in Jerusalem's Old City early this morning Source: Mahmoud Illean
Israel's government says that it will replace those detectors with 'security inspections based upon advanced technologies'.
Details as to the nature of those technologies are as yet unclear, although security cameras had already been installed at same time as the metal detectors were put in place.
Here is a timeline of events related to the latest crisis.
Attack and mosque shutdown
On 14 July, three Arab Israelis armed with automatic rifles and a knife exited Jerusalem's Haram al-Sharif compound, known to Jews as the Temple Mount, and shot dead two police officers stationed nearby.
The assailants fled back into the flashpoint holy site, which includes Al-Aqsa mosque and the Dome of the Rock, before being shot dead by security forces.
Arab Israelis are descendants of Palestinians who remained on their land following the creation of the state of Israel in 1948. They largely identify with the Palestinian cause.
Israel then took the highly unusual decision to shut down the compound, meaning Muslim worshippers could not attend Friday prayers there the same day, triggering anger from Muslims and Jordan, the holy site's custodian.
The site remained closed the next day, while parts of Jerusalem's Old City were under lockdown as Israel conducted searches for concealed weapons.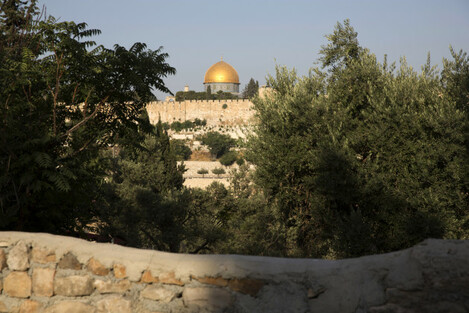 The Dome of the Rock Mosque in the Al Aqsa Mosque compound is seen in Jerusalem's Old City. Source: Ariel Schalit/PA Images
Metal detectors
Late on 15 July, Israeli Prime Minister Benjamin Netanyahu announced the site would open the next day and security forces would install metal detectors and surveillance cameras to prevent further attacks.
But when the compound opened on 16 July with metal detectors in place, Muslim worshippers refused to enter due to the new security measures, which they perceived as a means for Israel to assert further control over the site.
Prayers were instead held in the streets leading to the site.
Clashes
From 16 to 20 July, sporadic clashes broke out after prayers.
Muslim worshippers held firm in their resolution to not enter the compound while the metal detectors remained in place as concerns rose over a possible escalation of the situation.
On 20 July, Turkey's President Recep Tayyip Erdogan joined the Palestinian leadership in urging Israel to remove the metal detectors.
But after consultations with the security establishment, Netanyahu decided to leave the metal detectors in place, though he allowed police to apply discretion in using them.
Friday eruption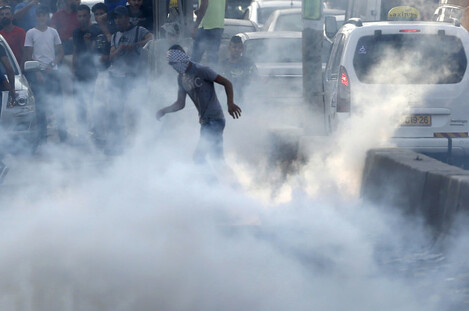 A Palestinian protester stands in tear gas during clashes near the Qalandia checkpoint between Jerusalem and the West Bank city of Ramallah. Source: Nasser Shiyoukhi/PA Images
Ahead of Friday prayers on 21 July, Israeli police took the rare measure of closing off the Old City to men under 50.
Mass protest prayers were held around Jerusalem's Old City and demonstrations there and in the occupied West Bank led to clashes in which three Palestinians were killed.
Palestinian president Mahmud Abbas said he would freeze contacts with Israel.
Later the same day, a Palestinian broke into a Jewish home in the settlement of Neve Tsuf in the West Bank and stabbed four Israelis, killing three of them before being shot by a neighbour.
The Israeli army says the assailant had spoken of the Jerusalem holy site and of dying as a martyr in a Facebook post.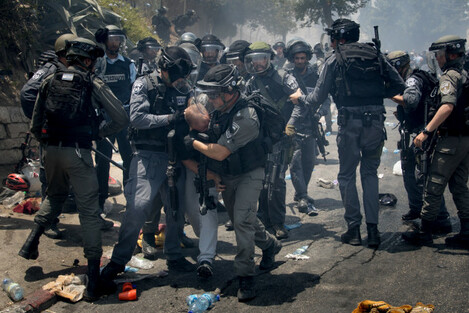 Israeli policemen detain a Palestinian protester in East Jerusalem. Source: Muammar Awad/PA Images
More clashes
On 22 July, clashes in east Jerusalem and the West Bank continued, resulting in the death of two Palestinians, including one when a petrol bomb exploded prematurely.
Diplomats said the UN Security Council will hold closed-door talks two days later about the spiralling violence after Egypt, France and Sweden sought a meeting to "urgently discuss how calls for de-escalation in Jerusalem can be supported".
On Sunday, a rocket fired at Israel from Gaza hit an open area, causing no injuries.
The Israeli cabinet convened, with officials not ruling out removing the metal detectors if a satisfactory alternative to them is approved by police.
Meeting
The UN Security Council met yesterday over the increased violence and tensions.
Egypt, France and Sweden called for the talks at which Israel said it would do whatever is necessary to maintain security at a holy site
"We hope that members of the council will send a clear message to the parties to de-escalate, to exercise restraint, to refrain from provocations, and to work together to lower tensions and discourage violence," Swedish diplomat Carl Skau ahead of the meeting.