Image: AP Photo/Reed Saxon/PA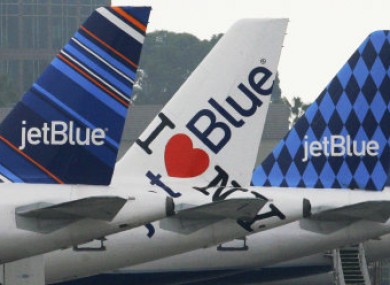 Image: AP Photo/Reed Saxon/PA
PASSENGERS ON board a JetBlue flight from New York to Las Vegas restrained the flight's captain after he began shouting about bombs and threats from al-Qaida.
The captain emerged from the cockpit, failing to shut the door behind him, and tried to force his way into an occupied bathroom yesterday.
Passengers said that the man's colleagues tried to calm him, but that he became increasingly jittery before running through the plane, calling on passengers to start praying. "They're going to take us down!" he reportedly shouted.
The co-pilot locked him out of the cockpit and four passengers tackled the captain and restrained him:

(Video uploaded by NewEVOMedia)

(Video uploaded by the AssociatedPress)
An off-duty pilot who happened to be on board the flight as a passenger assisted the co-pilot in operating the plane.
The plane landed at Amarillo, Texas where emergency and security personnel removed the captain from the plane and put him into an ambulance. The airline has described the incident as a "medical situation". The Federal Aviation Administration (FAA) says the man was taken to hospital for evaluation.
Airport police, the FBI and the FAA are investigating the incident.
The other passengers later left Amarillo on a separate JetBlue flight and have arrived at Las Vegas without further incident.
- Additional reporting by Susan Ryan