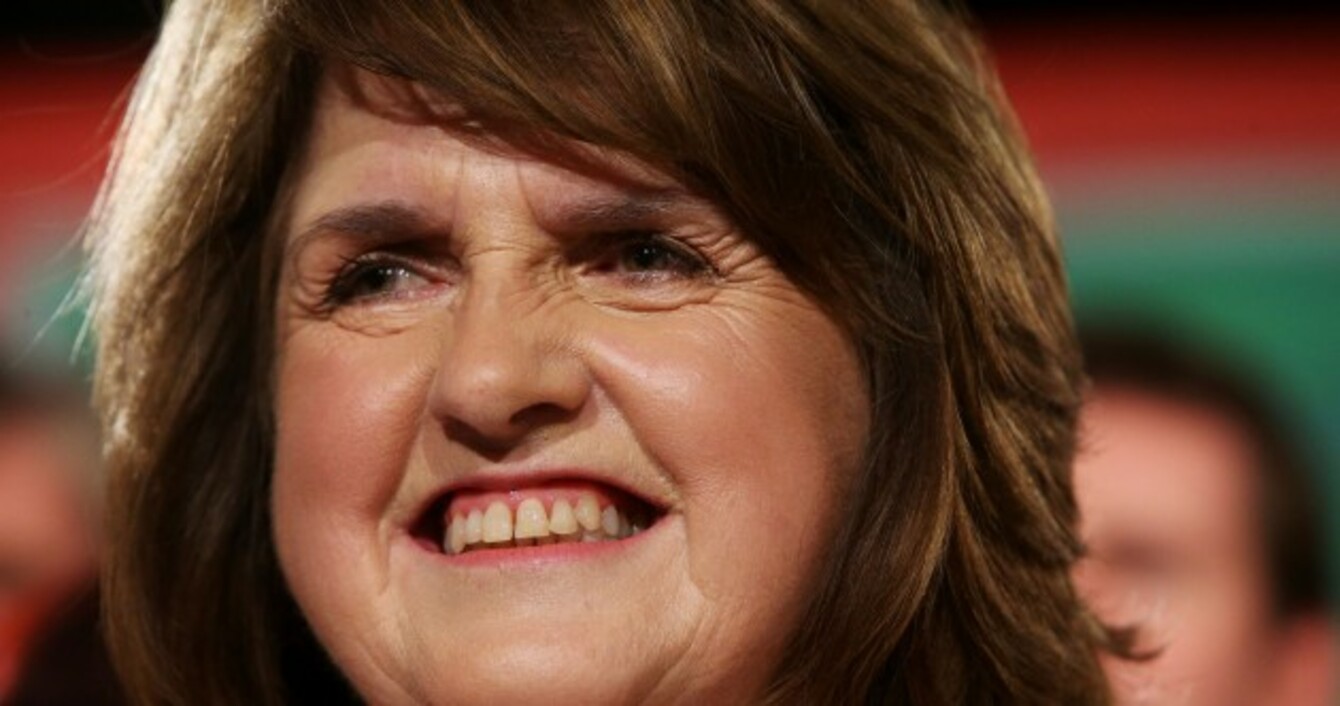 Image: Brian Lawless
Image: Brian Lawless
JOAN BURTON IS in a different political stride these days. She is no longer the woman at Enda Kenny's side, and after a disastrous general election result for the Labour Party, she has stepped down as leader.
As she makes her way into The Nook Cafe in the heartland of her constituency, she is stopped by locals for a quick chat. One man asks her what all this motor insurance talk was about in the Dáil this week, telling her his has jumped up nearly €500.
The coffee shop is packed with local business people, retirees, mothers and their children – and everyone seems to know her.
Despite speculation she might lose her seat this time around, she survived the Dublin West battle, with just 22 votes separating the long-time deputy with AAA-PBP candidate Ruth Coppinger. Both women have been elected in the fifth count.
A wake up call for government 
It's Friday, and what is dominating the headlines is the reaction to the UN's human rights committee calling on the Irish government to reform its restrictive abortion legislation.
I saw the UN statement yesterday about the fatal foetal abnormalities and I have to say, I think it was a bit of a wake up call for government.
Burton said what's going on is a "long finger exercise" by government.
Given the likely viability of the government, it would mean that, in fact, the sub-plot is to postpone any action on the issue until after the next government is formed. I think that is an enormous cop-out. I think it is wrong.
Labour was in government for over five years with Fine Gael, so it might be too much for repeal the eighth campaigners (which Labour advocates for) to take to hear the former Tánaiste blame the party they were in bed with for the lack of swift action.
The X case and same-sex marriage referendum
Burton maintains Labour was operating under a programme for government with Fine Gael – which included addressing the X case and the same-sex marriage referendum.
We had an agreement where we agreed to legislate for the X case, which had been around for about thirty years, and we addressed that – and yes, it was very difficult to get that addressed.
Burton said raising difficult issues like abortion with the larger parties can be a difficult task.
The tendency is that among the big parties, like Fianna Fáil and Fine Gael, is to not want to hear about these issues and to pass them and fudge them and delay and procrastinate. No, they are not easy… I think it is kicking the can down the road.
Having worked closely with Kenny for a number of years, she must have an insight as to what the Taoiseach's intentions are to address the controversial issue of abortion.
She said the Taoiseach "obviously has personal issues" in relation to the subject.
I think, at this stage, he wants to delay it. He certainly strikes me as being quite uncomfortable around the issue. He would certainly present as somebody who is quite a conservative person.He has always presented to be very conservative on the issue, and that is his entitlement, but I think for society, as a government, it needs to be addressed.
Burton said that despite his personal feelings on the issue, many members of government have publicly promised to deal with it in timely basis.
Ireland and abortion
She said in reality, "really nothing is moving on it".
I think following the UN report there is an onus on Ireland as a voluntary member to international human rights structures to address the issue.
Essentially we had a promise by the Fine Gael government that there was going to be a Citizens Assembly, and absolutely nothing has been done to convene that.
While the issue featured as part of the Labour Party manifesto before the general election, there is little that they can realistically do about it now. The party suffered a catastrophic election, reducing the number of TDs in the Dáil to seven.
An internal party report reportedly pinpointed where the party went wrong – hitching their wagon to Fine Gael meant they were too closely associated to them and then there was the issue that refuses to leave the headlines, Irish Water.
She claims it was cooked up that the minority party would be left to handle the implementation of water charges.
The one issue that really damaged the Labour party was the organisational set up of Irish Water under Phil Hogan. I think Eamon Gilmore was basically ambushed with Irish Water. I think there was a broad expectation and understanding by both Eamon Gilmore and Brendan Howlin, we're going to have to head this up.
As Tánaiste, she claims she sought to reduce the charges "to a reasonable level" which was a net of €60 for a one person household and €160 for two or more.
Former Minister for the Environment Alan Kelly was the poster boy for water charges, and despite being out of government, Labour is still not budging or distancing themselves from the issue.
Water charges are necessary
They still state publicly charges are necessary and have called for a referendum to ensure the water supply company cannot be privatised in the future.
For those people that say we don't need Irish Water, I don't know whether those people are in touch with just how poor our water structure is. This week we had seven beaches closed in Fingal, seven of the finest beaches in the country, because of the sewage and pumping facilities are inadequate.
She said the government has now parked water charges and accused Fianna Fáil of "political strokes" over the issue.
Fianna Fáil having put water charges into the menu that they bequeathed to the last government in the programme with the IMF have then decided on political expediency to kick the can down the road. I think when Fianna Fáil reflect, when they see beach closures, maybe they will begin to think less in terms of political strokes and more in relation to the national good.
Just when things couldn't get much worse for the party, it started to air its dirty laundry in public, with a squabble over the leadership.
Alan Kelly made his intentions for the leadership quite clear, appearing on The Late Late Show. However, in the end, the party went with veteran member, Brendan Howlin.
That press conference 
The culmination was the Labour leadership press conference, where there was one notable absence.
So are the waters calmer in the party now?
I think he is over that now, to be honest, Alan is Alan. He has a very robust personality – but the other side of a robust personality is he has a lot of energy. I think political challenge is to use that energy in a positive way to both promote change and promote the Labour party.
It is all settled. He has been in the Dáil getting his teeth into his two portfolios… I think if he just brings his energy to going after both of those I think he will achieve a lot.
She said it was an achievement for Kelly to retain his seat, saying "Tipperary politics are very rough." Burton added that "history will be very kind" to Kelly's work on housing.
While Kelly was closely linked to water and housing, one issue that rarely disappeared for Burton was the cuts made to the rental supplement.
This week, her incumbent, Leo Varadkar has indicated it is to rise from this July.
Cutting rent supplement
She defends her stance on the issue, saying there has been a "huge clamour to increase rent supplement":
What sense would it have been to blanketly raise rents, given that the department of social protection had about 30% of the rental market and then say to the young person, or the family in work, we are actually going to give the landlord down the road the 20-30% increase people were clamouring for, so sorry folks, but your rent is going to go up as well.
When asked how she thinks Varadkar will get on in the new job, she reserves her judgement.
Well, lets see what he does. He hasn't actually outlined what he proposes to do. I would imagine his focus and the government's focus would be on the actual building of houses.
All the pressure of being in government is now behind Burton, as she finds herself in a very different position – the opposition.
She says her days are still very busy. Today she is visiting local schools in the area as well as paying a visit to the Sacred Heart of Jesus Church in Clonsilla, which suffered serious damage in an overnight fire.
She is now the Labour spokesperson for the arts, finance and education.
Today she is meeting with one principal to get an update on the plan to rebuild the Dublin 15 school
As we make our way to the school, which is in the middle of a housing estate, she tells me this is the area John Gilligan once lived.
The diverse school population in Dublin 15
She explains the population landscape has dramatically changed and now, a huge amount of children in the area are from other countries, with 40% of this school's population not being from Ireland.
She agreed that the admissions linked to baptism is an issue irking parents, particularly young people.
I think there is a better way of doing it. A lot of schools and not just Educate Together schools, are moving to having a more core curriculum that centres around respect for the person, the family, community, the child's world. And then specific religious arrangements are handled through the family and the local church.
While she is relatively new to the job, she makes a number of observations. She has an issue with the use of the word 'Deis school', saying it should possibly be scrapped and replaced due to the label attached to it.
She also has a number of observations about the new Minister for Education, Fine Gael's Richard Bruton. Burton said the minister can be "very conservative" which she said can sometimes be very good in terms of education.
However, she said she believes he is a fan of the British school education system, and she would not be a fan.
Our system is not as corrupted as the UK system has become.
Women in Irish politics
With role as Tánaiste coming to an end, another women, Fine Gael's Frances Fitzgerald has stepped into the role.
During exchanges during the recent O'Higgins report debate, Burton hit out at Fitzgerald for, in her opinion, not adequately answering the question.
She told Fitzgerald that having been in her shoes, she was aware that on the white piece of paper in front of her, the words "repeat section above" was written, in case of being berated by the opposition.
When asked if this was an insight into behind the scenes of Leaders' Questions she said the likes of Sinn Féin's Mary Lou McDonald and independent Mick Wallace specialised in bringing up questions on detailed issues "out of the blue".
It wasn't possible to comment. Where it was possible to give answers I have certainly always had a policy of giving as much info as is possible and have always done that.
Burton says being a woman in politics isn't easy. She says there is a lot of unstated misogyny, stating: "Leinster House is very much a boys club."
Before heading off to her next engagement, Burton says women have to be tough to be in the politics game.
To be a woman in politics you have to be better than most men and there are an awful lot of average men in politics, there aren't a lot of average women.