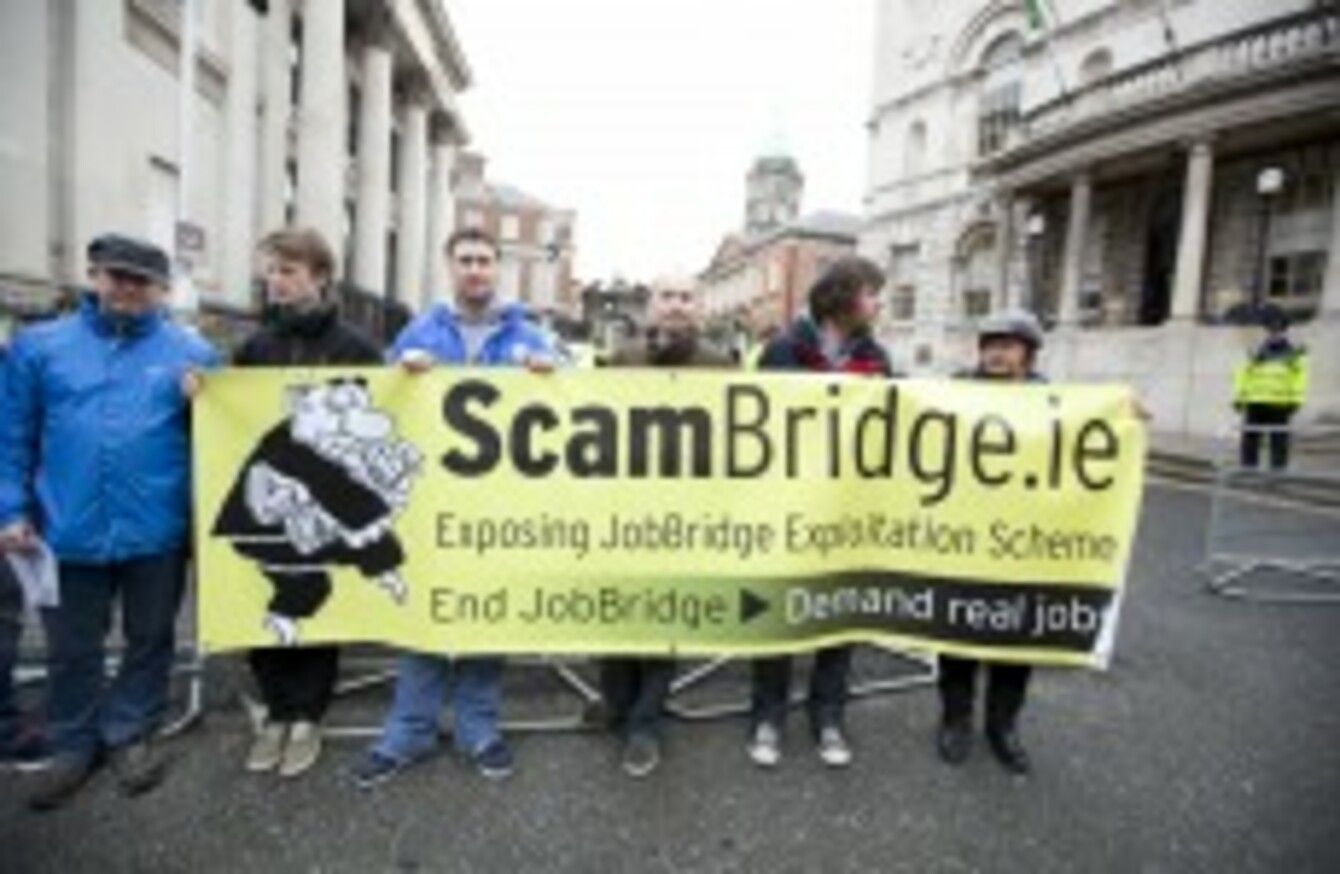 An earlier protest by ScamBridge.ie
Image: Leon Farrell/Photocall Ireland
An earlier protest by ScamBridge.ie
Image: Leon Farrell/Photocall Ireland
A PROTEST IS  to be held outside the offices of Fás today calling on the government to reverse it's decision to allow people remain longer on a JobBridge internship.
Last month Minister for Social Protection Joan Burton announced a number of changes to the programme including a change that allowed interns stay on an individual placement for 18 months as opposed to nine previously. The number of internships allowed also increased from two to three but the maximum time allowed on the scheme in total remained at 18 months.
Today's protest is being jointly organised by a number of unions including ICTU Youth, the USI, UNITE Youth as well as the ScamBridge.ie campaign.
Socialist MEP Paul Murphy is behind the ScamBridge.ie website which campaigns for the scheme to be phased out and says that the latest announcement further normalises people working for free:
The 18 months we're particularly opposed to because the idea that they really are internships, that people are learning new skills for 18 months, is patently ridiculous for the government to stand over. In affect it's a doubling the amount of exploitation.
Murphy says that for the moment the campaign is pushing for the burden to moved from interns to employers by making it compulsory that companies explain why they did not take on an intern on a full-time basis after the completion of an internship.
Derek Keenan of  ICTU Youth says that the extension of internships was brought in specifically for employers. "Chiefly they've extended it because employers have lobbied through the Indecon report. They were aspects of the scheme that could be improved and surprise surprise they were insisting that it should be extended to 12 months and beyond."
The government has promised to increase monitoring of individual internships but neither Keenan nor Murphy believe the manpower is in place to so.
"All the jobs are supposed to monitored already before they go on the site but all you have to do is take a look at the site on any given day during the week to see that some jobs aren't really internships," said Murphy.
The protest is to take place at 3pm at the Fás Offices on D'Olier St. in Dublin.