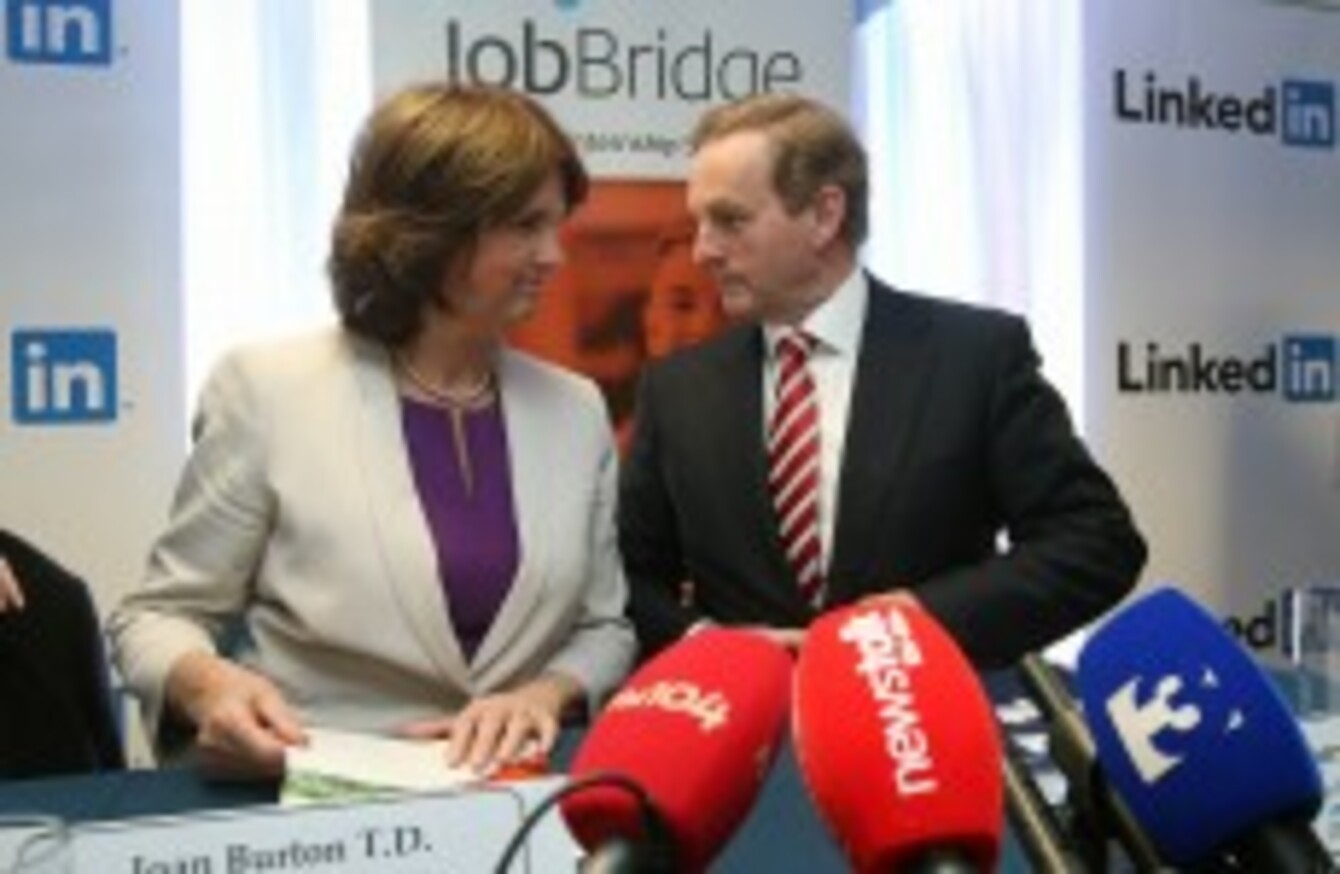 Taoiseach Enda Kenny and Minister for Social Protection Joan Burton at the launch in 2011.
Image: Niall Carson/PA Archive
Taoiseach Enda Kenny and Minister for Social Protection Joan Burton at the launch in 2011.
Image: Niall Carson/PA Archive
THERE ARE CURRENTLY 52 JobBridge interns working in government departments according to figures from the Department of Social Protection.
The figures, released to TheJournal.ie, show that there have been a total of 217 interns working in departments since the scheme was launched in 2011.
Some 165 people have already finished their placements, though the Department  of Social Protection said this would include those who finished early because of "domestic reasons, finding employment or because the job didn't suit them". The department said it did not have figures on the number of people who had finished theses internships early.
The Department of Justice and Equality has had the largest number of placements at 90 in total and currently has 19 interns, working in a wide variety of postitions including as legal assistants, a librarian for the Irish Prison Service, and research assistants. One intern was also hired to work as a support person in the psychology service in Arbour Hill Prison.
Pat Rabbitte's Department of Communications, Energy and Natural Resources has had 25 interns in total and five currently, and Expenditure and Reform has had a total of 16.
Click here for a larger version of this image.
Only Defence and Finance currently have no JobBridge interns but every department has had at least three since the scheme began.
Other placements of note include a strategic oil policy analyst in the Department of Communications, a researcher for Met Eireann in Environment and a childcare regulations development officer for the Department of Health.
One JobBridge intern, Chris Green, who is working in the Department of Communications as a press officer, told TheJournal.ie this week that the internship has been a highly positive experience and gave him more confidence.
"When I finished my masters I was struggling, looking around for work, and there was nothing else really going around but JobBridge so I saw the position advertised on the website and went for it," he said.
Now Green is involved in media monitoring, writing press releases, liasing with the media and attending meetings and events with Minister Pat Rabbitte.
"I'm getting such great experience and it's the kind of thing I've always wanted to do," he said. "It seems ridiculous to say it, but before I started here I'd never actually been to a meeting before so I've learned how to put my ideas across and get people to listen to my point of view."
While Green acknowledged that he should probably be getting more than the minimum wage for the work he does, he said that the experience he's getting is "invaluable" and that he would be hard pushed to find a more interesting job.
His nine month internship started last February and Green said he is now "very confident" that he will be able to sell himself well in future job interviews.
"I do see myself as a success story, my boss says it all the time too," he added "JobBridge is all about getting your foot in the door and then you can build a career on that."