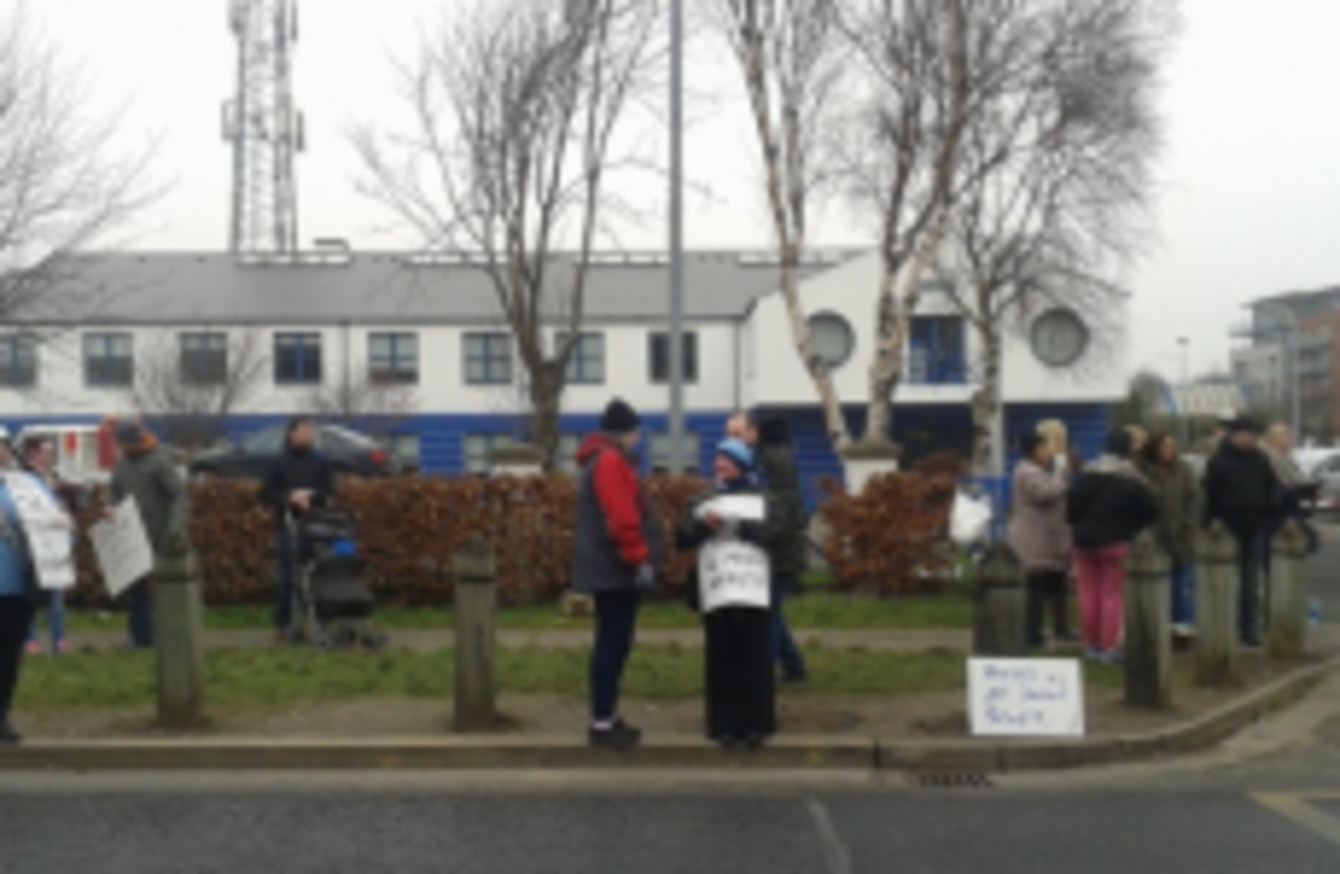 A protest at Tallaght Garda Station yesterday.
Image: Tallaght Says No to Water Metering
A protest at Tallaght Garda Station yesterday.
Image: Tallaght Says No to Water Metering
Updated at 11.30am
THERE HAVE BEEN more arrests this morning by gardaí investigating last November's Jobstown protest by anti-water charge protesters.
Gardaí confirmed that four males have been detained, following an early-morning operation in south-west Dublin.
They've been taken to Rathfarnham and Tallaght stations for questioning under Section 4 of the Criminal Justice Act.
Anti Austerity Alliance councillor Kieran Mahon — who himself was arrested on Monday in connection with the investigation — said a 14-year-old and an 18-year-old had been arrested.
He said eight gardaí called to the home of the 14-year-old in three cars.
Mahon described today's arrests as an "escalation" of activity against the community.
This morning's news follows the arrest of Mahon, one other AAA councillor, TD Paul Murphy, and a member of republican group Éirigí on Monday. All four were released that afternoon.
Four more people — three males (including a 16-year-old) and one woman — were questioned yesterday in connection with the protest that saw Tánaiste Joan Burton surrounded in her car by angry protesters and prevented from leaving an event.
They have also been released.
A press conference by AAA politicians is being planned for later this morning, and a city centre protest is being planned outside the Department of Justice for tomorrow evening.
Dawn raids
Much like the operations yesterday morning and on Monday, this morning's arrests involved multiple gardaí calling to houses at around 7am to take people into custody.
The partner of one man arrested in Jobstown this morning said six gardaí had called to their door at around 7.20am as they were getting their children ready for school.
She said he hadn't been allowed go upstairs to change, and that she went upstairs to fetch him fresh clothes before he was taken away.
Her partner had been at the Jobstown protest, she said, but hadn't committed any crime.
Following Monday's arrests, he had been expecting gardaí to call, she said.
He turned to me and said — that's it, they'll be coming for everybody now.
At a press conference in Dublin today, TD Paul Murphy said that communities were "being terrorised by the actions of gardaí".