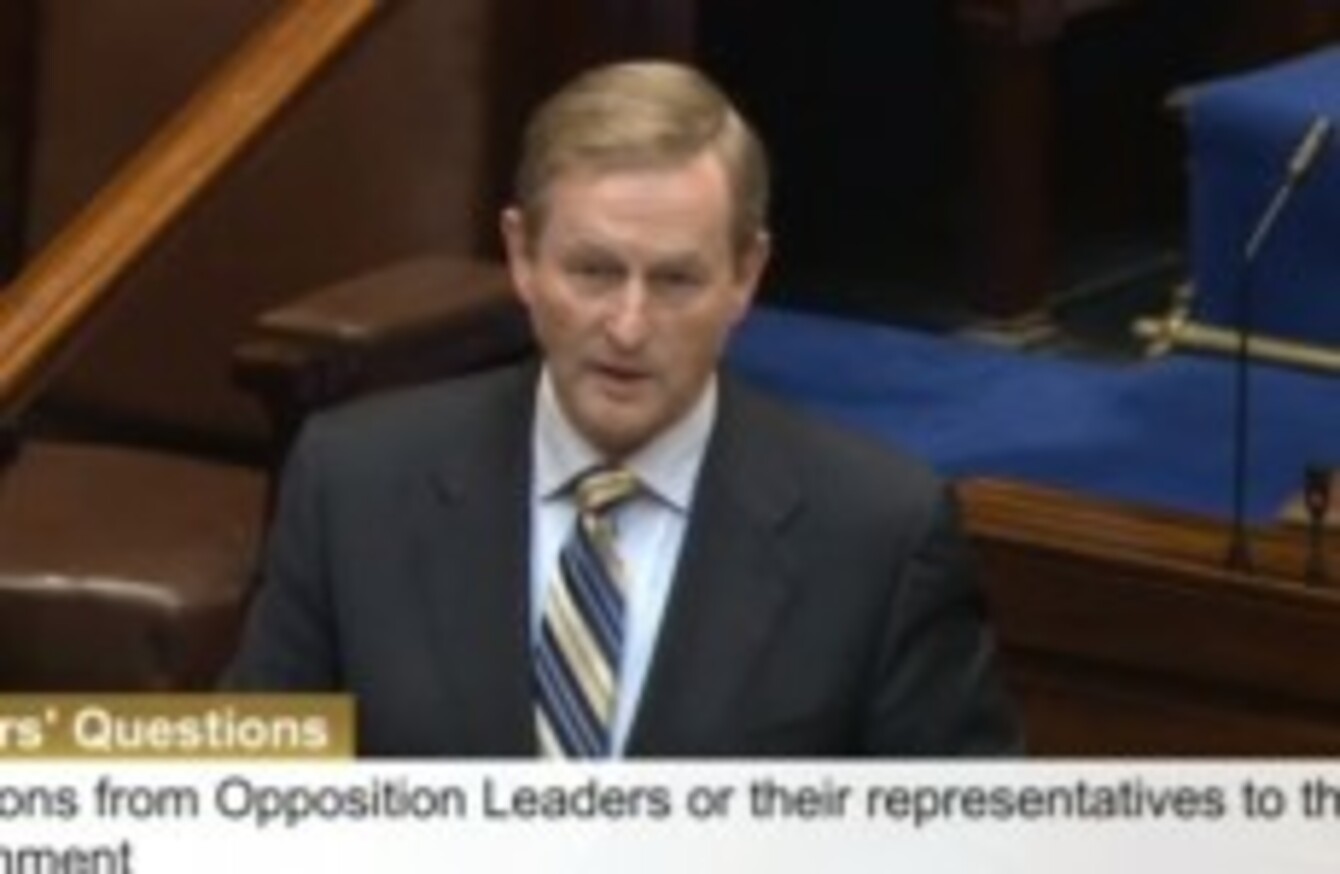 Enda Kenny in the Dáil today.
Image: Screengrab/Oireactas TV
Enda Kenny in the Dáil today.
Image: Screengrab/Oireactas TV
TAOISEACH ENDA KENNY has said that no one in government has approached the CEO of Irish Water, John Tierney, about stepping down.
He was answering a question from Fianna Fáil leader Micheál Martin who accused the Government of "shabby" treatment of the head of the controversy-hit semi-state company
Kenny denied the accusation, stating that he had every confidence that Tierney "can do his job".
Martin said that the whole Irish Water debacle has now resulted in a "bonus culture" and called on the entire system to be reviewed.
He said that he believed that it was a "pre-ordained decision" that Irish Water would be a subsidiary of Bord Gáis, adding that there was no point in ministers ringing their hands saying "horror, horror, horror" about bonuses being paid.
He questioned the Taoiseach as to why two weeks ago he said that no bonuses would be paid, stating that he "skirted around the issue". Martin then accused the Government of ramming the Irish Water legislation through the Dáil, saying that they never got to debate it properly.
'Number of issues'
Kenny admitted that there were a "number of issues" that had to be dealt with.
Addressing the issue of bonuses, he said that the government did not have a role in setting the pay scales for a commercial state company, adding that John Tierney was brought in after that and cannot be blamed for it.
Independent TD Mick Wallace reminded Kenny that he had assured him that Tierney was the man for the job some time ago and said that nothing will be solved by "throwing him under the bus".
He questioned the Taoiseach's understanding of the situation, criticising his comparison between the Irish Water situation and that of the grants scheme SUSI, stating that Kenny was "missing a lot" if he thinks it is any way like the SUSI situation.
Meanwhile, the Fine Gael TD Alan Farrell has said that the board of Irish Water should resign immediately in the wake of controversy over bonus payments at the company.
He said the board has been "hiding in the long grass" and had failed to be upfront with the public about the bonus structure at the company which could see some staff receive 19 per cent bonuses.
Farrell also said that Tierney should "get out into the airwaves far more than he has done so to deliver on message of what it is Irish Water is doing it and how they are doing it".
- additional reporting Hugh O'Connell