A TOWER THAT features in the opening of James Joyce's Ulysses in Sandycove, Dublin is set to reopen in time for Heritage Week, with the help of local volunteers.
Traditionally, the Martello Tower opens for the summer tourist season and closes for winter.
However, this year the tourist site was forced to close for its first summer in more than 30 years due to staffing issues at Fáilte Ireland. The tower opened for a week of Bloomsday celebrations in June, but was otherwise closed all season.
Fáilte Ireland was in discussions with Dun Laoghaire-Rathdown County Council over the council taking over the operation, promotion and marketing of the Joyce Tower and Museum on a permanent basis.
Now with the support of volunteers, the tower is reopening.
The site will open from 10am to 6pm seven days a week until the end of September, with volunteers supervising the tower and museum. Over 100 people have put themselves forward for volunteer roles and 60 have already participated in a half-day induction course provided by the museum's curator Robert Nicholson.
Another induction course is being organised for others interested in participating in the project.
A new group called the Friends of the Joyce Tower Society has been set up to help run the tower and promote Joyce's life and work. Membership is open to anyone and the group can be reached by emailing joycetowersandycove@hotmail.com.
Minister for Transport, Tourism and Sport Leo Varadkar welcomed the property's reopening, saying: "This is an important attraction for Dun Laoghaire and for all of Dublin, and an important landmark for Dubliners."
"I'd like to congratulate the volunteers for their efforts in reaching this breakthrough."
Fáilte Ireland's head of visitor engagement Paul Hayden thanked all those who helped to reopen the tower.
"Their willingness to give their time and energy to support the reopening of the Tower speaks volumes of their civic pride and the value they place on our literary legacy," he said.
Joyce spent a very brief period at the tower with his university friend Olive St John Gogarty in 1904, and the tower museum has been set up to resemble how it would have appeared during Joyce's time there.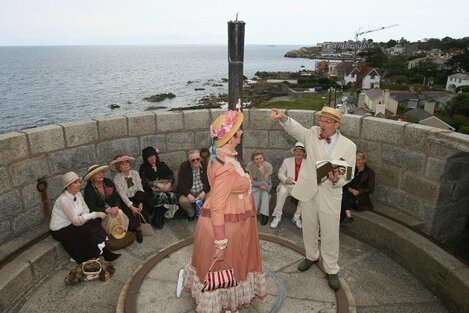 Coastal views from the top of the tower during a Bloomsday performance in 2008. (Image: Julien Behal/PA Wire)