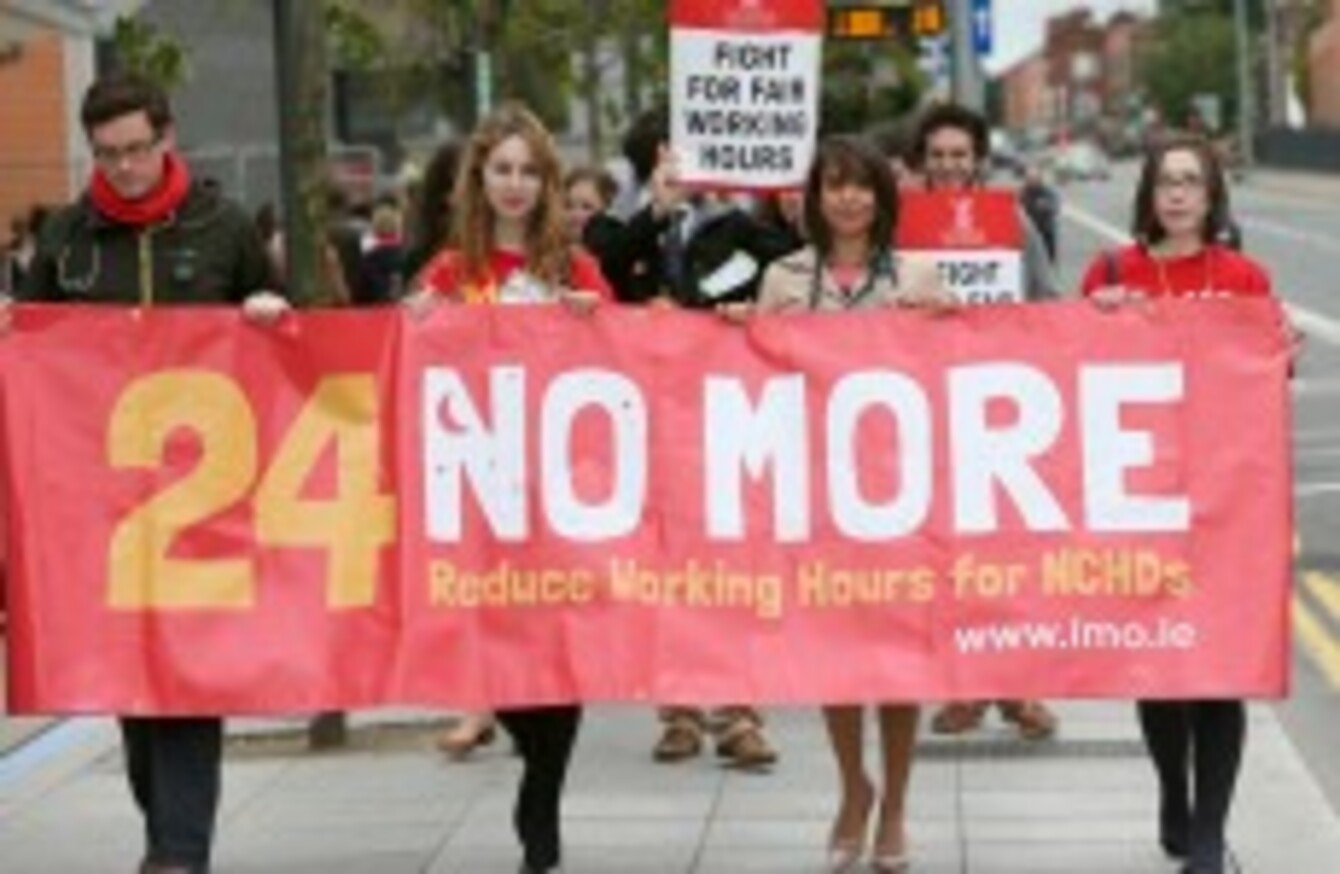 Image: Laura Hutton/Photocall Ireland
Image: Laura Hutton/Photocall Ireland
THE HSE AND the Irish Medical Organisation (IMO) are currently undertaking a 'validation exercise' to assess the status of compliance in hospitals with a directive on working hours that ensures junior doctors are not forced to work more than 24 hours in a row.
In October, the HSE said it would penalise hospitals that do not adhere to the European Working Time Directive (EWTD), which ends shifts in excess of 24 hours for NCHDs (junior doctors), by 14 January.
That deadline passed last week and the HSE has told TheJournal.ie that an assessment of validation of compliance with the EWTD is currently being undertaken.
A draft report  has been produced by the HSE which is to be verified by each joint IMO/HSE local group by 24 January. The draft, which has not been fully completed, has been seen by IMO representatives and shows that only four hospitals are fully complaint.
However this report is based on the assessment of hospitals before Christmas and Eric Young of the IMO said much of this may be connected to vacant posts that had to be filled.
He said "many will become compliant on filling the posts".
"We recognise that not all of them are going to be compliant," he said. "Lots of them have made good progress and some haven't made the progress but, to be fair, a lot of them have."
The IMO and HSE will meet on 31 January 2014 to decide which hospitals should be subject to sanctions, what will apply and how the money withheld will be used. In general terms, it has already been determined that the money withheld from the hospitals by the HSE as a sanction will be used to recruit and improve compliance with the European Working Time Directive.
Young said the penalties were vital in this arrangement as "there would be no incentive to deliver otherwise".
"It's the only thing that's going to work," he added. "Ultimately, people don't change their behaviour unless there's a consequence."
Prior to the agreement between the HSE and the organisation, there were examples of these doctors working in excess of 24 hours in a row. The European Directive also ensures these young doctors are not forced to work more than 48 hours a week.