WHILE IT'S PROBABLY best associated with a greasy pizza or sneaky Chinese takeaway, Just Eat is looking for the diet-conscious to drive its next phase of growth in Ireland.
The online ordering giant, which claims six out of every 10 takeaways is now signed up for its platform, plans to cash in on developing food fads like paleo and gluten-free meals.
"Healthy is one of the big, big trends and under that umbrella comes lots of different headings. Consumers are asking and we're having to deliver," Just Eat Ireland managing director Amanda Roche Kelly told Fora.
The company now employs around 40 people at its new offices in south Dublin and is the undisputed leader in the online ordering trade, although that comes with its own problems.
A report on the Irish takeaway sector commissioned by Just Eat and produced by DKM Economic Consultants put the total outlets in the country at nearly 3,000. With close to 1,800 already signed up to Just Eat, that leaves the company with relatively little headroom for finding new business.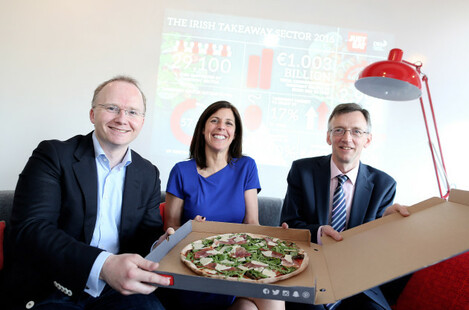 Just Eat Ireland managing director Amanda Roche Kelly
"We're going to be looking at other sectors within the takeaway area," Roche Kelly said.
"Those other thousand restaurants aren't necessarily your normal evening offerings – we're looking at lunchtime, we're looking at daytime and during the weekend.
"So there's lots of stuff we can get into now and until you actually go there who knows what will happen."
The report, which defined takeaways as anywhere that either offered food for home delivery or on-site pickup to eat away from the premises, put the total annual spend on takeaway food in Ireland at €1.48 billion.
That's a lot of sandwiches and stir fries, but in the more-distant future Just Eat could be thinking larger again.
"The restaurant industry as a whole is much bigger than that," Roche Kelly said.
"We've seen lots of other players in the market do lots of different things. We're very happy at the moment just to try and get that other thousand restaurant partners on."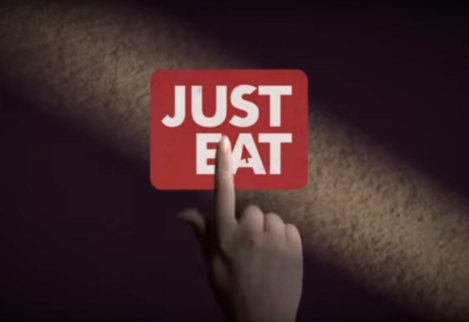 Source: YouTube
The competition
When it comes to other players, the main company the Just Eat Ireland boss probably has in mind is Deliveroo – although Roche Kelly is quick to add that the two companies, despite their similar UK parentage, are very different prospects.
Just Eat's local operation employs no drivers, instead relying on businesses' own delivery or over-the-counter services.
Deliveroo, on the other hand, has its own team of bike riders and drivers to pick up food from restaurants that otherwise didn't offer delivery. The company claims it has been growing orders 25% on average per month since launching in Ireland last April.
However Roche Kelly said her operation has no immediate plans to go head-to-head with Deliveroo in Ireland, despite some of Just Eat's operations in other countries providing a similar service.
"At the moment, the biggest thing for us to drive orders to our current partners; (deliveries are) not really what we're looking at for the moment, but it's there if we want to get into it," she said.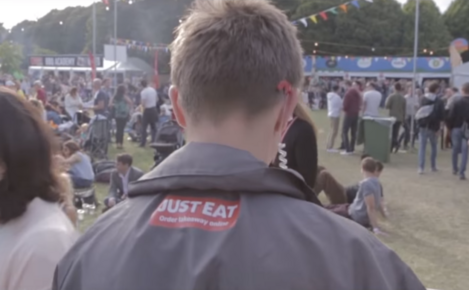 Source: YouTube
Roche Kelly added that Just Eat's Irish orders had increased "slightly over" the 57% growth figure its parent company quoted for all territories last year, although she expects the rate of rises to slow in coming years.
The business also recently hiked its commission slightly, to 13%, ahead of a marketing push.
The most-recent accounts filed for the company's local arm show it made a profit of more than €600,000 in 2014, although that wasn't quite enough to rub out the accumulated losses incurred in previous years.
Among its regular offerings, it has recently been toying with options like delivering people fresh food or weekly 'menus', a seven-day quota of meals to be consumed as desired.
"Nothing is beyond Just Eat at this stage," Roche Kelly said.
Written by Peter Bodkin and originally published on Fora, a new business publication for Irish startups and SMEs.
Get Fora's NEW daily digest of the morning's key business news