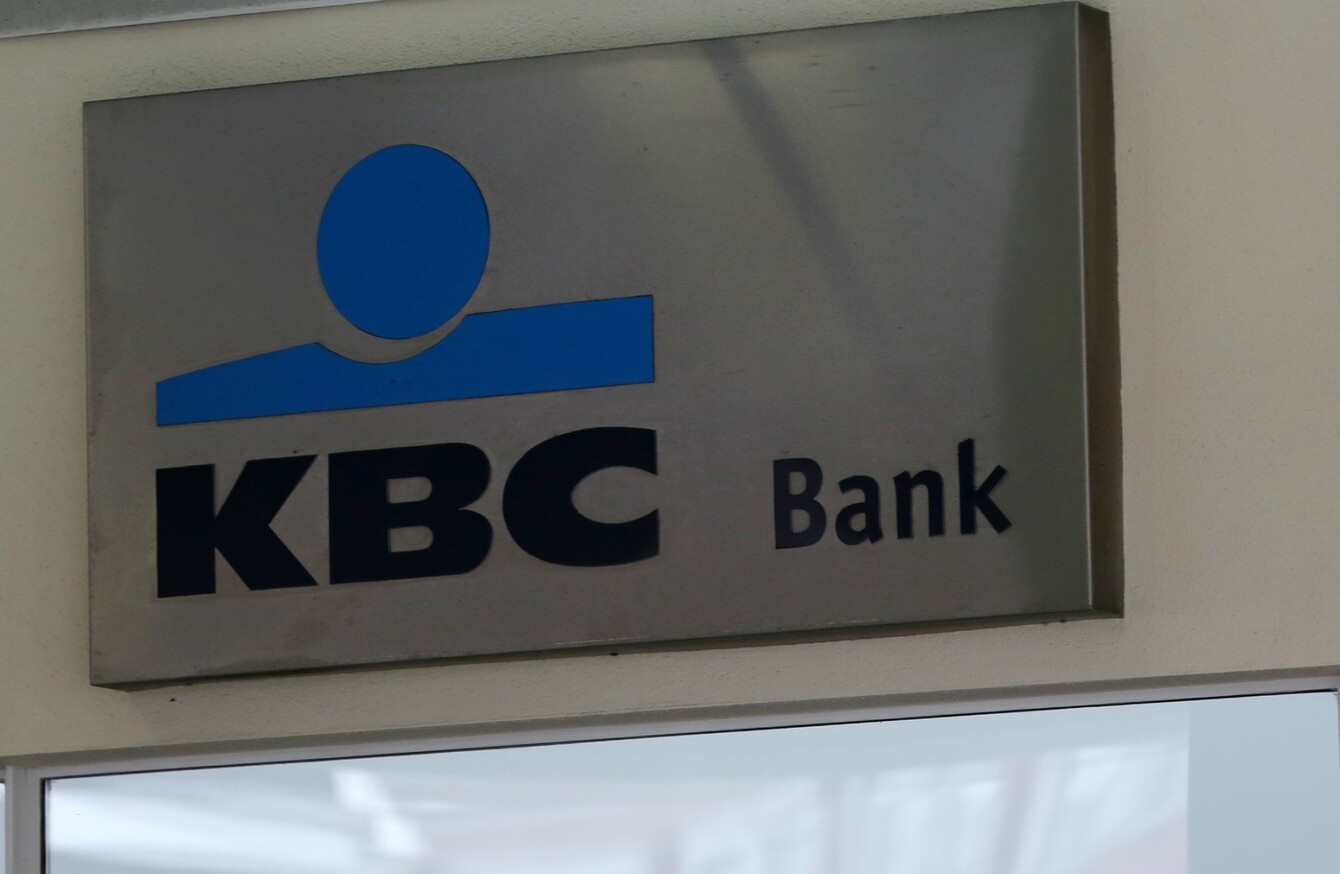 File image of KBC bank in Dublin.
Image: RollingNews.ie
File image of KBC bank in Dublin.
Image: RollingNews.ie
Updated Apr 16th 2021, 1:23 PM
KBC HAS ENTERED into talks with Bank of Ireland which could lead to BOI acquiring "substantially all" of KBC's performing loan assets and liabilities. 
This could result in KBC's withdrawal from the Irish market.
KBC said this purchase is "subject to customary due diligence, further negotiation and agreement of final terms and binding documentation". 
KBC's remaining non-performing mortgage loan portfolio is not part of the Memorandum of Understanding (MoU), a type of agreement between the two banks.
The bank said it is analysing this portfolio and reviewing its options for divestment.
Sinn Féin finance spokesperson Pearse Doherty said he is "alarmed" by this as it risks "these loans being sold to vulture funds". 
The Financial Services Union, a trade union for staff in the financial sector, has described this announcement as a "deeply worrying development" and called on the banks to publish their Memorandum of Understanding.
"The FSU are calling for immediate clarification from BOI and KBC that transfer of understanding legislation will apply to any deal that may be done and that staff will follow the work," John O'Connell, the FSU general secretary, said in a statement.
"It is not good enough that once again staff are the last people to be informed about
the future of their jobs. This is not the way that change should be managed."
O'Connell said the union will write to the two banks to "express our dismay" at the lack of consultation. It will request an "urgent meeting" to discuss jobs, the timeframe of the discussions and the impact of this announcement on staff and customers.  
"It is time for the Minister and the Central Bank to act and establish a banking forum
where the voices of all relevant stakeholders can be heard," O'Connell added. 
'Regrettable'
The Finance Minister Paschal Donohoe described the possibility of KBC leaving the market as "regrettable" and a "very significant event for the Irish banking sector, its staff and customers".
Speaking on RTÉ radio's Morning Ireland programme, Donohoe said he received a call last night from the chief executives of both banks.
He said the situation had "moved with a very high degree of speed", but this means there is clarity on options in relation to the role Bank of Ireland may play.
"I had become aware, earlier on in the week that there was potential for development in relation to a decision KBC may make, but I was not aware of the scale of what was anticipated or indeed the agreement in relation to the memorandum of understanding between Bank of Ireland and KBC," the minister said.
That has been driven by both those banks themselves, they're involved in a commercial decision in relation to this. My key issues now on concerns are in relation to competition, and the protection of consumers by these two banks.
Donohoe said there's no need for existing customers to do anything and all of their rights as consumers are "fully protected in any scenario".
He said anyone who may "end up owing" loans, including non-performing loans, will have to respect the terms upon which the loan was made available.
On competition, he said: "We have two large banks – and indeed we have a third bank that is getting bigger – that are well capable of competing with each other, and providing choice and competition to consumers.
"It is the case that the competitive dynamic has changed – I couldn't pretend otherwise to you this morning, but it's also the case that there will continue to be really strong competition amongst the banks that continue to be here an also coming from the many large banks that are now coming into Ireland who don't have branches, who use technology more, who are now providing additional services in a different way to many consumers at the moment."
The Competition and Consumer Protection Commission (CCPC) is undertaking a preliminary review of the proposed agreement.
The CCPC will decide if a notified proposed merger like this could lead to a "substantial lessening of competition" in the market. 
"The CCPC appreciates that customers of the bank may be concerned following today's
announcement," it said in a statement.
"We note that customers of KBC Bank do not need to take any action at this stage."
Eoin McGee, a financial planner and author of How To Be Good With Money, said that "everybody needs to realise that, for the moment, this means absolutely nothing". 
"It's just a chat between two banks at the moment," he told The Journal. "These things do not happen fast.
"Current mortgage holders don't need to be concerned… If you're a mortgage holder, you will just be sold on [to the buyer]." 
He said there is also no reason for people with a KBC bank account to be concerned.
"Just sit tight. But if you want to move your bank account, move your bank account," he said, adding that this advice would have been the same last week. 
If you're with KBC and moving to Bank of Ireland, it's no different than choosing between eating at McDonald's or Burger King.
"If it makes sense to move, then move. But if your account or loan does get sold on, remember that your terms and conditions will be sold with it.
"Whoever buys you will have to honour those same terms and conditions."
However, McGee said it does raise concerns about who will purchase KBC's non-performing loans and also the impact of this move on the wider banking sector.
Customers
While the discussions are ongoing with BOI, KBC said it "remains committed to offering its retail banking and insurance services of the highest level". 
"There is no impact on KBC Bank Ireland customers' products or services and they do not need to take any action as a result of this announcement," a joint statement from the two banks said. 
The statement said existing customers do not need to take any action as a result of this announcement. 
#Open journalism No news is bad news Support The Journal

Your contributions will help us continue to deliver the stories that are important to you

Support us now
The Central Bank's Deputy Governor of prudential regulation, Ed Sibley, said the Central Bank's supervision will ensure "affected customers are protected and treated fairly and that the banks are operating safely and soundly". 
"We do understand that there will be concerns that this transaction, if it goes ahead, will result in a further reduction in the level of competition in the Irish retail banking sector, and a reduction in choice for consumers," Sibley said in a statement. 
"Competitive pressures can clearly have an effect on the functioning of the financial system and the achievement of the Central Bank's aim for it to sustainably serve the needs of the people and businesses of Ireland."
Speaking on Morning Ireland, the CEO of KBC Bank Ireland Peter Roebben said it is "very, very early days" in the discussions between the two banks. 
Roebben said KBC has "not reached any conclusions" and has to "consider this further" before making any set agreements.
The group CEO of Bank of Ireland Francesca McDonagh said: "This MOU complements our strategy to grow our business in Ireland, and supports the investments we are making in the transformation of our systems and digital banking services.
"We would be very pleased to provide KBC Ireland customers with a good home, and look forward to progressing our discussions with KBC over the coming period."
Political reaction
Sinn Féin's Pearse Doherty said this is "another blow" to consumers and KBC customers and staff.
"Any move by Bank of Ireland to acquire KBC's loan book should include its non-performing loans, to provide certainty and security for those borrowers," Doherty said. 
"The manner in which this development has been communicated to KBC staff has been disgraceful and unacceptable, with no warning or consultation."
Social Democrats co-leader and finance spokesperson Róisín Shortall described this as an "unwelcome development".
"Following the exit of Ulster Bank, the government spoke in vague terms about creating a third force in Irish banking. Those plans need to be fleshed out immediately. The current state of Irish banking is a consumer nightmare," Shortall said. 
Independent TD Denis Naughten has called for a cross-party Dáil Committee to be set up to design and create a "third banking force".
"We have two distinct customer bases that are being excluded by the current two bank model in this country, namely personal customers and small businesses. Both elements need to be addressed in a new banking model," Naughten said. 
- Additional reporting by Michelle Hennessy.