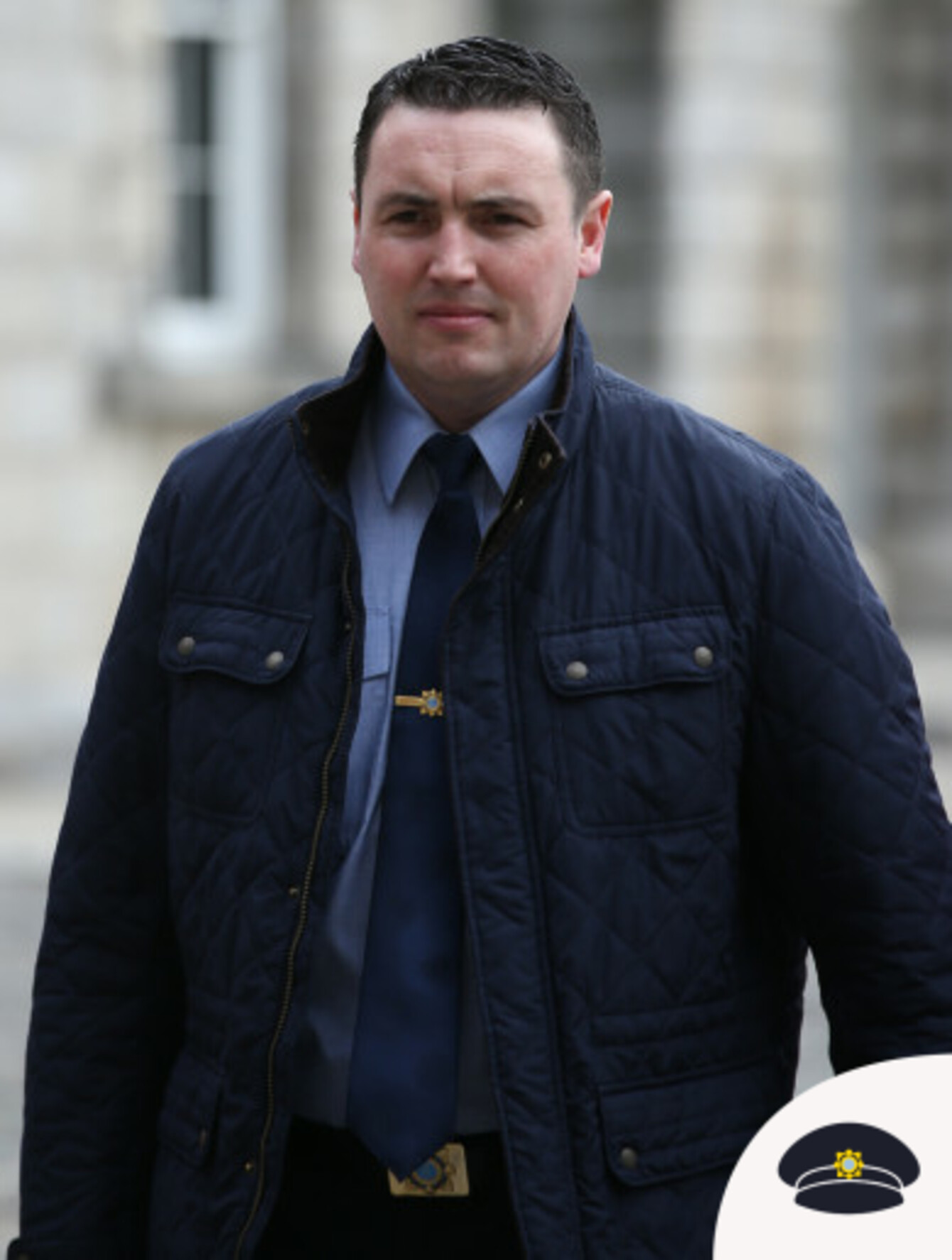 Garda Keith Harrison.
Image: Sam Boal/RollingNews.ie
Garda Keith Harrison.
Image: Sam Boal/RollingNews.ie
IN ALL, MARISA Simms gave evidence to the Disclosures Tribunal for well over six hours.
Towards the end of her evidence, Keith Harrison's solicitor asked her why she was there, why she had come to tell this very personal story in such a public arena.
Simms said:
"Because we want peace, we want an end to it. We want to get on with our lives. My children have a Pulse ID and they don't deserve to have a Pulse ID."
After her evidence finished it was the turn of her partner, Garda Keith Harrison, to take the stand.
So, what did Harrison say?
I may have been mistaken.
The most crucial part of the whole day came in the last couple of minutes of proceedings.
Keith Harrison was being asked by Tribunal counsel about the phone call made by social worker Donna McTeague to the family home.
Previously, both he and Simms had maintained that McTeague had said she would be conducting a house visit because her team leader had been directed to send someone by the gardaí.
Today, however, Harrison wasn't quite so certain of that.
He said: "I do recall some mention of there being contact with the guards. I might be mistaken."
Tribunal counsel Patrick Marrinan was quick to push this point. "This is absolutely the core," he said. He said it was the core of the whole case that Harrison was making of garda interference in his family life.
Harrison said that a lack of evidence of correspondence between the HSE/Tusla and An Garda Síochána was the basis for his claim that there was direction given by the gardaí.
At this point, Mr Justice Charleton interjected: "On what basis are you asking the Tribunal to believe that there was pressure brought to bear by gardaí on Tusla?"
Again, Harrison reiterated the "complete lack of correspondence". Charleton shot back:
You are asking the Tribunal to believe something because there is no evidence? Where is the evidence?
How did we get here?
In summary, Garda Keith Harrison alleges that harassment of him and his family was directed by senior garda management. He fought for his case's inclusion in the terms of reference of the Charleton Tribunal and thanked several TDs for their help when it was.
Following on from his time serving as a garda in Athlone, where he says he raised concerns about bad practice and arrested a colleague for drink-driving, he claims that Tusla visited his family home as a result of direction from Garda HQ.
He was transferred to Buncrana, initially, in March 2011 before being transferred to Donegal town in June of that year.
In a statement to the Tribunal in March 2017 Harrison alleged that, comparing his treatment to that of Maurice McCabe, "the similarities are so alike it couldn't be coincidence and considering the geographical locations of us such treatment had to come on orders from the highest level".
The Tusla home visit in February 2014 came on the back of a statement given by his partner Marisa Simms to gardaí in Letterkenny in October 2013.
In it, Simms detailed a number of instances of aggression from Harrison. She later retracted the statement, and told the Tribunal she was duped by gardaí into giving it.
Marisa Simms, however, also said that she had "no issue with Tusla" and that she didn't "think they abused their powers".
The Terms of Reference for the Tribunal state its function in this instance is "to investigate contacts between members of An Garda Síochána and Tusla in relation to Garda Keith Harrison". Under these terms, Simms is no longer alleging that Tusla became involved in Harrison's life at the behest of the gardaí.
She qualified this while being questioned by Harrison's solicitor, however, and said that she had meant to say that she had "no issue" with social worker Donna McTeague who came to visit the family home.
What else did Harrison say?
Under questioning from Marrinan for around four hours, Harrison was adamant that the actions of Inspector Goretti Sheridan and Sergeant Brigid McGowan in taking the statement from Simms at Letterkenny Station had been improper.
He said that he was well aware that having the issue brought before the Tribunal would mean the details of his most private relationships would be laid bare.
When pushed on the picture painted of him in Simms' statement to gardaí as aggressive and obsessive, Harrison said:
It's Marisa's description. I'm not hiding behind it.
I sought to be here. I was not happy with how things were dealt… I knew it was going to be embarrassing. I knew it was going to hurt me.
He was pressed on each detail of her statement, and on text messages sent by Simms to him, and asked to confirm if he said each of those things to her.
It included descriptions of her brother as a "gouger" and reference to a father who "disowned her".
After he was read the words by Marrinan, the following exchange occurred:
Marrinan: "There's nothing humorous about this."
Harrison: "I'm not laughing."
'I am going to burn you'
Across the evidence of both Simms and Harrison, the Tribunal focused on what exactly he meant when he told her "I'm going to burn you".
On 28 September 2013, Harrison and Simms had a row. It resulted in her leaving the house.
In her statement to gardaí on 6 October, Simms described her version of what happened:
He kept making comments and ranting on about my sister saying 'who does she think she is? I will take her down a peg or two', and also said 'I am going to bury her and you'. He kept repeating this and I told him to stop but it was as if he went into a total rant. He then said: 'I am going to burn you.'
In subsequent texts to Harrison the following day, 29 September, she makes frequent reference to this threat.
She said: "You said you would burn me, and bury me and Paula [her sister]. In another, she said: "You have threatened me for the last time." And another: "You threatened to burn me, a threat you seem to be ignoring."
A week after these texts, she reiterated these threats to Inspector Sheridan.
Giving evidence to the Tribunal, however, Simms said she "never felt threatened" by these comments.
She said: "If I thought it was a serious threat why would I have gone to the house alone… By time of the statement, I knew it wasn't a genuine threat."
Harrison, addressing the Tribunal today, denied ever threatening Simms or any member of her family.
He said: "I certainly didn't threaten anybody… Not one message I ever sent to her was abusive or threatening."
When it was put to him that he never acknowledged the 'burn' comments in messages back to her, Harrison said that none of what had happened "would be corrected over text messages".
After Simms gave her statement to gardaí on 6 October, she was taken to hospital for treatment for an infection. After she was discharged, she resumed the relationship with Harrison.
He told the Tribunal that he couldn't remember exactly what they'd said about the statement she'd given to the gardaí but said they would have discussed it. He said:
I knew whatever was in that statement I could meet. And I wasn't afraid.
When pressed on the threats that Simms had said he made in her statement, Harrison reiterated that "it never happened".
Charleton also pushed this point, asking if Simms had given an exaggerated account of their argument over text message, in order to cause him harm.
"Were these lies attributing to you in order to hurt you?" the judge asked.
Harrison replied: "I believe, yes."
"What am I safe in writing down?" the judge asked again.
"Were they sent to cause worry and harm? Yes. Was the content correct? No," Harrison said.
I can't say what Marisa was thinking at the time. All I can say is that what she said in there is not true.
'Paranoia'
While addressing the Tribunal, Harrison maintained that senior gardaí directed harassment of him and his family.
This came up when he was queried about looking up Marisa Simms on the garda Pulse system.
He was asked why he had checked her details on Pulse a number of times.
Harrison said: "I wanted to look at the people who were watching us." He added that senior colleagues had been seeking information about him.
"From the papers we've got from the Tribunal, that seems to be the case," he said, adding that inquiries had been made to ascertain his address and relationship status while he worked in Donegal town.
It was put to Harrison that he may have been paranoid. He replied:
There's no paranoia, we can completely see superintendents made enquiries discreetly. How is that paranoid?
He didn't say it was any one person directing these inquiries, but rather a collective of different superintendents in different divisions who had sought information about him.
On this point, Charleton pressed him again, asking: "Are you not obliged to provide an address?"
Harrison said he didn't have to provide it to his employer, and an incredulous Charleton said that it seemed "bizarre" to him.
As Charleton queried Harrison's evidence that gardaí directed Tusla, he closed proceedings for the day at a crucial point.
Harrison will again face Marrinan tomorrow, and will then be cross-examined by counsel for the gardaí, as well as representatives of his partner Marisa Simms, and of Tusla.
After that, we'll get to hear Tusla's side of the story – although that may not happen until next week, depending on tomorrow's proceedings.
Comments have been closed for legal reasons