HIS SMILE SAYS it all: Kieran Sorkin is delighted with his new ears.
Source: PA Wire/Press Association Images
The nine-year-old Hertfordshire boy was born deaf, and due to a rare condition called bilateral microtia, his ears never fully formed.
He had small lobes where his ears should be, but since last August he has been undergoing treatment to give him new ears.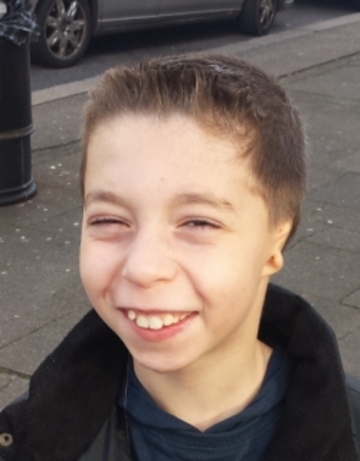 Kieran before the operation.
Here he is after the initial six-hour surgery in 2014: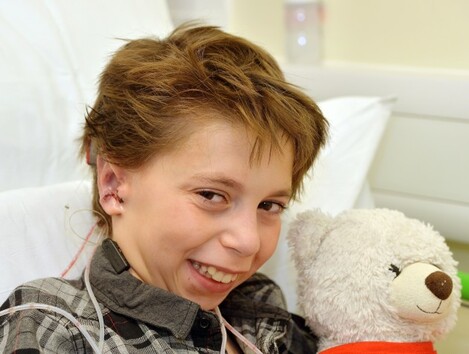 Great Ormond Street Hospital explained:
The procedure began with Mr Bulstrode harvesting rib cartilage from both sides of Kieran's chest, which he then carefully carved and shaped into frameworks for Kieran's new ears. In designing them, he used an outline of mum Louise's ears as a 'family template', to make them as close as possible to the ear shape that Kieran might otherwise have inherited from either of his parents.
Mr Bulstrode then grafted the ear frameworks onto either side of Kieran's head, placing them under pockets of skin that were then sucked down with a vacuum so that the skin conformed to the contours of each new ear.
Thanks to the operations, and a hearing aid, he now has some hearing. His parents said he had talked about having the operation after seeing it on TV when he was six.
The latest operation at Great Ormond Street Hospital in London was mainly cosmetic – a small skin graft to push each ear out slightly from his head – and meant that the look of his ears was completed.
The Guardian reports that Sorkin was told this week that his ears were healed well enough for him to finally be able to wear sunglasses.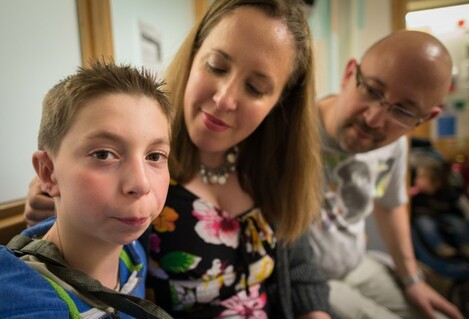 Kieran with his parents Louise and David. Source: PA Wire/Press Association Images
Great Ormond Street Hospital performs more ear reconstructions than any other hospital in the UK.
This includes 35-40 total reconstructions each year, five of which are bilateral reconstructions (both sides) like Kieran's.
- With additional reporting AP