THE CASE OF the Kilkenny bridge, which has been the subject of a long-running and bitter dispute within the city, has been settled out of court.
Protesters have been mounting demonstrations against the multi-million euro project of Green's Bridge in Kilkenny City since last year, causing work to be halted.
Opposition
The Save Kilkenny group were opposed to the construction of a controversial new bridge over the River Nore, meanwhile, a pro CAS (Central Access Scheme) group was also established who were in favour of the new bridge.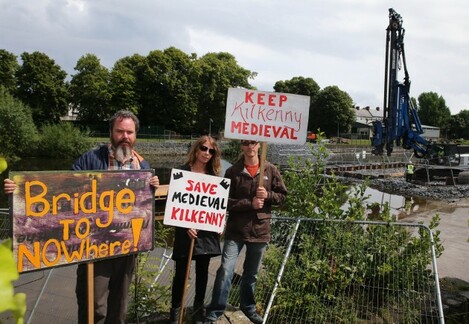 Darragh Byrne, Jean Brett, Nils Olofsson Protestors opposing a scheme to build a bridge in the centre of medieval Kilkenny City. Source: Niall Carson
Christopher O'Keeffe took a case against Kilkenny County Council and last year, the High Court imposed a temporary injunction against the construction work.
Yesterday, the court made a number of orders in respect of the case, namely that the construction of the bridge will carry on.
High Court ruling 
The court ruled the Central Access Scheme for the City of Kilkenny will carry on, but must be carried out in compliance with the decision of An Bord Pleanala made on the 12 December 2011 and under the requirements of the Planning and Development Acts 2000 to 2014.
The Ossory pedestrian bridge, which is the subject of these proceedings, is to be carried out in compliance with the resolution of Kilkenny County Council made on the 22 April, 2014 pursuant to Part 8 of the Planning and Development Regulations 2001 and the requirements of the Planning and Development Acts 2000 to 2014.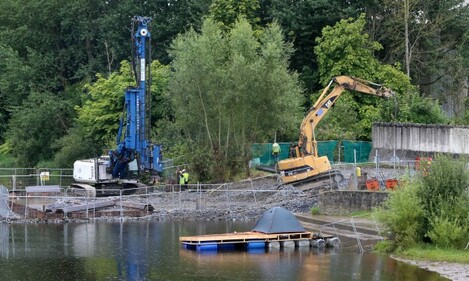 A general view of the Central Access Scheme. Source: Niall Carson
A statement from Mr O'Keefe states:
Mr O'Keeffe regrets, that despite his best efforts, it was not possible to establish this method of working, as the accepted one, much earlier in these proceedings, thus avoiding all costs.
He further regrets that there is currently no other avenue for citizens to pursue, in situations such as this, other than costly court actions, as there is no Ombudsman or Regulator in place that can deal with such concerns in a timely and cost neutral manner.
Planning 
Kilkenny County Council said it also welcomed the High Court settlement which provides that the projects are compliant with planning consents and are properly authorised developments.
Margaret O'Brien from the Save Kilkenny group also welcomed the conclusion to the case.
Good day for everyone…the Council is happy, Chris O' Keeffe is happy, Save Kilkenny is happy, the people of Kilkenny have been saved more unnecessary cost and above all the River Nore is happy.
I just have to hope that too much damage was not done last year…that the river and all that live in her are OK. This case was always about the river…and only the river.