DUBLIN HAS DEVELOPED a fondness for doughnuts over the past few years, but the opening of few outlets has matched the Krispy Kreme madness of the last 24 hours. 
The outlet in Blanchardstown shopping centre opened its doors at 7am on Wednesday to a queue of several hundred people. 
Doughnut enthusiasts took to social media to document the experience, with several parents it seems, roped in to get there before school began. 
Local Fine Gael councillor Ted Leddy was one of the first inside the doors and said he wasn't prepared for all the fuss. 
I wasn't quite prepared for what a big deal it was. There were about 300 people queuing at 7am, some had been there since 4am.
Leddy says he's not a "doughnut man himself" but is happy about the store's opening: 
I was happy to be there because it's 120 jobs and a lot of them are local jobs.
The craze shows no sign of dying down just yet, with queues reported from early once again this morning.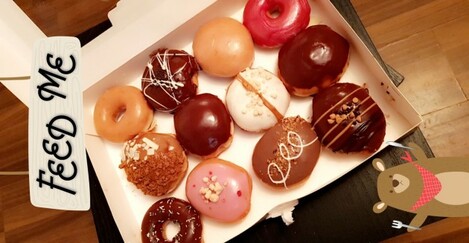 Martha's mixed box of doughnuts. Source: Courtesy of Martha Dowling
Martha Dowling from Clonee said her children bribed her to pick some of the sugary treats up on her way home from work yesterday. 
My kids made a deal with me, they would clean downstairs in my house if I got them a box of Krispy Kremes on the way home. 
The new outlet has a drive-thru facility and Dowling said when she arrived at about 7pm yesterday evening, she was warned she may have to queue for up to an hour. However she got through the queue within 20 minutes and secured a mixed box for her entrepreneurial children. 
Dowling says the house was "lovely and clean" by the time she got home. 
Despite the queues, a spokesperson for AA Roadwatch says there hasn't been any noticeable traffic disruption as a result of the opening. The AA's Barry Aldworth said: "We're aware of the long queues, but it doesn't seem to be having any actual impact on traffic."
In a statement, Krispy Kreme said it was "overjoyed to have people from all around Ireland share the excitement of opening day".  
Leddy said he wouldn't judge anyone for their enthusiasm about the opening: "It seems to be a bit of a phenomenon, it was a bit odd, will it last or not I don't know."