FAMILY MEMBERS OF Nirvana's Kurt Cobain have been meeting his Irish fans over the last two days as a new exhibition of his personal items was launched in Kildare.
The 'Growing Up Kurt Cobain' exhibition was opened in the Museum of Style Icons in Newbridge Ireland. It includes personal items that belonged to Cobain, who died in 1994, that have never previously been displayed in public.
Among the items are photographs, toys and books from his childhood, his powder blue 1965 Dodge Dart, sketches, handwritten lyrics and various pieces of Nirvana merchandise.
Source: PA Wire/PA Images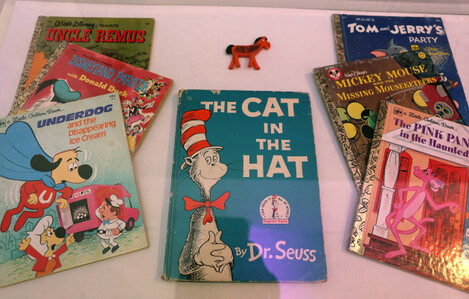 Source: PA Wire/PA Images
His daughter Frances Bean Cobain, his sister Kim and his mother Wendy opened the exhibition yesterday and met with some of his fans.
Frances Bean Cobain (centre) met with some of her father's Irish fans.
"I am so thrilled to participate and support my family as they honor their brother and son at The Museum of Style Icons in Ireland," his daughter said.
"I have always been the most intimately informed of who my father was by my grandmother and aunts. I am so ecstatic that their view of who Kurt was gets to be celebrated with Nirvana fans the world over."
Source: PA Wire/PA Images
His sister Kim said she hopes the exhibition will "bring the focus back to Kurt's roots, vision, and artistic genius to inspire everyone not to lose their creativity and childlike wonder".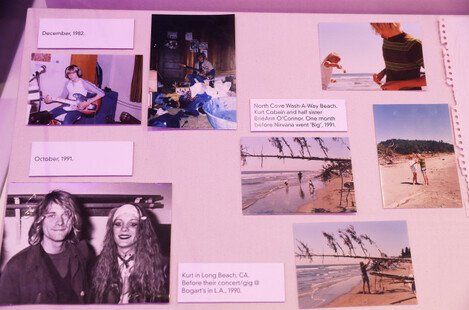 Source: PA Wire/PA Images
William Doyle, owner of the Museum of Style Icons said it is an "incredible honour" to have this exhibition.
"We have handled exhibitions of Michael Jackson, Cher, Prince and many other music and fashion icons and we expect this exhibition of Kurt's life to be one of our greatest exhibitions curated by our museum."
The exhibition runs until 30 September when it will move to the Musero de la Moda in Santiago, Chile.