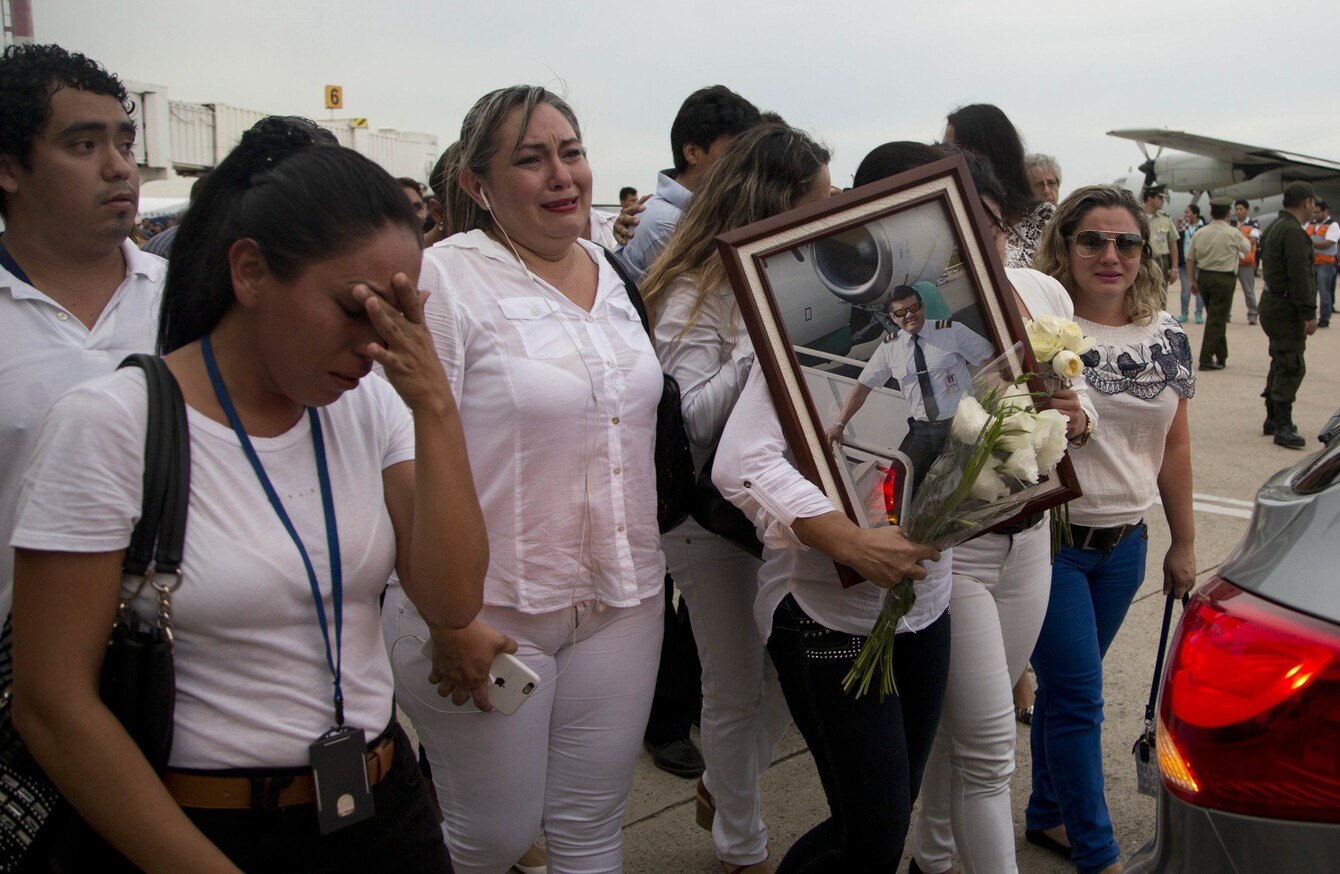 Relatives of LaMia pilot Marcelo Quiroga, who died in a plane crash in Colombia.
Image: Juan Karita
Relatives of LaMia pilot Marcelo Quiroga, who died in a plane crash in Colombia.
Image: Juan Karita
BOLIVIAN AUTHORITIES HAVE arrested the head of the LaMia airline, which was involved in the crash last week that killed 71 people, including the Brazilian football team.
The Guardian reports the airline's chief executive Gustavo Vargas and two other employees were taken into custody yesterday for questioning over the crash. The country's attorney general Ramiro Guerrero said the investigation could turn into a manslaughter case.
The jet carrying 77 people crashed into a Colombian mountainside just minutes after the pilot reported running out of fuel. Investigators are centring their probe on why the short-range jet was allowed to attempt to fly a direct flight with barely enough fuel on board to cover the distance between Santa Cruz in Bolivia and Medellin in Colombia.
Bolivian Defence Minister Reymi Ferreira said earlier this week that officials who signed off on LaMia's irregular flight plan would be prosecuted.
"This was a mistake by two or three people who are causing enormous damage to Bolivia's aviation industry, but it's not the country that's to blame," he said.
Passengers on the flight were oblivious of the issue and had no time to prepare for the crash, according to one of six survivors who described the final moments of the doomed flight.
"Nobody knew there was a problem," Erwin Tumiri, a technician on the flight, told Blu radio of Colombia. "We felt the plane descending, but all along we thought it was preparing to land. Everything happened very quickly and from one moment to the next the plane began to shake, the lights went out and the emergency lights turned on."
Tumiri, who is recovering in a hospital in his hometown of Cochabamba, Bolivia, said the cockpit never alerted him that the plane was running low on fuel and that the pilot had requested an emergency landing.
"I think the pilot should've at least communicated to me the situation," Tumiri said, adding that he only learned about the fuel shortage from another survivor, flight attendant Ximena Sanchez.
- With reporting by Michelle Hennessy.