Updated at 11.20pm 
IT HAS BEEN DESCRIBED as the biggest mass shooting in the history of the United States of America.
59 people have died and 527 have been injured after a lone gunman staying at the Mandalay Bay Hotel in Las Vegas smashed open his 32nd storey hotel window and began spraying concert-goers below with automatic weapons.
The shooter, who has since been identified as 64-year-old Stephen Craig Paddock, then took his own life before police could apprehend him.
Here's how the events unfolded:
Paddock checked in to the Mandalay Bay Hotel on the Las Vegas strip on Thursday. He is given a room on the 32nd floor. Police believe he brought at least 10 rifles with him.
Police said that he had been gambling at the hotel for some time and nobody had raised concerns with hotel staff about his behaviour. Hotel staff had been inside his room and had not noticed anything suspicious.
On Sunday night, thousands of people began arriving at the Route 91 Harvest Music Festival which was taking place below his hotel room.
Paddock destroyed his hotel window and began firing indiscriminately into the crowd.
Police officers advise people to take cover near the scene of a shooting. Source: John Locher/PA
Broken windows are shown on the east facade of Mandalay Bay hotel-casino where it is suspected Paddock shot from. Source: Ronda Churchill/PA
Country music star Jason Aldean, who was headlining the festival, was onstage when the first shots rang out.
At 10.08pm (6.08am Irish time), police received the first call about an active shooter at the Mandalay Bay Hotel.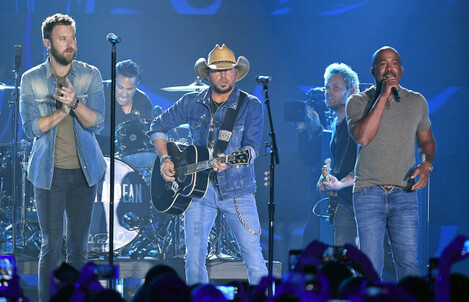 Singer Jason Aldean was performing on stage when the first shots rang out. Source: SIPA USA/PA Images
Flights into the nearby McCarran International Airport are then diverted as pilots are told about the shooting.
Vegas police move towards the shooter and sections of the strip are closed off.
By 12am (8am Irish time) police say that the suspect has been discovered dead.
Shortly after, Las Vegas police confirm that the shooter is dead and he is identified as 64-year-old Stephen Paddock.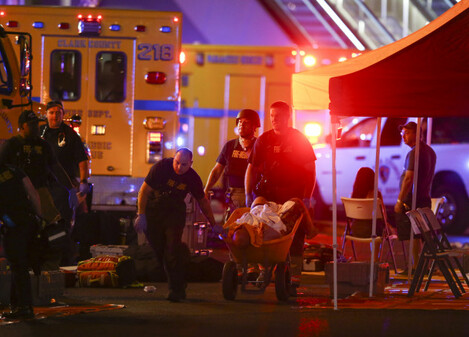 A wounded person is walked in on a wheelbarrow as Las Vegas police respond to the shooting. Source: AP/PA Images
Donald Trump tweets his "warmest condolences" in the wake of the attack. Las Vegas police confirm that at least 50 people are dead – making it the deadliest mass shooting in recorded US history.
Isis releases a statement through its official propaganda service claiming responsibility for the attack. However, police say that they have yet to discover a motive for the attack.
Eric Paddock, a brother of the attacker, says his sibling had no religious or political affiliation. He said he was at a loss to explain what had happened.
Eric Paddock, brother of Las Vegas gunman Stephen Craig Paddock. Source: John Raoux/PA
The FBI releases a statement saying that Stephen Paddock had no links to any international terrorist organisation.
Paddock is revealed to have legally held at least 10 automatic rifles. He worked as an accountant and had recently retired. His brother described him as a "regular guy".
Vegas officials appeal to the public to donate blood.
Donald Trump makes an address and describes the attack as one of "pure evil".
Las Vegas police say that 59 people have been confirmed dead and the number of injured, many of them critically so, stands at 527.