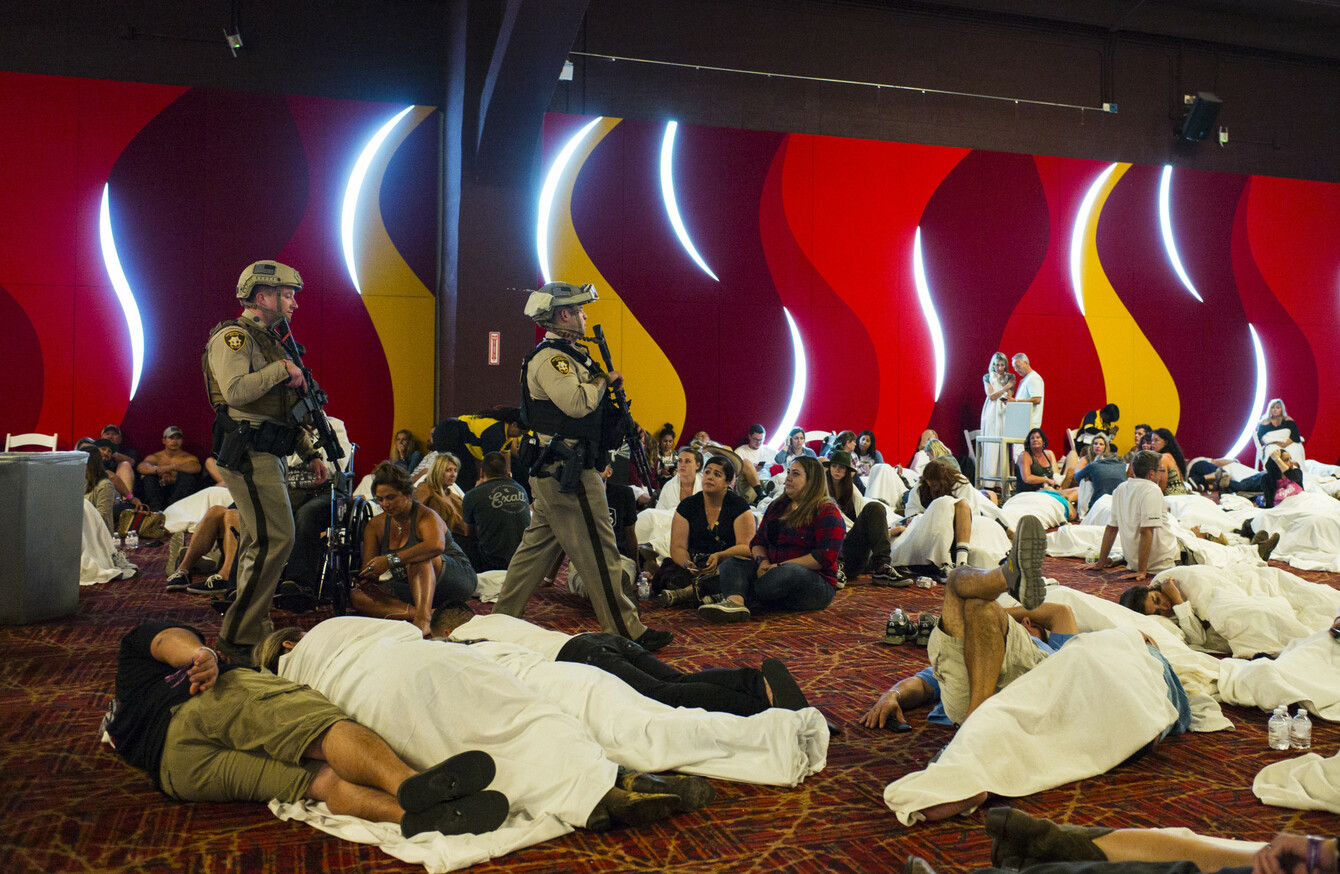 Las Vegas police sweep through a convention center area during a lockdown at the Tropicana Las Vegas following the shooting on the Las Vegas Strip.
Image: Chase Stevens/AP/Press Association Images
Las Vegas police sweep through a convention center area during a lockdown at the Tropicana Las Vegas following the shooting on the Las Vegas Strip.
Image: Chase Stevens/AP/Press Association Images
WITNESSES CAUGHT UP in yesterday's mass shooting at a Las Vegas music festival have described scenes of mass panic and terror as a lone gunman opened fire on thousands of people.
Stephen Paddock fired on thousands of people from the upper floor of the Mandalay Bay Hotel late on Sunday night local time (early Monday morning Irish time).
He had armed himself with 10 rifles and booked a room at the Mandalay, which looked down upon the crowd.
The 64-year-old was engaged by police responding to the incident before he killed himself.
The attack left at least 50 people dead, with over 400 transported to hospitals with injuries.
The death toll makes the attack the worst mass shooting in modern US history.
As well as the thousands of people who were attending the Route 91 Harvest country music festival, tens of thousands more were caught up in the aftermath of the incident.
The famous Las Vegas Strip was closed off at the south end, with mass panic and confusion ensuing as the situation played out.
Irish woman Jen – who only wanted to use her first name – was staying with her husband at the Aria Hotel about a mile away from the Mandalay Bay Hotel where the shooting took place.
The pair were on their honeymoon.
She and her husband were heading south along the Strip from their hotel in the direction of the Mandalay Bay when Jen noticed people walking the opposite direction talking about the incident.
"We could see police cars up the road and stuff and I looked at Facebook and I said to my husband 'there's a shooter'," Jen told TheJournal.ie.
"We were walking towards the Mandalay Bay when I heard this 'pop-pop-pop' sound and I was like, 'what the hell is that?'.
Then we heard it again and again and people started screaming and running and shouting, 'There's a shooter! There's a shooter!'
Jen said that people were knocking each other over as they ran away. She and her husband managed to get into a service entrance to the Cosmopolitan and the doors were boarded up by security.
"People were just freaking out, asking what's going," she said.
She said that a crowd of them remained in the service area for at least an hour before moving up to the main room of the casino with hundreds of other people.
"Every five minutes you'd hear screaming and shouting this, that or the other," she said.
We didn't know what it was. People were trying to look on Twitter to see what was happening. There were reports of multiple shooters, it was really scary.
Eventually, Jen and her husband were escorted back to their hotel where they were allowed to return to their rooms.
"They were running, they were crying"
Tipperary native Martin Fogarty – who has been living in the US for 11 years – was staying in the Mandalay Bay hotel and was in the nearby MGM when the shooting broke out.
"I was heading back to the hotel when my boss called me saying, 'I'm not trying to freak you out but you need to stay where you are'," Fogarty told TheJournal.ie.
She said they were hearing what sounded like gunfire everywhere.
Fogarty left MGM and went into Tropicana, where people were told to stay while the incident was ongoing.
"After a while people just started streaming in. They were running, they were crying. A couple of people had minor injuries," he said.
Fogarty said that everyone was ordered to shelter in place at the hotel and that they were being moved down to a convention area.
He said regular announcements over the intercom were advising people to remain safe and that the hotel they were sheltering in was secure.
"Pop, pop, pop"
Other witnesses who were closer to the scene of the shooting described what it was like in the crowd.
People described how Paddock opened fire with an initial long burst, and then appeared to reload as he continued his spree.
"We heard (what) sounded like a glass breaking, so you looked around to see what's going on and then heard a pop, pop, pop," Monique Dekerf told CNN.
"You'd think for a moment okay we're fine, there's no more gunfire, then it starts again."
Her sister Rachel said it sounded like "the shots were coming from the right side… it sounded like they were right beside us too… it was right there".
"It was like shooting goldfish"
Robert Hayes, a firefighter from Los Angeles who was watching the concert near the front of the stage, said he first thought the gunfire was some kind of equipment malfunction.
Once he realised what was going on, he joined the first responders, donning one of their vests.
"Honestly I probably pronounced 15-20 people" dead, he told Fox News.
It was pretty much like a war scene inside.
The emergency crews used anything to hand as makeshift stretchers, including tables and metal railings normally used to control the crowds, said Hayes.
Asked if he thought it was an inexperienced gunman, he responded:
With 30,000 people in the arena area, it was kind of like shooting goldfish… He didn't have to be good.
Best-selling country singer Jason Aldean was on stage and near the end of his concert when the shooting began.
"Tonight has been beyond horrific," the singer wrote.
"I still don't know what to say… My Thoughts and prayers go out to everyone involved tonight.
It hurts my heart that this would happen to anyone who was just coming out to enjoy what should have been a fun night.
Irish Foreign Affairs Minister Simon Coveney said yesterday that there was no indication of any Irish people having been injured or killed in the shooting.
"As of now, we have no indications to suggest that any Irish citizens have been affected," he said.
I am conscious, however, that it will take time before all of the casualties are identified.
My Department, through our Consulate General in San Francisco and the Honorary Consulate in Las Vegas, is continuing to monitor the situation.
Any families in Ireland who have concerns about relatives can contact the Department's Consular Assistance Unit on 01 4082527.
with reporting from © – AFP 2017