RECKON YOU'D BE able to shoot streams of electricity through your body at one million volts? Or stand perfectly still for hours at a time, covered in jaw-dropping makeup? Reckon you could maybe break a Guinness World Record, or say 55?
The performers at Laya Healthcare's City Spectacular have done all that, and are constantly pushing the envelope when it comes to hair-raising entertainment. The free, all-ages show hits Cork's Fitzgerald Park this weekend and it's one not to miss.
Here's a taste of all of the incredible stunts you can expect this weekend from some of the best street performers in the world.
1. Jaw-dropping acrobatics with The Silver Starlets 
Source: Laya Healthcare's City Spectacular
An all-female aerial acrobatic show, this talented duo uses a 20 foot free-standing trapeze rig as their stage – and they're just as impressive without it as you can see from our Facebook Live interview. Consisting of Molly Keczan and Glory Dearling, Keczan is an ex-rhythmic gymnast who used to compete for Canada in international competitions and Dearling is in the talent pool for Cirque Du Soleil – impressive.
Learn more about The Silver Starlets here, or see them live in action here. 
2. Death-defying stunts with Pete Anderson 
Source: Laya Healthcare's City Spectacular
If you've ever been to Glastonbury or the Edinburgh Fringe, you might have spotted Pete – he's been performing at both for the last 18 years. Anderson is a self-described 'Rubik's Cube-solving knife-master'. The Londoner's signature move? Scaling a 10 foot freestanding ladder, backwards in a kilt.
Read about Pete Anderson here or get a taste of what you can expect at his shows here.
3. Magical theatrics with Cartoonette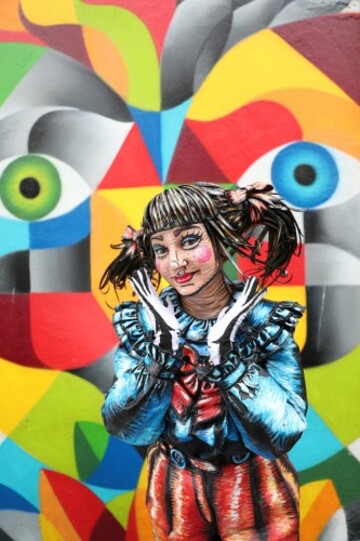 Source: Marc O'Sullivan/Laya Healthcare's City Spectacular
A brilliant one for the kids, this award-winning world champion living statue has escaped from her comic strip and will come to live this weekend in Fitzgerald Park. She's a cartoon character from Lisbon living in the real world. She'll be on hand to give high fives, steal all of our attention and inspire loads of laughter for all ages.
Learn more about Cartoonette here or see her in action here.
4. Awe-inspiring breakdancing with B – Xtreme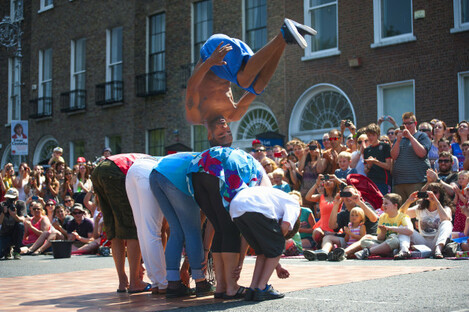 Source: Laya Healthcare's City Spectacular
These award-winning, acrobatic breakdancers have created a name for themselves with their high-energy breathtaking interactive comedy dance shows. They even appeared on America's Got Talent once upon a time. They've taken their shows from the streets to colleges, festivals and halftime shows and have a wealth of TV appearances. 
Learn more about B – Xtreme here or see them in action on America's Got Talent here.
5. Incredible explosions with Orbax & Pepper Do Science 
Source: Laya Healthcare's City Spectacular
Join Professor Orbax and Sweet Pepper, his long-suffering lab assistant for an action-packed, informative show about weird science. You can expect explosive experiments, strange science facts and crowd participation in a show that's designed to engage and inform the secret Einsteins in our midsts.
Learn more about Orbax & Pepper Do Science here or see a taste of their show here.
The Silver Starlets, Pete Anderson and Cartoonette will all be performing at Laya Healthcare's City Spectacular, a free festival for all ages taking place in Cork's Fitzgerald Park on July 20 and 21. Discover more here.