"I JUST WON an award for my one million vault Tesla coil act, where I shoot streams of electricity from my body."
While this might sound like a death wish to most people, it's just a normal day at the office for Chayne Hultgren, aka The Space Cowboy. It's no surprise then, that the 55-time Guinness World Record holder, who's known for his extreme performance acts (including swallowing 24 swords at once), has no fear in pushing boundaries. 
You'll be able to see some of his acts for yourself – and possibly the making of another Guinness World Record – when he comes to Dublin and Cork for Laya Healthcare's City Spectacular this month.
Aussie-born Hultgren, 41, discovered his love of entertaining when he was eight years old and, since then, he's never looked back (unless it's part of an act, that is). "My sister had a unicycle, and I used to ride it to local markets and wear a top hat. People started throwing money at me, and then I knew I was on to something good," he says. 
A CV with a difference
Nowadays, his CV includes world records for sword swallowing submerged in a shark tank, the most motorbikes driven over the body while laying on a bed of nails, the fastest arrow caught blindfolded and the most chainsaw juggling catches on a unicycle.
Chayne Hultgren on the Samuel Beckett Bridge. Source: Leon Farrell/Photocall Ireland
"Certain stunts take a lot longer to learn than others," he explains. "For instance, learning to juggle three balls can take 10 minutes, but juggling chainsaws on a three-metre tall unicycle can take years. Other stunts like blind-folded arrow catching, that took six years."
But what does preparing for these acts consist of? "I dedicate at least a few hours every day to my training or working on new stunts or developing new acts," he says. "Apart from that, I've got a six-year-old daughter, me and my partner live in a beautiful house in Byron Bay and we have a lovely family life. We're a normal family with strange habits."
Taking chances
As for the risks involved, Hultgren says he "probably doesn't injure himself any more than the average person." "When I'm performing a stunt or training, I'm very focused on what I'm doing," he says. "So, to be honest, my most painful injury was at home picking something up the wrong way." 
I've never had a normal job – and I don't see myself ever getting a normal job. I will always be a performer.
Victor Rubilar is also en-route to Ireland for Laya Healthcare's City Spectacular. For the five-time Guinness World Record holder and football freestyler, his training routine (albeit different) is equally intense. "When I'm on tour, I get up at 7am, train for an hour, have breakfast, do two or three shows and walk back to the hotel," he says.
"When I'm not on tour, I train for a minimum of four hours a day, and walk at least 6km a day."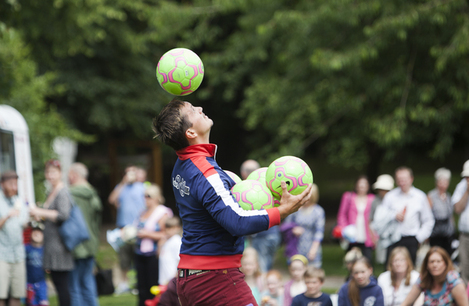 Victor Rubilar performing in Dublin. Source: Leah Farrell
It started with magic
Rubilar's foray into the world of entertaining was a little more unexpected than Hultgren's. "I never wanted to be a performer," he explains. "When I was 15, I learned magic tricks and showed them to my friends, and I saw that people liked it. I realised that I like making people laugh, but I was looking for something unique."
At the time, no one did tricks with a football, so that's what I started doing a few months later.
"I started with one football in the park in front of my house. It all happened very quickly. I lost interest in school and knew what I wanted to do for the rest of my life – and I still do," he says.
"I really didn't think that it would be a career, that I'd be a five-time Guinness World Record holder and that I'd travel to 51 countries. I found out that I loved it – and then I couldn't stop."
Chayne Hultgren and Victor Rubilar will be performing at Laya Healthcare's City Spectacular, a free festival for all ages taking place in Merrion Square on July 12-14. The festival is also coming to Cork's Fitzgerald Park on July 20 and 21. Discover more here.