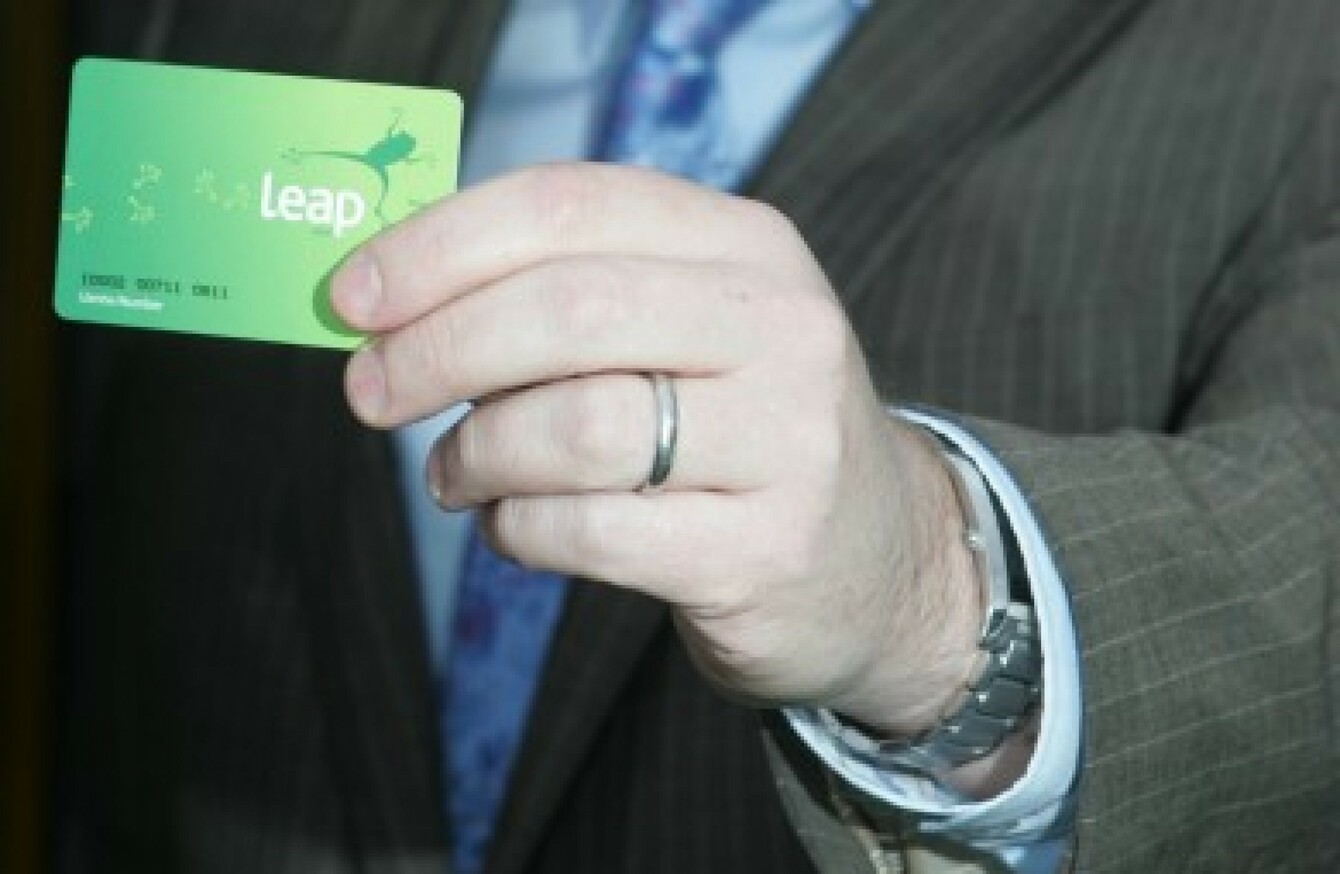 Image: Sam Boal via Photocall Ireland
Image: Sam Boal via Photocall Ireland
CUSTOMERS ARE BEING asked to boycott shops which are charging extra for topping up Leap cards – the handy payment method for public transport in Dublin, Cork, Galway, Limerick, Waterford and Wexford.
Following calls to report businesses that are doing so, TheJournal.ie examined how prevalent the problem was in areas close to busy Luas and bus stops.
Our reporter topped up a card in four separate shops in Dublin city centre this afternoon and of those four, just one did not charge extra if paying by card.
The National Transport Authority now wants commuters to also report the businesses that are doing so.
We topped up a Leap card by €5 during each transaction and we were charged either 25 cent or 50 cent for the pleasure of using our card.
A 50 cent surcharge for a €5 top up is a 10% charge – just for using plastic.
However, all of the shops we visited said there was no extra charge when paying with cash.
The National Transport Authority is urging customers not to accept surcharging from any shop and to report the retailer to them.
It's also asking customers to 'vote with their feet' by using another shop to top up that doesn't surcharge.
It added that in the past one of its suppliers, Payzone, has withdrawn the top-up facility from agents where such practices have continued despite warnings.
A spokesperson for the NTA told TheJournal.ie,
The bottom line is, vote with your feet. Walk out of the shop that's applying a charge (and let us know about it), find the retailer who's not surcharging, or use the Android Leap Top-Up App or the ticket machines at Luas stops or rail stations, or the top-up machines we've provided in the various spots around Dublin. Or sign up for "Auto Top Up", which automatically tops your card up, directly from your bank account, when your balance dips below a certain amount.
Meanwhile, Sinn Féin councillor Mark Ward said these surcharges are hitting the most vulnerable in society:
By adding to the already high cost of public transport these charges are a disincentive to use public transport and as such have a detrimental impact on the environment in an era when public transport is seen as a way to ease traffic congestion and reduce emissions.  
"Leap Cards are also used by students who rely on cheaper travel to get to and from college. Retailers that are involved in this practice are adding to people's direct cost of transport.  
This is another example of an indirect tax impacting negatively, not only on the environment but also on vulnerable members of society.
The NTA is asking customers to report shops surcharging to Customer.Care@leapcard.ie, it added that there is no charge to reload cards via Luas or Irish Rail ticket machines and a Leap Top-Up app is available for NFC-equipped Android phones.