MORE THAN 90 per cent of Irish students stay in school to finish their Leaving Certificate, with the number of young men staying on rising substantially in the last ten years.
This is according to a new report published today by the Department of Education and Skills and follows similar results for last year, keeping our retention levels among the highest in the European Union.
Students assessed in this report entered the first year of the junior cycle and it shows that the retention rates for these pupils are almost 8 per cent higher than those who started in 1997.
The highest Leaving Certificate retention rate in the country was in Meath at 92.94 per cent, followed by Mayo with a rate of 92.93 per cent.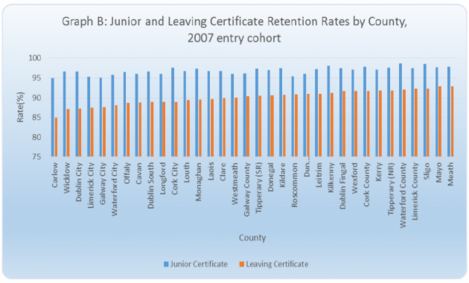 The number of women staying on at second-level has risen by over 8 per cent during the period while the number of male students sticking around to finish their Leaving Cert rose nearly 15 per cent.
Commenting today, Minister Ruairí Quinn said he was particularly leased to see the increase in the number of young men staying to complete their senior cycle.
However there is still a gap between the two sexes with 88.36 per cent of males and 91.94 per cent of females staying on.
"We want to see as many young people as possible staying in education and gaining the right skills and knowledge to be able to secure fulfilling jobs," Quinn said.
School leaving rates has also dropped slightly to 9.7 per cent.