LEO VARADKAR HAS hit back at claims from Fianna Fáil that the government acted 'fraudulently' in establishing the Department of Health's budget for this year.
The Health Minister was responding to claims from Micheál Martin that the coalition "cooked the books last year" after it emerged last weekend that HSE Director General Tony O'Brien warned that spending plans for health were "unsafe and unrealistic".
Martin has been increasingly vocal on the government's problems in health in the past 24 hours saying that the Taoiseach, then-Health Minister Reilly and the Government knowingly put patient safety at risk over the last 12 months when formulating budget plans this time last year.
But speaking in Dublin this morning, Varadkar said: "Lookit, it's just not true. Like obviously I wasn't involved in the detailed discussions about the health estimates last year.
"But I was involved at the point where it reached Cabinet and I know at that time, and at that point, the concerns of the director general of the health service were taken into account and the HSE's service plan was modified and more money was found for it in order to make sure that it was safe.
"So actually what happened last year is that Tony O'Brien's concerns about safety were taken into account by government and additional funds were found for health."
Varadkar also called on Fianna Fáil to outline its policy on health, a charge levelled by his Fine Gael colleague Jerry Buttimer who said earlier that the opposition party has "no policy".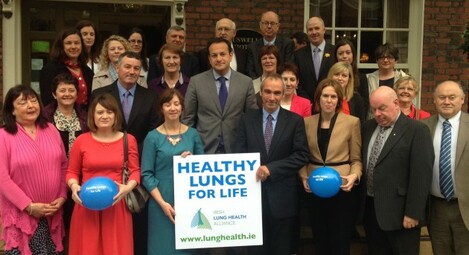 Varadkar was speaking at the launch of National Lung Health Awareness Week Source: Hugh O'Connell/TheJournal.ie
Varadkar added: "It seems to me listening to their [Fianna Fáil's] spokesperson that they support the perpetuation of the two tier system just more of the same."
Meanwhile, responding to a report in the Irish Times today that the HSE has said it must shed 700 staff per month between now and 31 December to meet new employment targets Varadkar said resourcing issues are a matter for the executive.
But he added that reducing the number of employees does not necessarily reduce costs as it increases reliance on agency staff to work in hospitals and health centres.
"I think it's reasonable to point out that reducing the number of employees doesn't necessarily produce cash savings as we've seen by the very substantial increase in agency costs in the year gone by," he added.