With reporting from Christina Finn in New York City
THE TAOISEACH PAID a visit to the site of the Stonewall protests in New York yesterday evening.
Leo Varadkar is also due to march in the New York City St Patrick's Day parade today with his partner, Matt.
Located in Greenwich Village, the Stonewall Inn is understood to be the birthplace of the struggle for civil rights of LGBT Americans.
The Stonewall riots in 1969 is widely considered to be the single most important event leading to the gay liberation movement in the US.
When the iconic bar was raided, it sparked riots by gay rights groups, which eventually spread across America.
Yesterday evening, Varadkar stopped into the Stonewall Inn to meet some activists who were instrumental in LGBT groups being given permission to march in the St Patrick's Day parade in 2016.
The landmark decision two years ago brought about the end to a 25-year struggle by Irish-American LGBT campaigners who fought to take part in the world's largest St Patrick's Day event.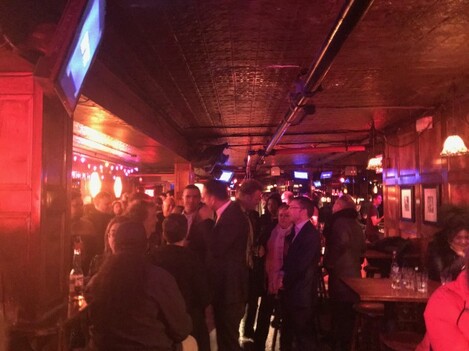 Taoiseach Leo Varakar in the Stonewall Inn. Source: Christina Finn
One of the supporters of the movement, New York Mayor Bill deBlasio (who the Taoiseach will be meeting today) became the first mayor in a generation to boycott the parade due to the ban on openly gay groups.
While in the bar last night, the Taoiseach got to meet one bartender who was present at the time of the riots all those  years ago.
The Taoiseach also paid a visit to the small park opposite the Stonewall Inn, where statues have been erected in the memory of the riots.
The visit to the monument came on the same day the Taoiseach attended a breakfast with the Vice-President Mike Pence – a meeting that occurred behind closed doors.
Questions have been levelled at Leo Varadkar during his St Patrick's Day visit to America as to whether he would raise the issue of LGBT equality with the vice-president, who has been criticised in the past for his views on gay rights.
Leo Varadkar told reporters today that he did discuss equality and rights with Pence, adding that the vice-president told him that his partner is welcome in his home next year.