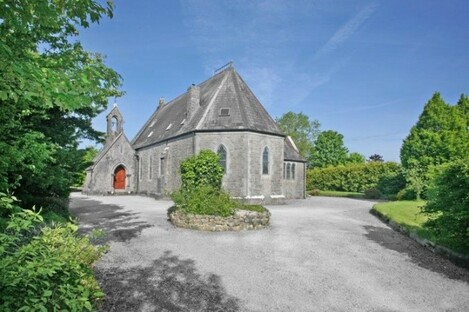 Source: Daft
IF YOU'VE BEEN waiting to see the light on your property hunt, this transformed church, with a strikingly elegant exterior dating back to 1871, may just be the answer to your prayers.
Now on the market for €530,000, The Old Church is a wonderfully unique five-bed detached home that sits in the village of Caherconlish.
As a protected structure, the exterior has been conserved while the interior has been revamped and updated for modern family life.
A recessed entrance with two stone pillars and a wrought iron gate welcomes you to this unique property. The site itself totals 0.24 hectares and is filled with lush greenery.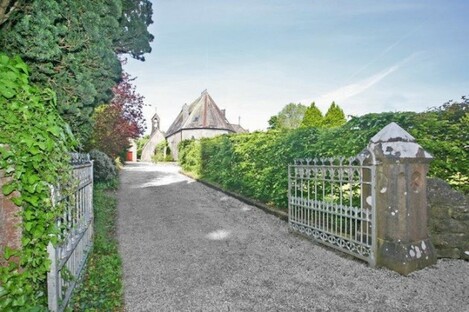 Source: Daft
A driveway leads you to the large front garden and graveled grounds with ample parking spots, while a garage provides even more space.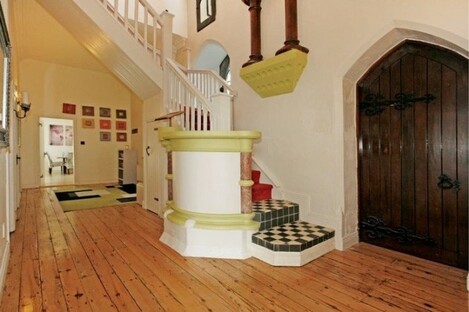 Source: Daft
With a total floor area of 3,200 sq ft, there's no shortage of space.
Downstairs, a large kitchen connects to the light-filled conservatory, finished with pristine tiling on the floor. There's plenty of storage and a kitchen island that creates the perfect working triangle.
And, although modern in fit-out, arched windows and doorways mean you won't forget how special a place this is.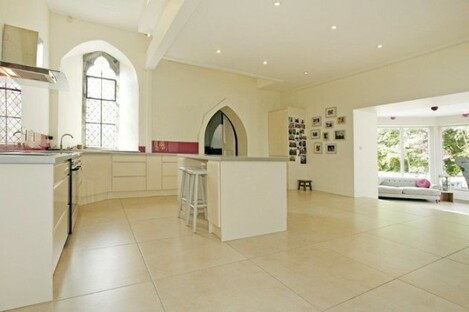 Source: Daft
The exposed stonework in the conservatory is another reminder of the building's heritage, bringing a touch of the traditional to this modern home.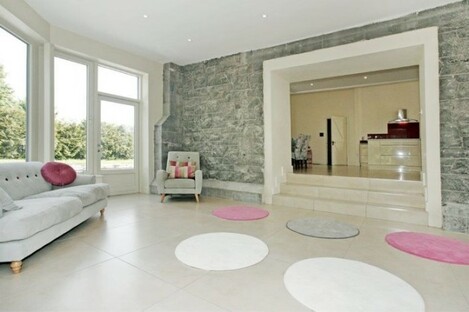 Source: Daft
A utility room is housed in the side entrance, with a stainless steel sink and stained glass windows, while a tiled floor makes for easy cleaning. Striking oak double doors join on to the kitchen, while a further two lead outside.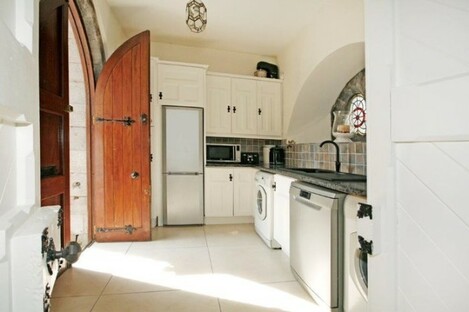 Source: Daft
While four of the bedrooms upstairs all share similar characteristics in the form of roof lights and exposed wooden beams, the master bedroom is a little different.
Two large skylights let in light, but the real focal point is the original rose stained glass window carved in to the stone wall.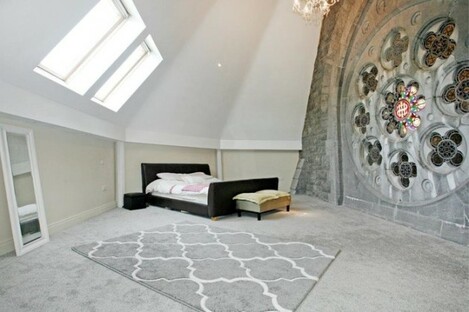 Source: Daft
Walk from the master bedroom and you'll find a living room and home office that get in on the exposed roof beam action, too. There's also a set of beautiful built in bookshelves for anyone looking to create a home library.
Source: Daft
In one of the three bathrooms sits a cast iron bath on a partly timber/partly tiled floor, with a skylight for extra light.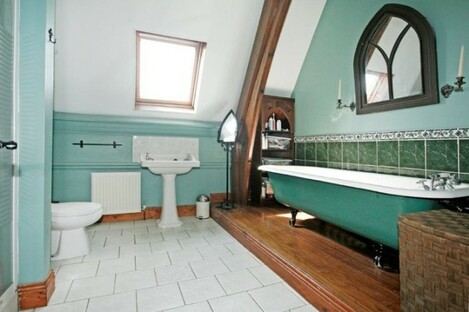 Source: Daft
From Caherconlish you'll be in Limerick city in under 30 mins on the N24, and Shannon Airport takes about the same time.
The Old Church, Caherconlish Village, Caherconlish, Co Limerick is on the market for €530,000 through De Courcy Estate Agents via Daft.ie.
Want more of these articles? Get our weekly property magazine emailed to you