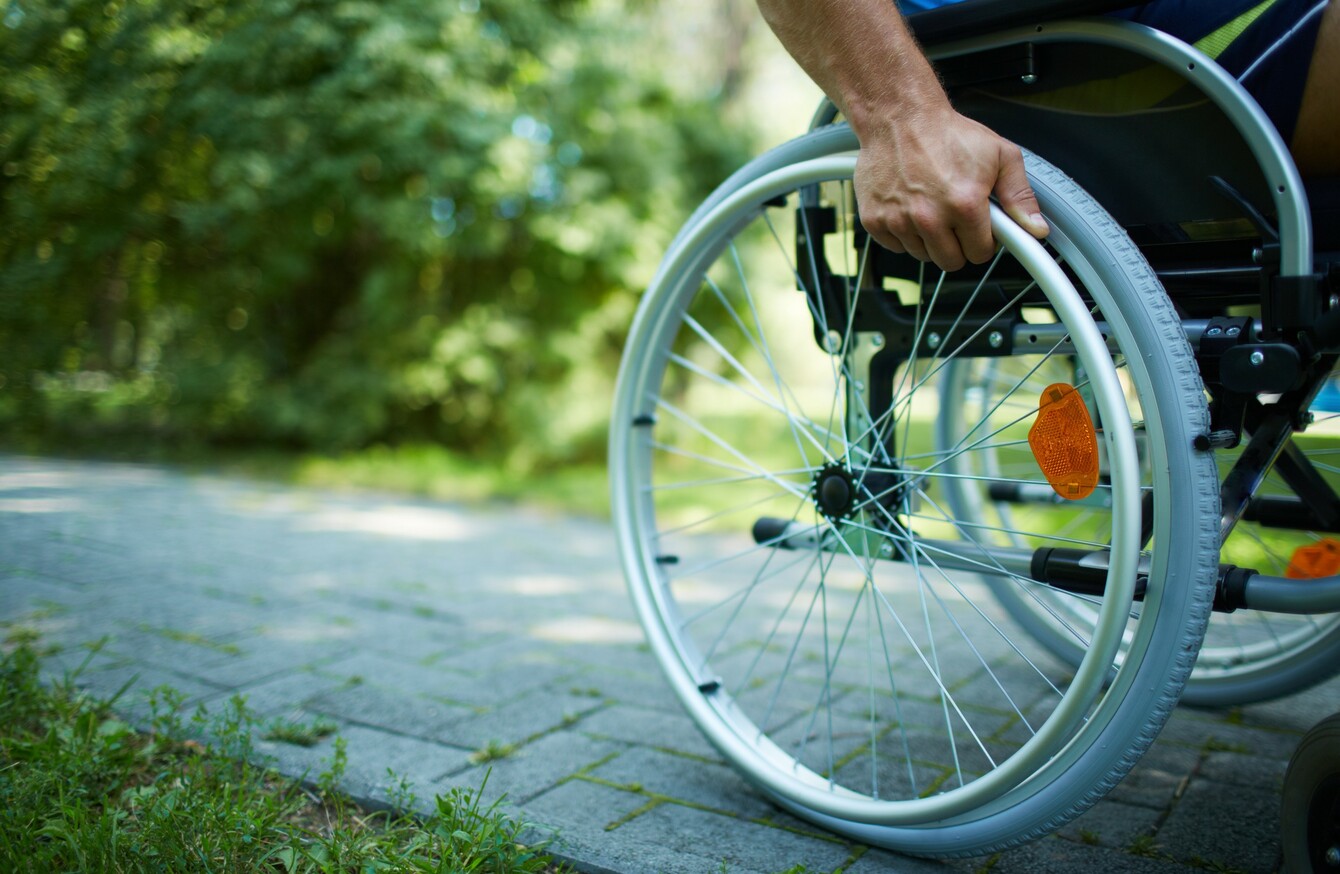 The victim of the attack had cerebral palsy and the judge commended the assistance he gave gardaí.
Image: Shutterstock/Pressmaster
The victim of the attack had cerebral palsy and the judge commended the assistance he gave gardaí.
Image: Shutterstock/Pressmaster
A LIMERICK WOMAN with 102 previous convictions, who punched a disabled man in the face and robbed his wallet, has been jailed for three years.
Belinda O'Sullivan told her victim, who uses a wheelchair, that she was helping him close his shoelaces when she carried out the "despicable" crime, Limerick Circuit Court heard yesterday.
Evidence of the "cowardly" crime was read into the record by presiding judge, Tom O'Donnell, at O'Sullivan's sentencing hearing.
Judge O'Donnell also outlined how O'Sullivan has lived a sad and "chaotic" life since she was a child.
The court heard she had sunk into a "downward spiral" of drug addiction resulting from a particularly "difficult upbringing".
O'Sullivan's victim, a man in his 20s who has cerebral palsy, was approached by the defendant and an accomplice, on Lord Edward Street, on 25 May, 2014.
It was the day before O'Sullivan's 24th birthday and she was looking to rob money to score drugs.
She knew her victim, the court heard, and tricked him into making him believe she was closing his shoelaces when she robbed his wallet, that contained €80 cash.
"The victim hit the accused to protect himself and when he lashed out, the accused struck him in the face," the judge said.
"When gardai found him he was in a distressed state and they had to call a specially trained garda and a disability advocate," the judge added.
'Easy target'
In a victim impact statement the victim said, in his opinion, he was targeted because he was "seen as an easy target because of his disability".
He said he was "slowly building up his confidence" following the incident.
Judge O'Donnell said the man "gave gardai an excellent account of what happened" and he "deserves enormous credit for helping gardai to solve the crime".
It was heard that from an early age O'Sullivan had become addicted to drugs after suffering a "difficult childhood".
She herself was "a victim of violence in relationships" the judge said, adding:
She leads a chaotic lifestyle and has, through her addictions been rendered homeless on many occasions.
O'Sullivan had made attempts to tackle her drug abuse and childhood traumas but had always "relapsed into drug use and criminality".
"She has made attempts at self-harm because of her doc cult childhood," the judge added.
He said O'Sullivan "expressed sincere remorse" about robbing her vulnerable victim and, despite her crimes was, "well-intentioned but (always) reverts to type".
The judge described the robbery as an "appalling incident".
"She stooped so low as to take advantage of a disabled man in broad daylight. It was cowardly and despicable," he said.
He added:
Despite serving past short sentences she still commits crime.
Threats
At the time she robbed the man, O'Sullivan was on bail on two separate Section 99 suspended sentence orders, one for threatening to kill a serving garda, the other for robbery.
Judge O'Donnell made no order on the suspended sentences.
If the court had activated the Section 99 orders, O'Sullivan would have been sentenced to six years jail instead of three years.
"In view of her guilty plea, and her remorse, I have decided not to (activate) any of the suspended sentences at this time," the judge said.
He noted a probation report, dated last February, which had been canvassed by the judge, stated…"the accused needs some respite to break the downward spiral she's on, to help her develop coping skills and cope with her addiction problems."
O'Sullivan also pleaded guilty to robbing €39.14 worth of hair and beauty products from a hair salon, on 2 July, 2014, while she was on bail.
O'Sullivan carried out the robberies while she was on consecutive suspended sentences for robbery; threatening to kill a garda, assaulting the same officer, and possessing an imitation firearm during the same incident.
In December 2013, O'Sullivan was given a one-year jail sentence, suspended for four years.
At the time she pleaded guilty to threatening to kill Garda Gavin Fisher, assaulting Gda Fisher, and using an imitation gun while threatening the officer, at the Travelodge hotel, Coonagh, Limerick, on 16 July, 2012.
She received a consecutive two-year suspended sentence on the same date after pleading guilty to robbing two men of a mobile phone, and €50 cash, in October 2010.
O'Sullivan had notched up 102 convictions when she targeted this latest victim.
Judge O'Donnell described O'Sullivan's criminal record as "appalling".
O'Sullivan's barrister said, "various agencies including the Simon Community are prepared to offer her a safety net" after she serves her sentence.
The judge remarked he hoped O'Sullivan would be rehabilitated.