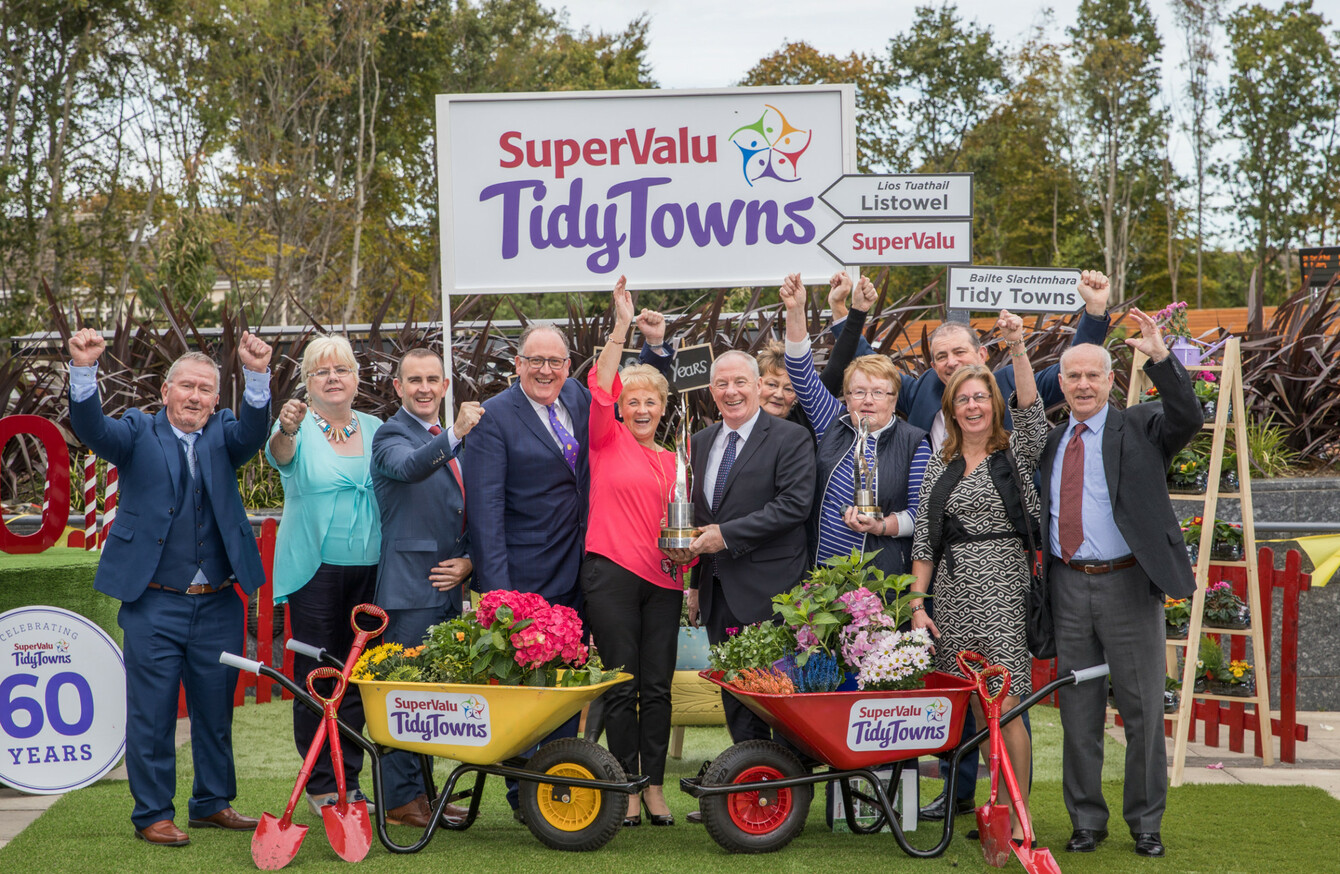 (L-R) Peter O'Sullivan, Imelda Murphy, Paul O'Connor, Martin Kelliher, Julie Gleeson, Minister Michael Ring, Margaret O'Donoghue, Breda McGrath, Kevin McCarthy, Collette Foran, Bill O'Neill
Image: Naoise Culhane
(L-R) Peter O'Sullivan, Imelda Murphy, Paul O'Connor, Martin Kelliher, Julie Gleeson, Minister Michael Ring, Margaret O'Donoghue, Breda McGrath, Kevin McCarthy, Collette Foran, Bill O'Neill
Image: Naoise Culhane
"I WAS IN tears. I was delirious. This is our ultimate dream."
It's been almost two weeks since Listowel in Co Kerry was named Ireland's Tidiest Town for 2018, but the residents are still reeling.
For the local SuperValu TidyTowns committee secretary, Mary O'Hanlon, it was the culmination of 25 years' hard work.
Mary listened into the awards announcement via a livestream on her phone, after being unable to make it to Dublin for the ceremony at the last minute. But she was sure to join her committee for the homecoming that followed.
The chairperson Julie Gleeson and I were driven to the town square on the back of an open-top sports car. The place was full, we had speeches and cheers and an MC.
Paul O'Connor, store manager at Garvey's SuperValu in the town, says the Dublin ceremony itself was "like the Oscars… Julie [Gleeson] had cameras in her face, lightbulbs flashing, the whole thing."
Right now, Listowel's residents can rest easy knowing they officially live in Ireland's Tidiest Town. But the hard work never really stops. "We're very proactive," says Mary. 
So what does it take to hit the gold standard? Here are a few pro tips from this year's winners….
1. Get everyone in the community involved
For early risers in Listowel, the SuperValu TidyTowns' "dawn patrol" is a familiar sight. Groups of litter-pickers and flower-waterers hit the town from 7am most days, weather permitting, with an ongoing rota of committee members, volunteers and business owners.
"You could see your solicitor, your butcher or your doctor out picking up litter. It shows everyone that the clean-ups are not something to be sniffed at," says Paul, who himself took part in the dawn patrol this summer along with other SuperValu staff members.
2. Remember, it's not just about cutting grass
Mary has been part of Listowel's committee since the early days, over two decades ago. But she says the type of work has changed somewhat over the years.
Back then you'd be cutting grass or ivy to within an inch of its life. Every weed was a horror. Now we're living in a more environmentally aware society with a focus on biodiversity.
The town's fruit and nut orchard and newly planted trees by the River Feale were a particular hit with the judges this year.
3. But don't forget to keep the town looking good
"We always have to remember what I call the 'housekeeping,'" says Mary. "You can't be having grubby doors, untidiness or too much clutter or it'll reflect badly in the judges' report."
Listowel was awarded Ireland's tidiest small town in 2015 and 2016, and that commitment shines through. As Mary puts it:
Attention to detail is so important when you're preparing for the judges. This year we painted and washed and weeded and weeded again… I wouldn't ask anyone to do something I wouldn't do myself.
4. Make the clean-ups as much fun as possible
In Listowel, the "big drive" kicks off in April with the town clean-up. "That would be our constant," says Mary. "We do a whole week of that."
There's also a road clean-up, plus regular clean-ups twice-weekly with a work plan for what needs doing. The five local primary schools and three secondary schools in the area play a key role in clean-ups and sustainable planting:
Our committee members still have loads of life and energy but we are getting older. It is very important to foster the SuperValu TidyTowns ethos in the kids, too.
5. Keep the momentum going all year round
Keeping a town of Listowel's size – there were 4,820 residents according to the 2016 Census – looking good takes a lot of organisation.
"Getting people involved at all levels is so important," says Mary.
Our committee might be the catalyst, but every person in Listowel who picks up something, or paints their front wall, or doesn't throw something on the ground, has a part to play in our win. The judges come and they view the town as a whole, so everything counts.
This year marks SuperValu's 27th year as proud sponsor of SuperValu TidyTowns. A record 883 towns and villages around the country competed this year, and hundreds of those took home medals and awards for their hard work. Find more information on how to get involved with SuperValu TidyTowns in your area here.