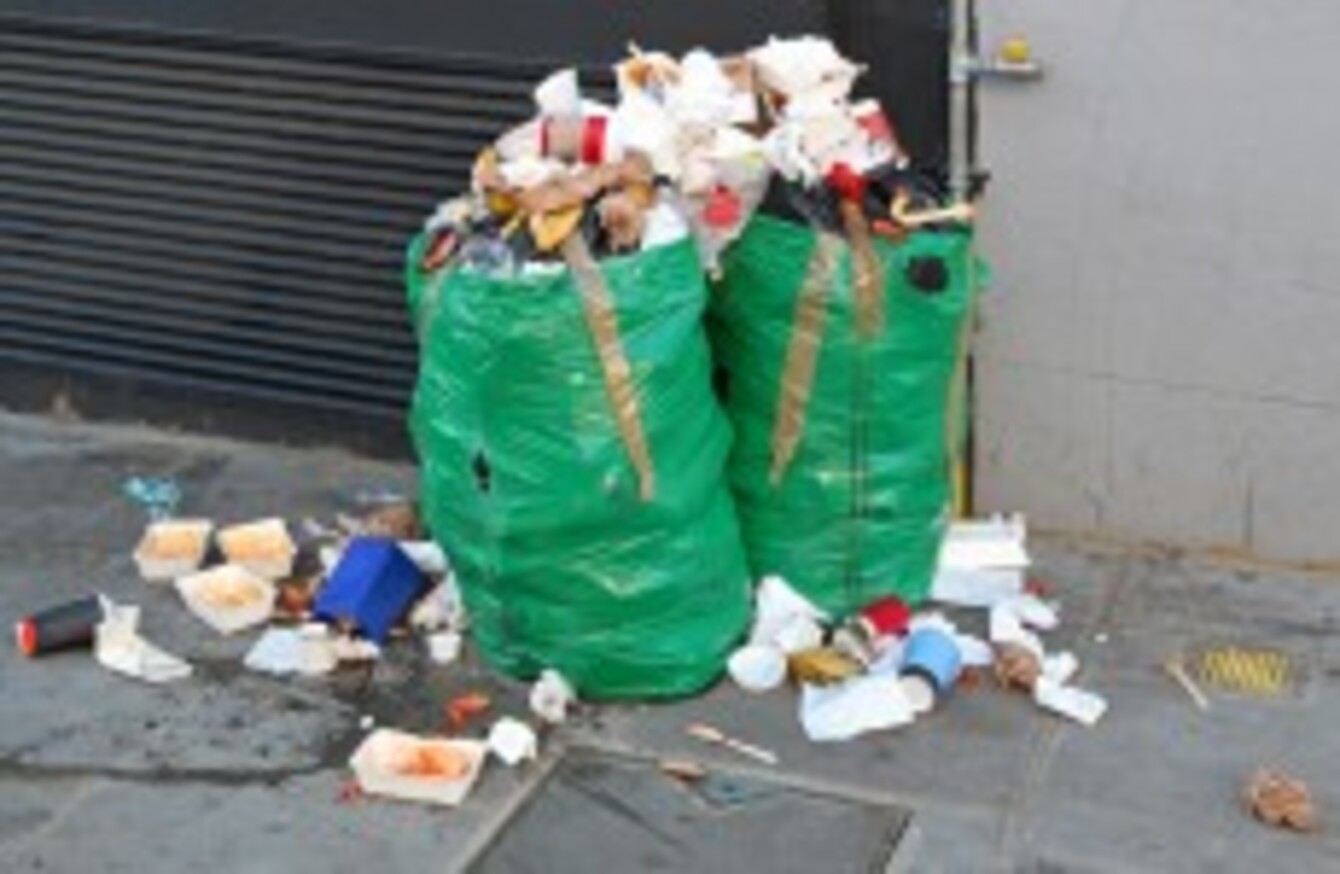 Image: Shutterstock/Baloncici
Image: Shutterstock/Baloncici
DUBLIN'S NORTH INNER city is a lot cleaner than it was earlier this year, and is no longer a litter black spot, according to the Irish Business Against Litter (IBAL).
Their latest survey for 2014, shows that Dublin's north inner city has shown a marked improvement and is 30% cleaner than earlier this year.
However, it is still the second most littered area in the state, according to the latest litter league tables.
Dublin
Dublin city comes in as the third most littered area, cited as being "moderately littered".
While over half the sites surveyed in Dublin City Centre received the top cleanliness rating, notably O'Connell Street and Grafton Street, a number of heavily littered areas brought down its overall ranking.
Amiens Street was brandished a litter blackspot and described as being "in a terrible state", the car park in Sycamore Street was "shockingly neglected" and the basements in Parnell Square suffered from 'long-term neglect and dumping".
"This was the first time in our survey that we found a marked improvement in Dublin's north inner city, with a threefold increase in litter-free sites, and that could be a turning point," said IBAL spokesperson Conor Horgan.
He added that Dublin City Council made it clear some months ago that a concerted effort would be invested in cleaning up the area, stating that "the first fruits of that work are already evident".
European norms
We look forward to Dublin inner city being clean to European norms in 2015, which would be a huge boost for our capital.
The An Taisce report also cited North Strand, Jones Road, Dorset St and Summerhill Parade as litter-free sites, but Sheriff Street, Poplar Row and Buckingham Street were seriously littered. The area around Seville Place was slammed as a litter blackspot, while the report concluded that "even small improvements will see the area rise further in the rankings".
On a positive note, 85% of our towns and cities were clean to European norms last year.
Over 40% were cleaner than the European average, with only six areas falling short of "clean" status, among them Drogheda, Maynooth and Tallaght. Cork, Limerick and Galway City were all Clean to European Norms, while Dublin City Centre was again moderately littered.
Farranree in Cork is the only area surveyed which was deemed a litter blackspot.
Cork 
Cork's Farranee failed to improve on a poor showing earlier in 2014. An Taisce described it as very heavily littered and was "not just littered but subjected to dumping and neglect".
The surveyor criticised "a constant stream of heavy levels of a wide variety of litter" at Popham's Road, which was a litter blackspot, with Fair Green, also a litter blackspot, exhibiting levels of litter "which could become health hazard".
Only two of the sites inspected were deemed to be clean.
The survey also showed that connecting roads between towns were found to be more littered than towns themselves.
Roads
While over 80% of towns were clean, almost half of the connecting routes between towns which were included in the survey were found to be moderately littered or worse.
There was "persistent litter" on the road between Dundalk and Drogheda, and the stretch between Fermoy and Cork was heavily littered in parts. While Cavan was said to be "pristine", the road between it and Monaghan suffered from food related litter.
The most prevalent forms of litter are sweet papers, cigarette butts, fast food wrapping and chewing gum. Of the sites most likely to suffer from litter are, river walks, promenades, train stations and recycling facilities, while the cleanest areas were main streets and town centres.