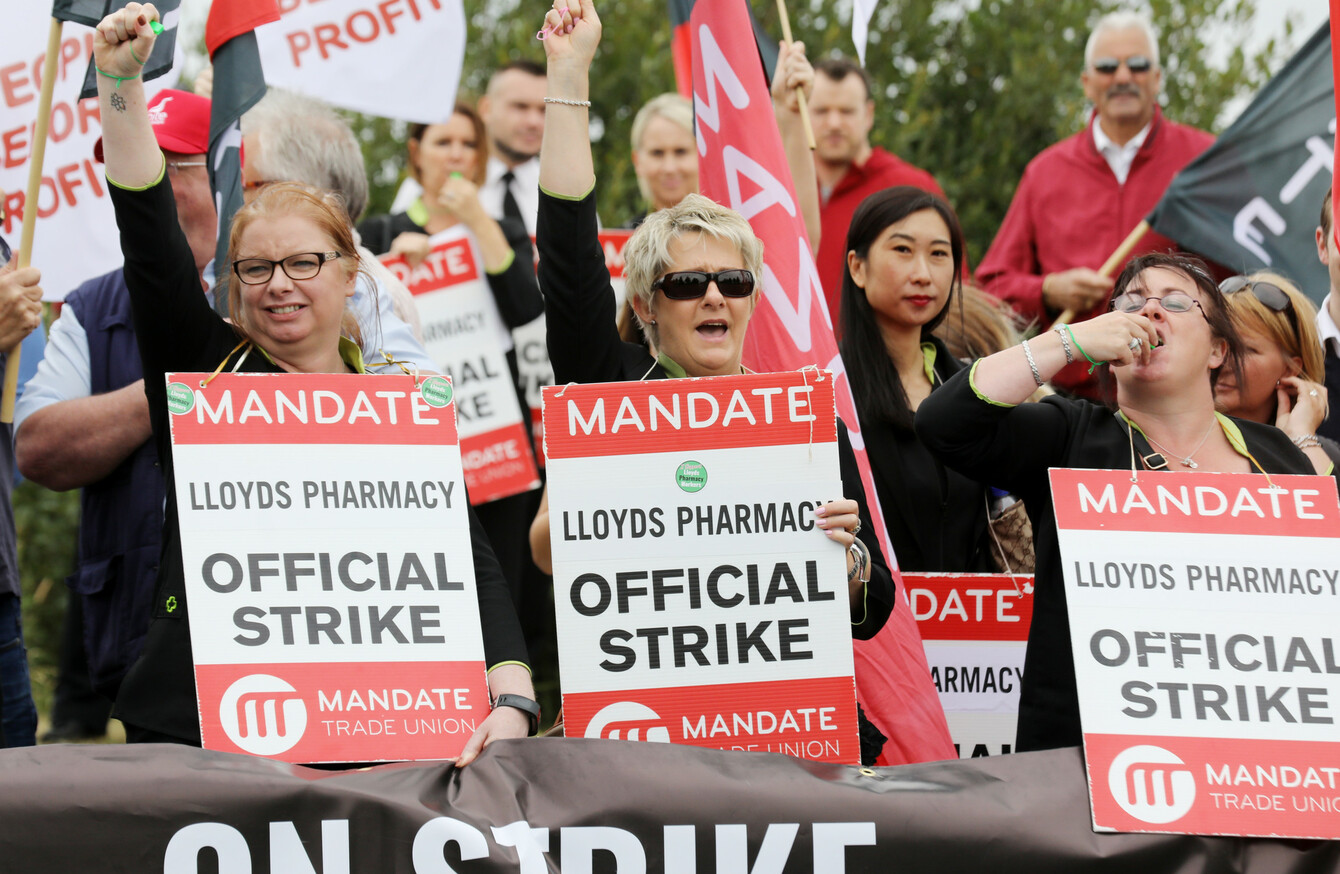 Pictured are Lloyds Pharmacy workers striking outside Lloyds head office in United Drug House, Magna Business Park, Citywest, Dublin in July
Image: Eamonn Farrell via RollingNews.ie
Pictured are Lloyds Pharmacy workers striking outside Lloyds head office in United Drug House, Magna Business Park, Citywest, Dublin in July
Image: Eamonn Farrell via RollingNews.ie
STRIKES ARE SET to take place outside over 30 Lloyds Pharmacy stores in Ireland tomorrow and Tuesday, despite the company agreeing on a new deal with staff last week. 
Mandate – which says it represents 270 workers at the company – has said the strike can be resolved if Lloyds Pharmacy "simply agrees to meaningful negotiations" with their workers' representatives. 
Lloyds Pharmacy last week issued a statement outlining it has agreed on a new deal with staff which delivers pay increases, additional benefits, the implementation of banded working hours and a voluntary severance packages.
The deal, it said, followed negotiations with its employee negotiating body, the Colleague Representative Committee (CRC).
Furthering on from this, the company announced a voluntary severance scheme for its employees, which it said is a once-off measure to help support the long-term sustainability of the business.
Under the programme, staff opting to leave would be provided with five weeks gross weekly pay per year of service, with total payment capped at €100,000. 
As previously reported by Fora, Lloyds Pharmacy and Mandate attended a Labour Court hearing at which the union sought various changes to pay, contracts and annual leave entitlements.
The dispute centres around employee pay and conditions, with Mandate and workers having four main claims, which are:
A pay increase and incremental pay scales
The introduction of a sick-pay scheme
Security of hours and the elimination of zero hour contracts and
Improvements in annual leave entitlements and public holiday premiums
Lloyds Pharmacy, which employs more than 1,000 people at 90 Irish stores, doesn't recognise Mandate and told the Labour Court it deals with issues around employment terms and conditions through CRC, Fora reported.
In its statement last week, Lloyds Pharmacy said pay increases for all staff range from 1.5% to 11% and that no staff member will now be on less than €10.60 per hour.
The company has called on Mandate to withdraw its threatened strike action for next week and future months.
"Strike action is unwarranted and irresponsible given out 92 pharmacies' vital healthcare role in serving the needs of customers and vulnerable patients," Lloyds Pharmacy director of sales and marketing Pat Watt said. 
We are calling on Mandate not to strike this week, but if they do, we have contingency plans in place and our committed employees will work to minimise disruption. In particular, we will make sure no patient who needs a prescription will be left without. 
At least five stores closed
Despite the new pay deal announced last week, David Gibney, communications officer at Mandate told TheJournal.ie this afternoon that the trade union members feel that "what the company has given so far … is inadequate".
"Our members don't feel that senior management in Lloyds represent them or their best interests, so they've decided that they are opposed to the deal," Gibney said. 
"They want the company to sit down and negotiate with an independent representative body, mainly Mandate Trade Union." 
Mandate has today warned the public that at least five Lloyds Pharmacy outlets will be closed for tomorrow and Tuesday. 
These stores include: Tonlegee and Coolock in Dublin 5, Killester in Dublin 3, Crumlin in Dublin 12 and Mullingar, Co Westmeath. 
More than 30 other stores will also have official pickets placed outside them. 
Mandate has said it is regrettable and disappointing that the strikes must go ahead. 
"We're looking for the company to sit down and negotiate with the workers' representatives in Mandate Trade Union in relation to a range of issues including pay, sick pay, annual leave and public holiday entitlements, among other issues … a pay scale that is sufficient," Gibney said. 
A list of stores striking over the coming days can be found here. 
Lloyds Pharmacy has been contacted for comment. 
With reporting by Adam Daly.