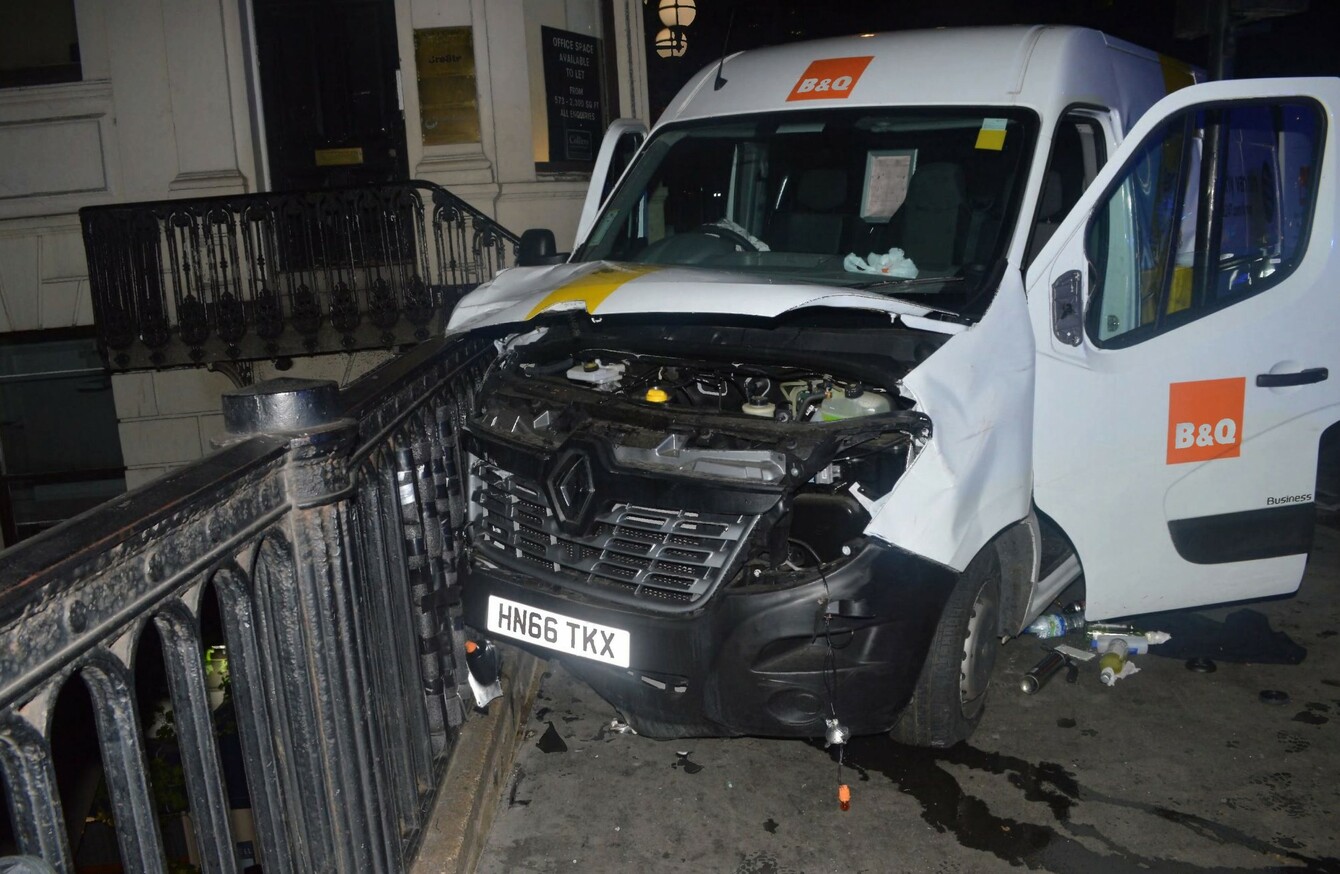 The van used by the attackers
Image: Met Police
The van used by the attackers
Image: Met Police
LONDON POLICE HAVE said that the three men who carried out last week's terror attack had attempted to hire a seven-and-a-half tonne lorry to use, but were unable to do so.
Police also released an image and appealed for information on the knives used in the attack.
The attackers - Khuram Shazad Butt, Rachid Redouane and Youssef Zaghba – attempted to hire a 7.5 tonne lorry online last Saturday morning but did not provide payment details and the rental did not go ahead.
The were shot and killed last Saturday night after they drove a van through pedestrians on the London Bridge and stabbed others nearby, killing eight and injuring scores of others.
A total of 18 people have been arrested since the attack, with five remaining in custody.
Gardaí issued an appeal this morning on behalf of London police for witnesses to the attack to come forward.
Officers are particularly keen to hear from anyone who witnessed the white van targeting individuals on London Bridge, saw the suspects attacking members of the public or armed police engaging the suspects.
Knives
Police said that ceramic pink knives were found on or nearby the three attackers after police had shot them dead last Saturday.
The knives the men used each measures 12 inches and are branded Ernesto. They are ceramic, rather than metal.
The attackers had wound duct tape around the handles and in one case a leather strap had been attached to the handle and hung around an attacker's wrist.
Police appealed for any information around the knives – where they came from or where they were bought.
Van
Police also released images of the white Renault van, registration plate number HN66 TKX, used by the three men to carry out the attack.
Met police said that counter-terrorism officers had so far spoken to 262 people from 19 different countries as part of the investigation. Of these, 78 are significant witnesses.
Commander Dean Haydon, head of the Met's Counter Terrorism Command, said that police were in particular looking to speak to people who saw the van target people on London Bridge and attacking people with the knives.
Police recovered a number of items from the van:
13 wine bottles with rags wrapped around them and believed to be filled with a flammable liquid
Two blow torches
A few offices chairs and a suitcase
Gravel bags
The men were also wearing hoax suicide belts consisting of plastic water bottles wrapped in grey duct tape.
Anyone in Ireland with information can contact London police here