CLADDING ON THE outside of London's Grenfell Tower, which was engulfed in flames early yesterday, was "directly associated" to the spread of a similar fire in Melbourne three years ago.
The death toll from the fire now stands at 17, with many more missing and another 17 in critical condition.
The Lacrosse building in Melbourne's docklands caught fire in November 2014 after a cigarette on the eighth floor sparked. The fire raced 13 storeys to the roof in just 11 minutes.
The rate at which the fire spread was put down to the use of the combustible cladding, which has a plastic core and aluminium coating. The same type of cladding was installed at Grenfell Tower last year as part of a £10 million renovation.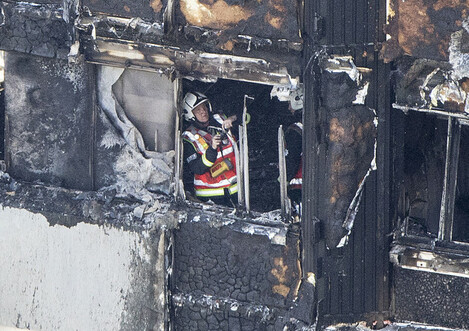 Source: Rick Findler
The Melbourne Fire Brigade's post-incident analysis of the Lacrosse fire said that the sprinkler system operating within the apartments had held the fire in check. However, they say that firefighters described the fire as "appearing to be associated directly with the façade of the building rather than the combustible contents and storage on the external balconies".
They say that flaming facades on high-rise buildings is rare and of "genuine concern".
Of even greater concern is the speed and intensity of the fire spread.
The report found that the Alucobest cladding does not meet standards on non-combustibility of building materials, adding that Australia's national science agency had tested the material and found it did not meet building codes.
The report concludes:
In this instance, fire quickly extended up the external wall involving the cladding and fuel loads on each balcony. Had the external wall cladding been of a non-combustible type, the likelihood of fire spread beyond the level of ignition would have been greatly reduced.
Reports after the fire said that use of cladding in Australia was "rife".
In London, there are questions about why there was no sprinkler system in Grenfell Tower which could have helped stop the fire spreading, or any central smoke alarm system that would have woken sleeping residents.
Construction firm Rydon, which completed the refurbishment in 2016, said the work "met all required building control, fire regulation and health and safety standards".
But David Collins, former chairman of the Grenfell Tower Residents' Association, said the building's management had failed to listen to residents' calls for improvements on fire safety.