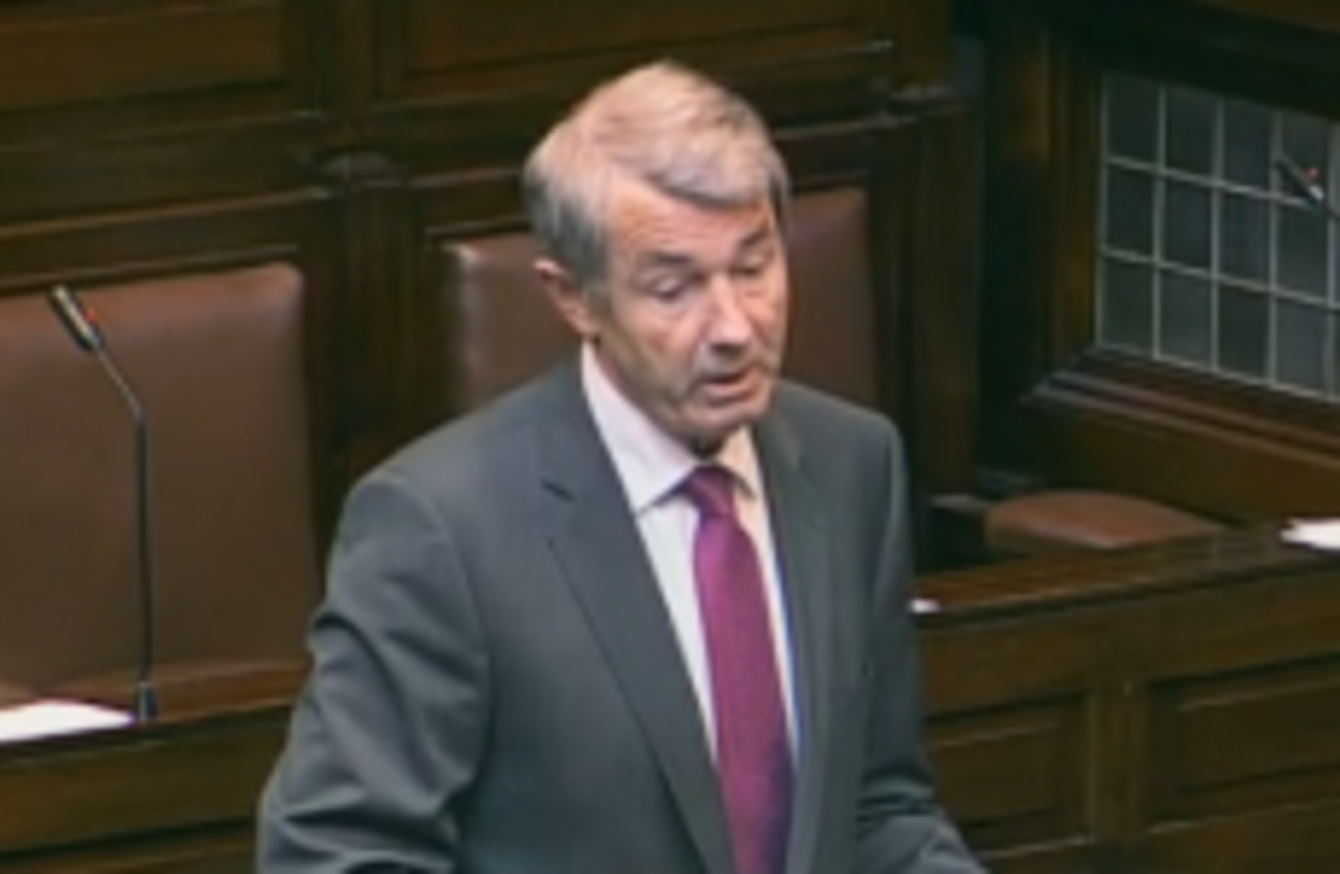 EMBATTLED INDEPENDENT TD Michael Lowry has described the Moriarty Tribunal as a "scandal of truly epic proportions", telling the Dáil he would use every legal option available to him to clear his name of the allegations made by the Tribunal's findings.
In a 15-minute statement to the Dáil this evening, responding to speeches made by TDs from opposition parties who are seeking to table a motion censuring Lowry and calling on his resignation, Lowry said the Tribunal had engaged in a "cynical exercise" of presenting his own property transactions in "a slanted and deliberately incomplete manner".
The independent TD – whose role in the awarding of the Esat Digifone mobile phone licence was condemned by the Tribunal in its findings last week – said he would take his case to "the High Court, the Supreme Court, and the [European] Court of Human Rights" in order to vindicate his arguments, and examine whether the Tribunal's findings held up "under the scrutiny of the law of this land".
While the Dáil was free to pass a motion calling on him to resign, Lowry would have "no intention of quitting" regardless – saying he would "not walk away from the overwhelming mandate given to me by the constituents of North Tipperary and south Offaly."
Rejecting what he felt were "sneering and snide references to gombeen politics and parish pump politics that seem to delight some sections of the media," Lowry also asserted that his constituents were "as intelligent and sophisticated" as those of any other area, before then systematically condemning the Tribunal's suggestions that he had made personal profit from a number of property dealings.
"It is a fact that no money was ever received into my bank account, my family, or any business of mine, from Denis O'Brien," an angered Lowry asserted, adding that the Tribunal's report had given a "false and misleading impression… [an] intentional and malicious representation of the facts".
I got no £900,000… I benefited with a big fat zero from these properties.
'A complete and utter lie'
A loan of £147,000 received to buy a home on Carysfort Avenue in Dublin was "repaid on commercial terms, in full, with interest", while a 10 per cent stake Lowry held on a house in Mansfield, England was "worth little or nothing as it stands".
"It is a fiction – a total fiction – to say I got £300,000 from this property. The fact is there is no money trail," Lowry insisted.
Another attempt to enter into a deal with Aidan Phelan to buy a church hall in Cheadle, he said, had fallen through because Lowry had "difficulty organising finance to complete the purchase – the reason being, any loan was subject to independent personal guarantee.
"I failed to get a bank guarantor so therefore my loan was disapproved," Lowry saying, leaving Phelan to ultimately take exclusive ownership of the deal.
The fact is, I received absolutely nothing from that transaction – there never was £420,000 paid to me, by loan or otherwise… the alleged £420,000 Cheadle payment is a complete and utter lie.
#Open journalism No news is bad news Support The Journal

Your contributions will help us continue to deliver the stories that are important to you

Support us now
"There is no pot of gold at the end of some rainbow in North Tipperary or elsewhere… the reality is far more mundane and unimpressive," Lowry said.
"The so-called money trail goes nowhere… however, opinions do not have to reflect the fact – opinions can be infinitely more interesting and scandalous, because opinions never have to be proven."
Describing the Tribunal's findings as a "triumph of innuendo over evidence – of supposition over fact," the former Fine Gael minister said it was "truly a bad day for Ireland when citizens can be subjected to the incredible levels of ridicule and contempt that I and others have endured on the basis of unsubstantiated opinion.
I have endured it with great strain, but I refuse to buckle under it. My conscience is clear. I will not apologise for something I did not do. I have a life and a career, and I will get back to it. I'm still standing, and I know I still have a valuable contribution to make. I indend to make it.