THE LUAS CROSS City will be fully operational today for the first time, carrying passengers right across the city from north to south.
While the completion of the lengthy construction period will be happy news to many, campaigners and advocates are concerned that the safety of cyclists along the new line has not been properly taken into account.
The Luas Cross City is a huge infrastructure project, one that took almost three years to complete. In that time, there have been significant changes to Dublin city centre's streets.
The trams will run from Stephen's Green on the south of the city to Broombridge on the north.
As the tracks have been laid down, significant changes have been made to lanes and traffic flow in certain key areas.
Specifically, College Green in front of Trinity College, Dawson Street going onto Nassau Street and the area around Parnell Street on the north side are areas of concern.
In these areas, the Luas tracks and trams have been squeezed into an already traffic heavy area of buses, taxis, cyclists and – in the case of Parnell Street – everyday vehicles also.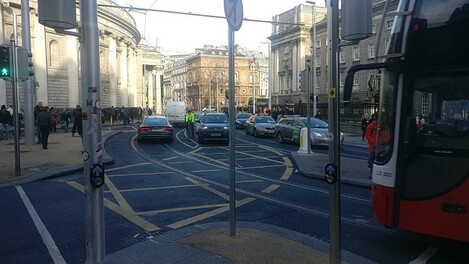 College Green - where taxis, buses, cyclists and trams going in both directions will be common once the Luas launches. Source: Cormac Fitzgerald/TheJournal.ie
"This is an issue of long-term planning and short term vision," said Colm Ryder of the Dublin Cycle Campaign.
"As a cycling campaign we are really worried about the number of people that have had incidents so far – before the system begins to work – and what could happen in the future is frightening," he said.
At College Green the tracks run along the road towards Nassau Street. A cyclist travelling this route will have to avoid cycling over the tracks and getting their tyres stuck.
While doing so, there will be buses travelling left up Nassau Street and right up Dame Street, as well as oncoming traffic from Nassau Street.
Tracks heading towards College Green from Nassau Street. Source: Cormac Fitzgerald/TheJournal.ie
"What's going to happen is that cyclists who are beginner cyclists, they are going to avoid these areas altogether or they are not going to get on the bikes at all," said Ryder.
The aura will come for cycling that it's a dangerous thing to do – and that's a big mistake and it's bad for the city.
Addressing the issues
Concerns were raised earlier this year during the construction phase around cyclists getting stuck and falling on the tracks on O'Connell Street.
The National Transport Authority (NTA) – which manages the Luas Cross City project – originally attempted to ban cyclists from certain areas where the Luas would be in operation.
However, Dublin City Council said that it would not enforce this ban.
Instead, there are "Cyclists Dismount" signs in a number of areas, including at College Green and on Dawson Street.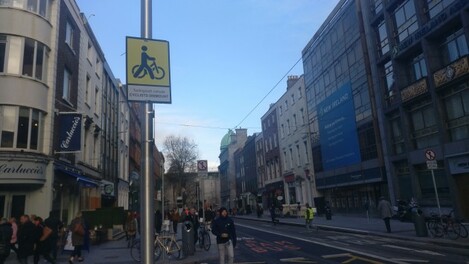 A Cyclist Dismount sign on Dawson Street. Source: Cormac Fitzgerald/TheJournal.ie
However, there has been confusion around what exactly cyclists should do in these areas – where they should dismount and where they should get back on their bikes.
An NTA spokesperson said that cyclist were being asked to dismount and walk from the stretch of Luas tracks running from the Molesworth St junction on Dawson St through to College Green.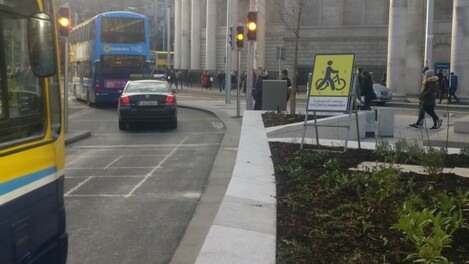 One of the signs at College Green. Source: Cormac Fitzgerald/TheJournal.ie
"In this area, cycling in the tram line involves dealing with a restricted width between kerbline and tram track, with a high number of trams, buses/coaches and taxis which will all be using the same street space," the spokesperson said.
"This gives rise to the possibility of bicycle wheels becoming caught in the groove of the tram track leading to accidents and incidents.
For that reason, the NTA believes that, particularly at the busiest times of the day, cyclists are best advised to dismount for these sections.
They said that the section accounts for only 3% of the entire Luas Cross City extension and that the temporary signs will be replaced by more permanent ones in the weeks ahead.
Ryder is critical of the signs, saying that they are not an appropriate answer to the issues facing cyclists.
"Those signs have no legal basis whatsoever," he said.
Solutions
Ryder said that that a solution would be to put in rubber tracks, which would allow cyclists to pass over the tracks safely, while the Luas would push down the rubber.
However, this proposal has not been taken up by the NTA.
In response to queries from TheJournal.ie, an NTA spokesperson said that there were no plans in place to restrict cyclists in Dublin city centre, and that it was important in preparing for Luas Cross City to ensure cyclists could move around the city safely.
"There are major plans for a plaza at College Green, and a two-way cycle way is among the measures included in the proposals. The planning application for that is currently with An Bord Peanala," the spokesperson said.
Given that College Green is and will remain, a major thoroughfare for bicycles, NTA and DCC are not really in a position to progress an overall cycle plan for the area until the outcome of that planning process becomes clear.
The spokesperson said the NTA was determined to have safe, well-designed, dedicated cycle facilities where possible in the city centre.
"NTA and the local authorities in the Greater Dublin Area have a strong track record of delivering cycling infrastructure," they said.
The Luas Cross City will begin general service from 2pm today.