THE LATEST STAGE of track-laying was officially launched last week – but those changes to traffic layout in Dublin city centre kick in from today.
If you drive in the city regularly, you'll no doubt have noticed an increase in construction work.
Here, in brief, is what you need to know if you're setting out this morning…
From today
The latest round of works, kicking in today, will see the College Green bus corridor being extended.
It means the College Green bus corridor – which already affects rush hour drivers - will operate from Monday to Friday, 7am to 7pm.
During those hours, only buses, taxis and bicycles can travel through College Green.
Outside of these hours, the corridor will be open to all vehicles – as well as on Saturdays and Sundays.
But when the corridor is in operation, drivers must use alternative routes.
Here's the 'inner orbital route', which it is recommended people use if they want to drive through town…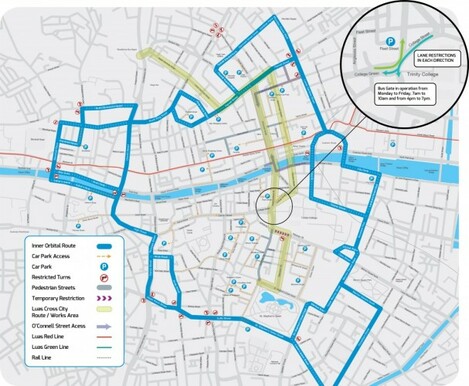 The scale of the works is going to increase in the coming months – but there will be a temporary suspension in the area from O'Connell St to Grafton St in March and April 2016, for the 1916 centenary celebrations.
The project, costing some €368 million, is due for completion in 2017.