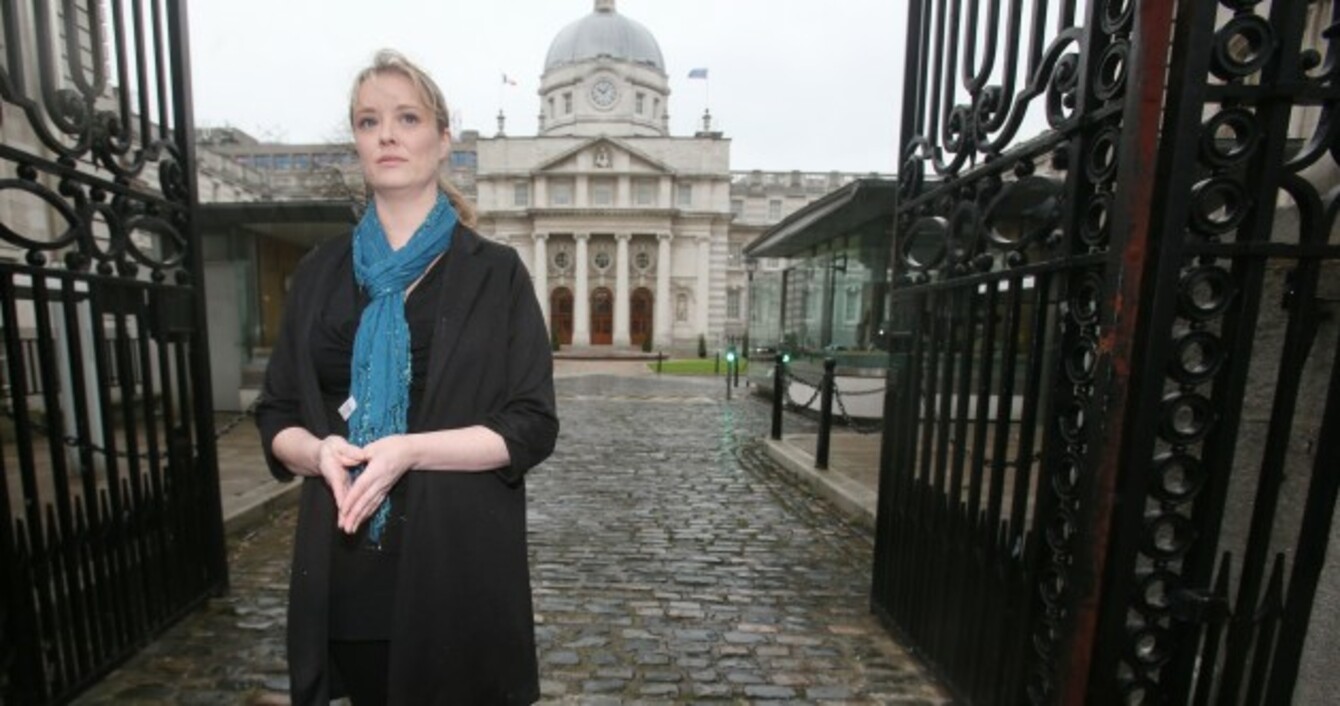 Maíria Cahill prior to her meeting with Enda Kenny at Government Buildings this morning.
Image: Leon Farrell/Photocall Ireland
Maíria Cahill prior to her meeting with Enda Kenny at Government Buildings this morning.
Image: Leon Farrell/Photocall Ireland
Updated 22.30pm
ENDA KENNY HAS described Maíria Cahill as "a courageous, confident young woman who is a force to be reckoned with" following his meeting with the Belfast woman who claims she was raped by a senior member of the IRA.
Cahill met the Taoiseach at Government Buildings this morning to discuss her allegations that following her abuse ordeal she was subject to interrogation by senior members of the IRA.
Cahill has had her version of the events surrounding her interrogation and subsequent conversations with Sinn Féin president Gerry Adams disputed by the Louth TD and senior members of his party.
Last night Adams admitted that the IRA internally investigated her rape allegations in an apparent shift from his previous position. But he continues to refute claims about a conversation he had with Cahill and has taken legal action against a BBC programme which broadcast those claims.
The issue was the subject of lengthy exchanges between Kenny and Adams in the Dáil this morning with Fianna Fáil's Micheál Martin also raising the issue, saying that the most powerful people in the IRA "swore victims to silence".
The Taoiseach told the Dáil that following his meeting with Cahill he would facilitate a comprehensive Dáil debate on the issue of abuse and said from his conversation with the her a number of "clear questions need to be answered".
"The story that Maíria Cahill has to tell is not just powerful, it will have serious consequences," Kenny told TDs during Leaders' Questions.
He said that the most powerful men in the IRA "conspired against" Cahill. Kenny claimed that alleged abusers in the North were moved to safe houses in the Republic of Ireland and said that "people" know who these people are and where they are.
In a statement this evening, Adams denied this.
I want once again to reject in the strongest possible terms, entirely malicious and spurious allegations by the Taoiseach and the Fianna Fáil Leader that I have any information regarding abusers being moved from the North, across border to this jurisdiction or anywhere else.
Kenny asked Adams to confirm that he was aware that Cahill was required to attend a meeting with three men and her alleged abuser.
Adams refuted the allegations and called on the Taoiseach to meet with him and the alleged abusers to put the allegations to them. He offered an apology to victims who were let down by the IRA's investigation of sexual abuse.
Adams also insisted that "Sinn Féin has not engaged in a cover-up of child abuse" describing it as "a slur on thousands of decent republicans".
#Open journalism No news is bad news Support The Journal

Your contributions will help us continue to deliver the stories that are important to you

Support us now
Kenny indicated that he would be prepared to meet with Cahill's alleged abuser and the three men she alleges interrogated her.
Prior to meeting with Kenny this morning, Cahill said that repeated denials from Adams and Sinn Féin were forcing her to relive her experience "over and over again".
"I just think it's so disgusting that a victim of sexual abuse has to come out again and again and again and be forced to relive their experiences. When all of this could have been prevented a week ago had Gerry just come out and told the truth then."
She said that "the next step" for Sinn Féin "is to come out and say: 'Yeah, she was telling the truth all along". 
After the meeting she said the Taoiseach had been sensitive and compassionate as she outlined her concerns about child sexual abusers being relocated to the Republic and the lack of resources for rape crisis centres.
- additional reporting from Órla Ryan. Originally published 12.41pm