FRENCH TROOPS KILLED 19 Islamist militants during an army operation in the desert in northern Mali today according to a French military source.
The violence comes with Malians due to vote on Sunday in a second round of parliamentary polls supposed to mark the west African nation's first steps to recovery after it was plunged into chaos by a military coup in March last year.
"A French military operation is underway north of Timbuktu. French troops are facing a pretty determined group. At the moment, 19 members of this group have been killed," the Bamako-based source said.
"The French troops haven't reported any deaths or injuries. We are in control of the situation," the source said, without specifying which Islamist group the militants were part of.
The military coup in Bamako opened the way for Al-Qaeda in the Islamic Maghreb (AQIM) and other Islamist groups to seize the vast north of the country, where they ran cities under their brutal version of sharia law for nine months.
Former colonial power France intervened in January to drive out the radicals.
After several months of calm, with French and African troops overseeing security, jihadist groups launched fresh attacks in September, leaving a dozen civilians, Malians and African troops dead.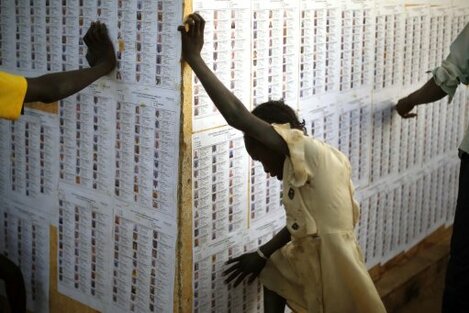 Malians check voter listings as polling stations. Pic: Jerome Delay
Operation Hydra
French, UN and Malian forces launched Operation Hydra in late October after being taken aback by the renewed violence, after two Chadian UN peacekeepers and a civilian were killed in the northern town of Tessalit.
The goal of Hydra was "to put pressure on any terrorist movements to avoid their resurgence", the French military said, indicating that about 1,500 troops were involved, including some 600 French, 600 Malians and 300 UN soldiers.
Mali is also battling the latest separatist rebellion launched by the Tuareg, traditionally a federation of nomad tribes that rebelled in Mali and Niger in the 1960s and the 1990s, and are seeking some kind of self-determination for the country's north, a swathe of desert the size of Texas they call Azawad.
The National Movement for the Liberation of Azawad (MNLA) ambushed soldiers as they were on patrol at a market near the border with Niger on 8 November.
The clash followed three attacks by the MNLA on soldiers in the rebel stronghold of Kidal in September, after the militants pulled out of peace talks with the government, dealing a blow to hopes of a durable peace in the troubled nation.
The collapse of the talks led to an upsurge in violence which saw two French journalists shot dead on November 2 during a kidnapping in Kidal by AQIM.
The chief suspect in the kidnapping is a Tuareg thought to have associated with both AQIM and the mainly secular MNLA.