A TERRORIST ATTACK in Manchester Arena on Monday night left 22 people dead, with young children among them.
As Manchester and the UK attempt to come to terms with the latest attack on their citizens, police are working hard to ensure people's safety and catch anyone else who may have been involved in the incident.
As part of their investigation, Greater Manchester Police (GMP) have released a timeline of the events of Monday night and Tuesday morning.
10.33pm: First call made to police reporting possible explosion and multiple injuries.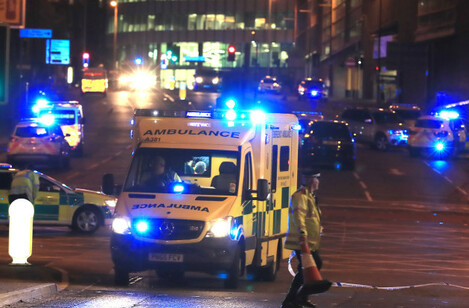 Emergency services at Manchester Arena after reports of the explosion Source: Peter Byrne/PA Wire/PA Images
10.39pm: A GMP Police Community Support Officer (PCSO) – who was nearby – is first responder on the scene.
10.39pm: A total of 28 calls are made to police within first six minutes of initial call.
10.46pm: British Transport Police confirm there are a large number of casualties inside Manchester Arena.
10.47pm: First road closure put in place on Great Clowes Street outside Manchester Arena.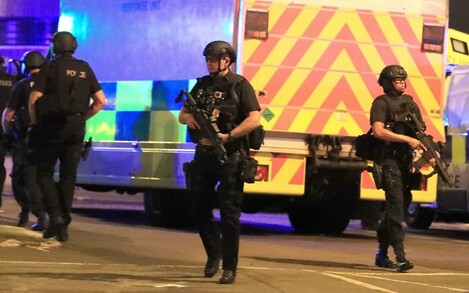 Emergency services outside the Manchester Arena in the aftermath of the attack. Source: Peter Byrne/PA Wire/PA Images
10.47pm: Police start treating the response as a possible terrorist incident.
10.47pm: Area around Manchester Arena is closed, including roads and transport networks.
10.47pm: Officers at the scene confirm multiple people injured during the attack.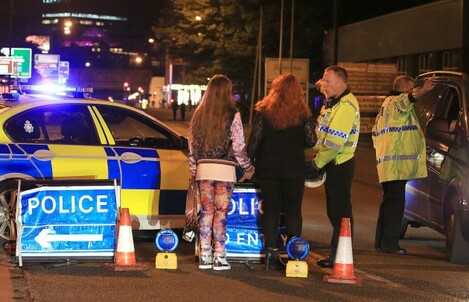 Source: Peter Byrne
10.47pm: Confirmation from first responders that explosion has taken place.
11.33pm: 240 calls about the incident received during first hour of initial call being made.
11.44pm: GMP confirm multiple fatalities and others have been injured during attack.
1.10am: GMP confirm 19 people have died and around 50 others reported injured in what is being treated as a terrorist attack.
A police roadblock near the Manchester Arena yesterday morning following teh attack. Source: Peter Byrne/PA Wire/PA Images
7am: GMP confirm that a total of 22 victims have been confirmed dead in addition to the man believed to have been responsible for the attack after detonating an improvised explosive device. Confirmation of over 400 officers and staff involved in the response overnight.