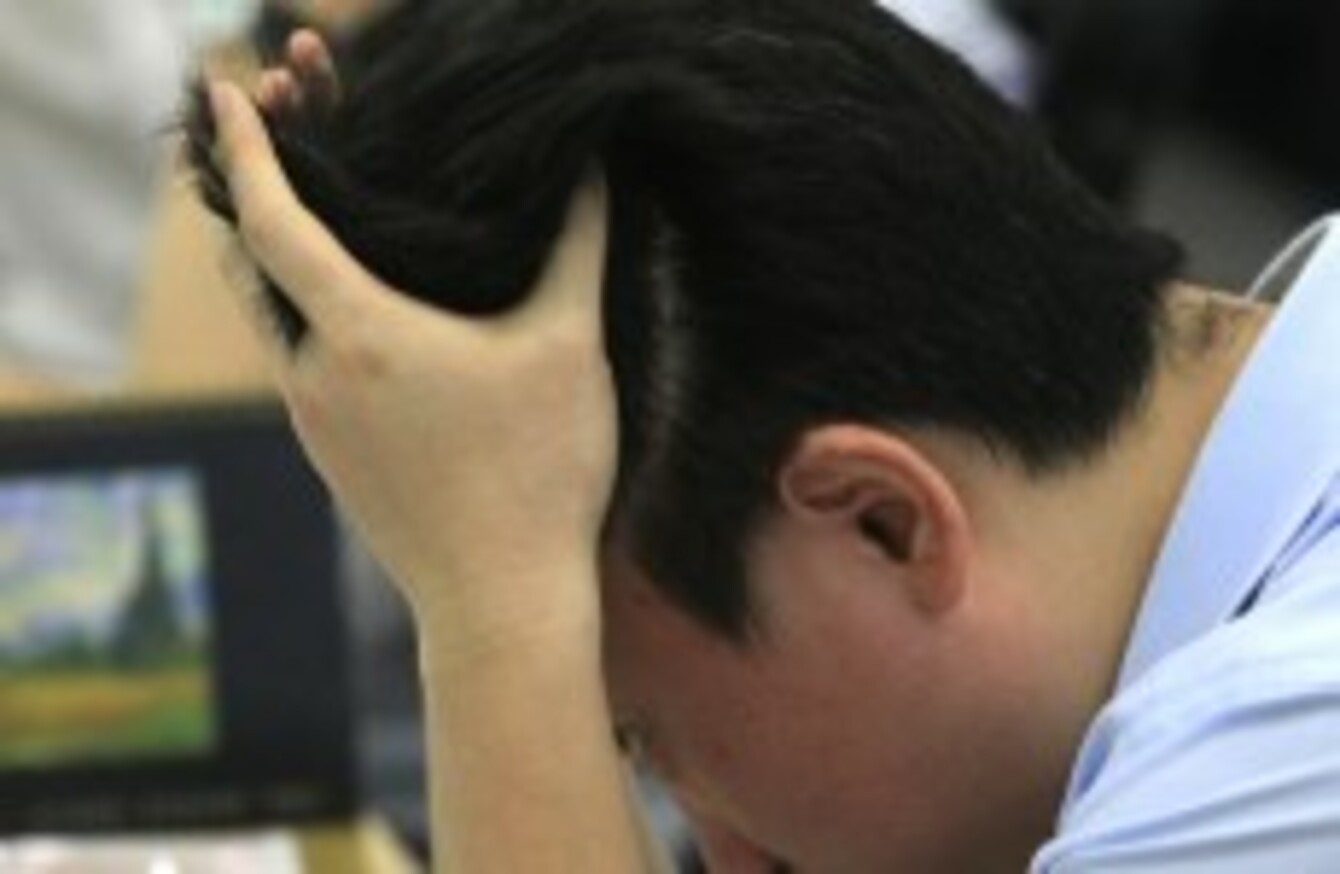 Markets also took a tumble in Asia overnight.
Image: Ahn Young-joon/AP/Press Association Images
Markets also took a tumble in Asia overnight.
Image: Ahn Young-joon/AP/Press Association Images
EUROPEAN MARKETS HAVE opened down this morning as proposals for greater Eurozone governance by the French and German leaders yesterday failed to calm worries over the debt crisis.
Shares are down across Europe this morning. In London, at the time of writing, the FTSE 100 is down 1.10 per cent, in Frankfurt the Dax is down over 1.5 per cent and in Paris the CAC 40 is down by over half a per cent.
The ISEQ index of  Ireland's leading share prices is also down over 0.5 per cent.
It follows proposals by the French president Nicolas Sarkozy and the German chancellor Angela Merkel yesterday to introduce a joint corporate tax rate for their two countries amongst a raft of other measures discussed during a bilateral summit.
The duo also made calls for the 17 Eurozone countries to adopt constitutional limits on deficits to ensure their is no repeat of the economic crises that have hit the likes of Ireland, Greece and Portugal.
The Minister for Finance Michael Noonan has welcomed such proposals.
Speaking to RTÉ's Morning Ireland this morning, Noonan said that "what is being proposed isn't revolutionary but it is evolutionary."
He said that much of what was being proposed by the leaders of the Eurozone's two biggest economies was being "retrofitted" following on from the introduction of the European Financial Stability Fund.
He added: "In practical terms it won't mean a lot for Ireland, we're under tight fiscal control already," and continued to play down the significance of yesterday's porposals.
Noonan added that constitutionally limiting budget deficits would require a referendum but rejected the idea that it was conceding sovereignty to Europe.
He said: "There's merit in the argument that the people should have in the constitution a protection against future reckless governments."
On the proposal by France and Germany to harmonize their corporation tax rates by 2016, Noonan added that this would have no impact on Ireland's own low rate of 12.5 per cent whatesoever.
"That's their business," he added.