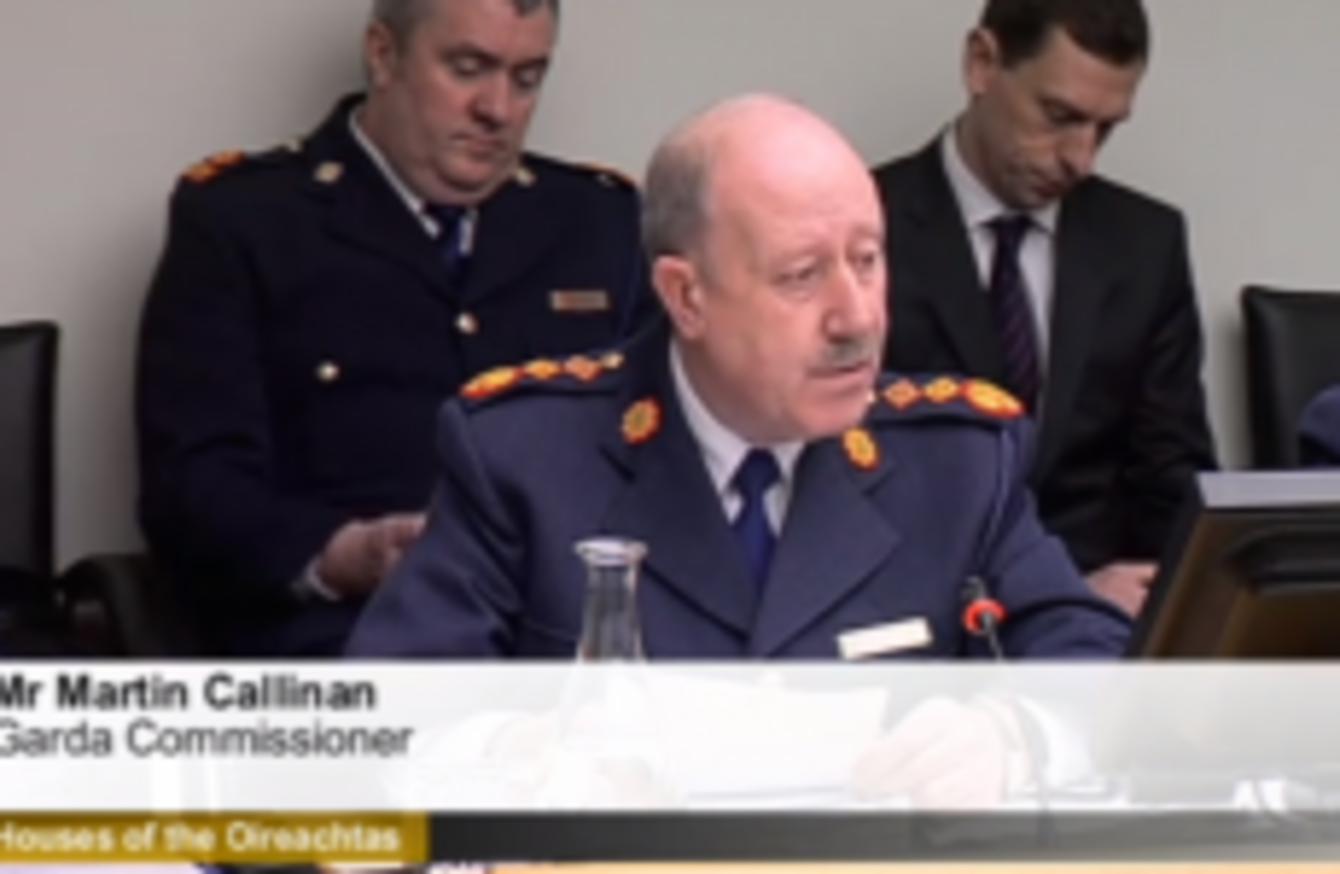 Garda Commissioner Martin Callinan before the PAC this morning
Image: Screengrab via Oireachtas TV
Garda Commissioner Martin Callinan before the PAC this morning
Image: Screengrab via Oireachtas TV
GARDA COMMISSIONER MARTIN Callinan has defended the force's administering of the fixed charge notice or penalty points system and said that "swift action" has been taken on foot of concerns and recommendations made in recent months.
Callinan told TDs today that an internal audit of the gardaí's termination of penalty points in November and December last year has found that all of these cancellations were carried out within garda policy.
"Holistically the system itself is working very, very well," he said, while acknowledging that the record-keeping had been poor in relation to the input of detail about some fixed charge notices through the Garda PULSE system.
He said that when you "look at the totality of allegations…no thread of evidence has been found to date and nobody has come forward and provided that type of evidence" to back-up claims of widespread corruption in the system.
He was appearing before the Public Accounts Committee (PAC) today in the wake of findings by the Comptroller and Auditor General (C&AG) who examined allegations by a garda whistleblower that fixed charge penalty notices had been cancelled corruptly and illegally.
"There are many, many allegations being made… but nobody has provided any evidence of corruption or malpractice," he said.
He rejected an initial claim from Labour TD Derek Nolan that this issue is a 'national scandal', saying:
Where is the 'national scandal' here? Can you point your finger to where the 'national scandal' is?"
'Bees worrying livestock'
Callinan detailed one case where penalty points were cancelled because "bees were worrying livestock". He said that the person involved was a beekeeper engaged in voluntary work whose wife telephoned him to tell him his bees were "out of control".
He had to get back quickly as livestock and people were in close proximity, Callinan explained, saying that he had been speeding nine kilometres over the speed limit.
He said that the garda officer in question took the view that the offence merited cancellation, noting the person in question had no previous transgressions.
The C&AG found the rate of terminations for 2011 and 2012 to be 5 per cent and that up to one in five traffic offenders avoided penalties. He also noted that rates of termination appear to be higher than normal in some parts of the country, highlighting "operational difficulties" that needed to be addressed.
In his opening statement to the committee this morning, Callinan said he "fully accept(s)" the recommendations of the C&AG and said the gardaí have in recent months implemented "a significant number of measures" in relation to the penalty points system.
He said that disciplinary action has been taken against a "small number of personnel" and that "written advices" have been issued to a "further number" regarding the "necessity to conduct matters within policy and procedures".
Directive
The commissioner said that in August last year a directive was issued to all members of the force regarding the cancellation of fixed charge notices and said this will "provide greater clarity on the role of the cancelling authority".
Callinan pointed out that an internal garda report by Assistant Commissioner John O'Mahoney, who was also at today's hearings, found that there was a termination rate of 4.55 per cent compared to a 5 per cent rate reported by the C&AG.
But he said that when O'Mahony's examination of over 66,000 cancelled fixed charge notices excluded terminations for "legal and technical reasons" the cancellation rate came down to 2.57 per cent.
He said this equates to an average of 10,571 terminations per year annually.
"To put this figure in context, it equates to less than two cancellation notices per week per Garda district," he said, adding it proves a "efficient and cost effective alternative" to road traffic prosecutions.
Callinan said that an internal audit of fixed charge note cancellations in November and December last year showed that "100 per cent of these cancellations were carried out within policy".
Earlier, the committee heard that one of the whistleblowers is to take legal advice before deciding whether he will appear before the committee next week.
Callinan was also informed by PAC chairman John McGuinness that further documentation related to the cancellation of penalty points has been given by the Justice Committee to the clerk of the PAC.