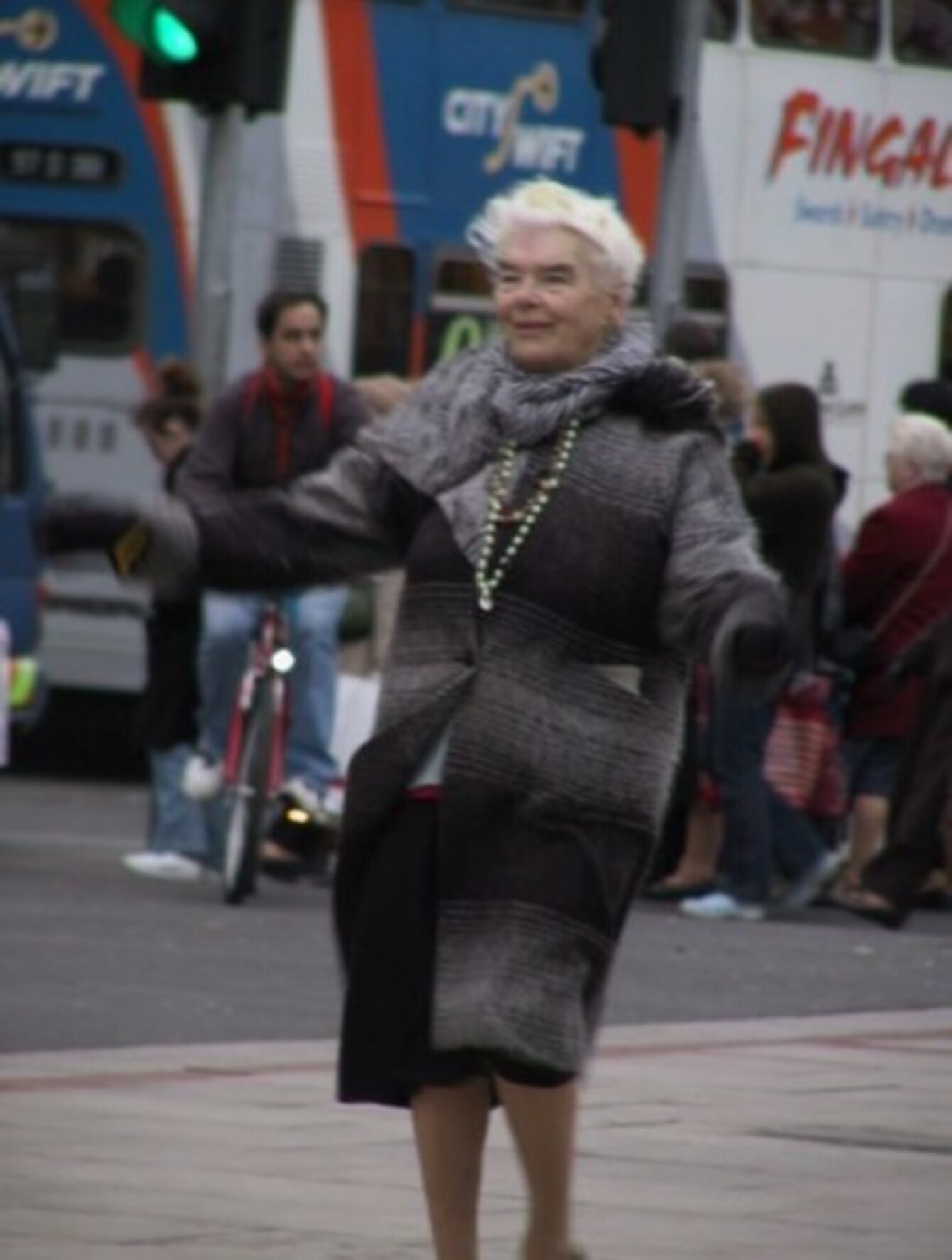 Mary Dunne dancing on O'Connell Street.
Mary Dunne dancing on O'Connell Street.
THE MUCH LOVED and well-known Dublin character, Mary Dunne was laid to rest this week.
Famous for dancing on O'Connell Street and not giving a hoot about what people thought, she became a staple as one of Dublin's many eccentric characters.
An elegant woman, always dressed in her finery, she used to dance in the centre of the capital's main thoroughfare and dole out advice and stories to passersby, no matter what abuse she received.
Ill
It's believed that Mary fell ill last week and was taken to hospital, however, she sadly died the next day.
Her funeral took place on Wednesday in the Church of the Holy Family, Kill Avenue, Deansgrange and she was buried in Deansgrange Cemetery.
A member of the parish told TheJournal.ie that she had lost her sight in recent years and that her death was rather sudden, "but that is how Mary would have wanted it," she said.
"She was one of Dublin's great personalities. She was loved by everyone. A landmark has gone with her passing," she said.
There was a big attendance at the funeral on Wednesday, both from family and friends. The Irish language featured a lot in the service and a relative of Mary's performed the music.
Facebook fame
Mary's fame reached new heights in 2010, when a Facebook tribute page was set up and today has over 23,000 likes on the page. She hadn't been seen for sometime and the rumour was that she had fallen very ill.
In honour of Mary in 2010, a gathering of music, dance and poem was held on O'Connell Street. Mary, who was ill at the time, told the Irish Daily Mail that she danced for the Trinity and the Holy Mary and that she had to stop due to her failing eyesight.
Articles about Mary, her dancing and how much the people loved her, appeared in The Irish Times, The Irish Daily Mail and Irish Central.
Irish Central compiled some of peoples' memories of Mary:
this woman is a legend anyone who could try an spread that much joy in this day an age is a miracle … she is a part of the city
This reminds me of how graceful and elegant she actually was. Sometimes she reminded me of a 40s film star or something, bet she was lovely when younger. Her smile lighted up her whole face!
Ah the memories, what a legend she is. Think I sat down with Mary one day for about 2 hours, she told me all about her name in Irish, her country connections and about how they don't make watches like they used to, it's characters like this that make you grateful to be Irish, we're just a great bunch we are……
One of the city's biggest characters, she looked serene almost, with a smile for everyone who passed by. Everyone knew her and she was always there, doing her thing.
Here is a video of Mary doing what she loved best. Rest in Peace Mary:

(YouTube/Rick Egan)
Have you any memories of Mary? Why not share them with us in the comments section below.