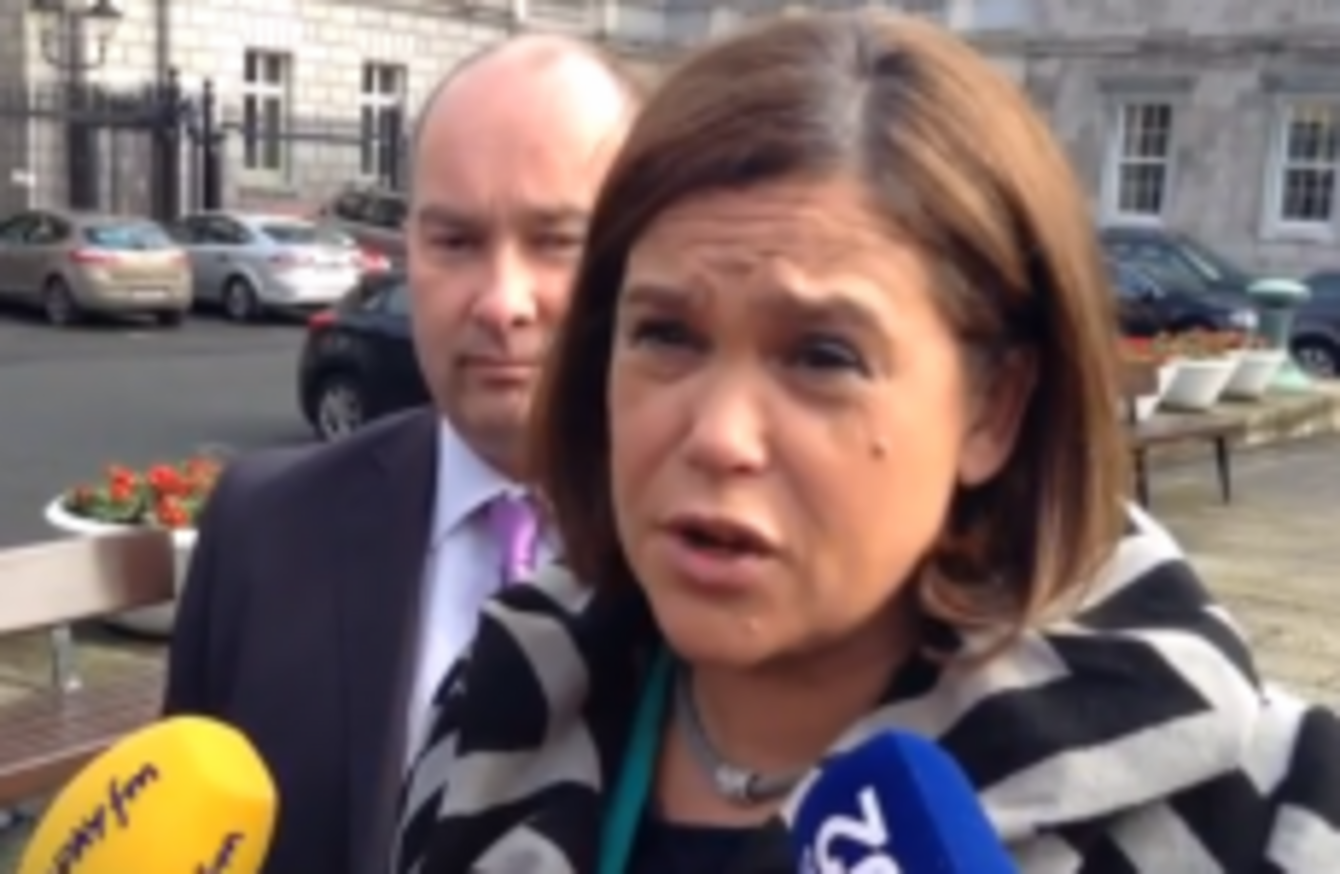 Mary Lou McDonald speaking to reporters today
Image: Screengrab via YouTube/Hugh O'Connell
Mary Lou McDonald speaking to reporters today
Image: Screengrab via YouTube/Hugh O'Connell
MARY LOU MCDONALD has hit back at claims from the Fine Gael chairman Charlie Flanagan that Sinn Féin has undermined the work of an Oireachtas committee examining the GSOC surveillance controversy.
Flanagan has said that Sinn Féin TD Padraig MacLochlainn, who chairs the Public Services Oversight and Petitions Committee, could potentially "compromise" its work by putting forward a private members motion tonight which calls for an independent inquiry into the controversy.
McDonald had earlier said that an inquiry was needed as the committee, with its limited powers, could not be expected to get to the bottom of the matter, but stressed it was still important that Justice Minister Alan Shatter come before it tomorrow.
Flanagan's comments drew sharp criticism from McDonald who told reporters: "I would say to Charlie Flanagan to cop on."
She said that "everyone" knows that Oireachtas committees cannot make findings of facts or adverse findings against individuals, and insisted that Shatter has "very considerable questions around his lack of detail in terms of his presentation to the Dáil"
The Sinn Féin deputy continued: "It's been very obvious to us over the last number of days that the government and some government backbenchers have been trying to make an issue of the committee as a kind of smokescreen.

"That is not an appropriate thing to do. The committee does its work, does it very well, but as Charlie knows adverse findings of fact are things that the committee can't arrive at."
Earlier, Fianna Fáil's justice spokesperson Niall Collins also defended the work of MacLochlainn and accused the government of "trying to create a diversion".
MacLochlainn is one of only two opposition TDs who chairs an Oireachtas committee with Fianna Fáil's John McGuinness chairing the Public Accounts Committee in line with tradition that the biggest opposition party holds the chair of the Dáil's public spending watchdog.