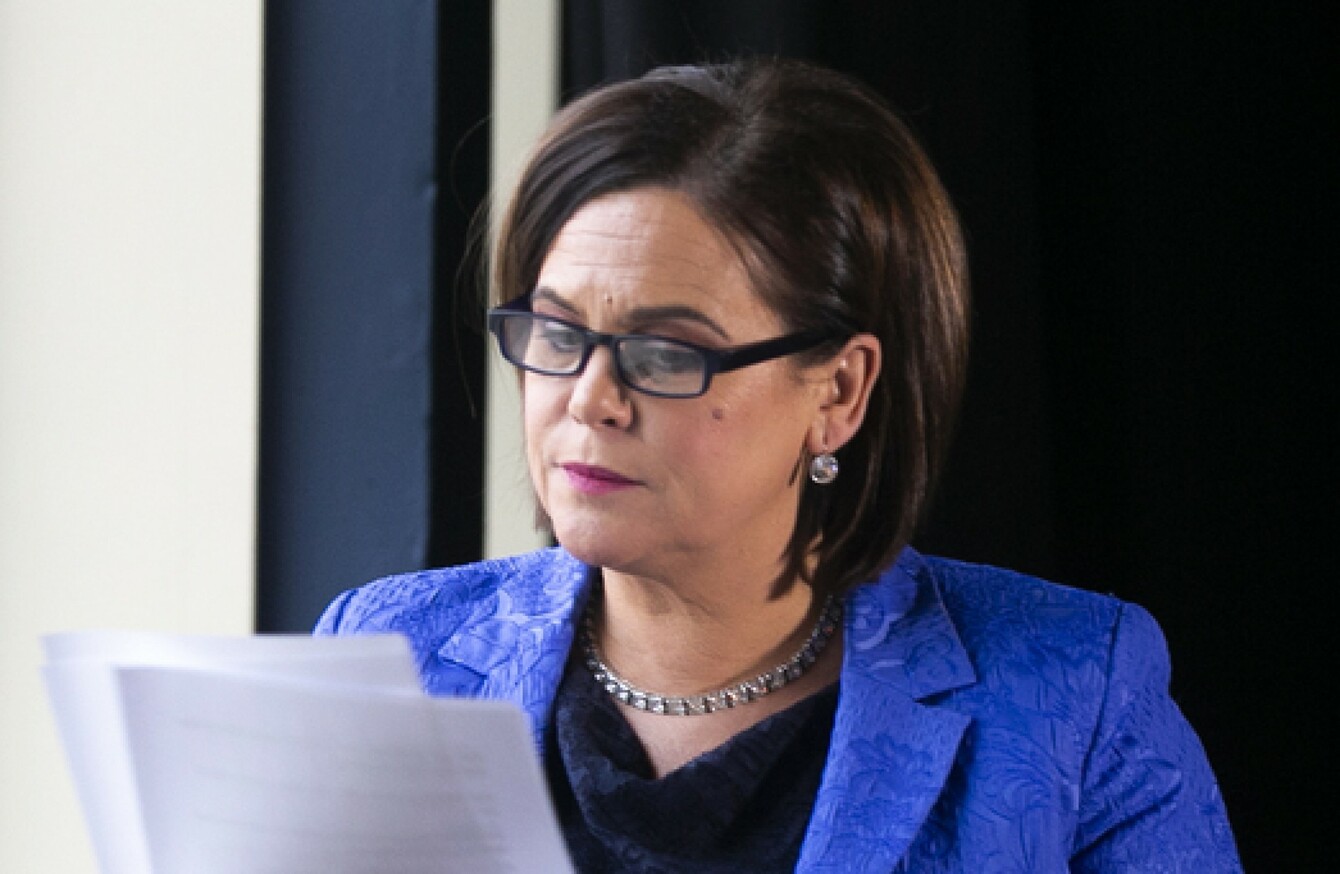 Mary Lou McDonald is set to call for preparations to be made towards an united Ireland.
Image: Sam Boal
Mary Lou McDonald is set to call for preparations to be made towards an united Ireland.
Image: Sam Boal
Updated Nov 16th 2019, 8:40 PM
MARY LOU MCDONALD has said Sinn Féin will only enter into government with those who will support a "republican programme for government" which includes Irish unity. 
In her speech to party members in Derry this evening, she said Sinn Féin will have to make choice after the next general election about entering into government. 
Fine Gael and Fianna Fail "align themselves with the golden circles – the banks, the landlords and the vulture funds", she said, but she told her membership that things won't change unless her party enters into government. 
"There are some who believe we should never talk to other parties about going into Government. Those fears are understandable. But I believe the housing crisis will only be solved with Sinn Fein in government," she said. 
"Following the general election, we have a choice to make. Not about being in government for the sake of it," she said.
"We should be guided, not by our distrust of other parties, but by our confidence in republicans. After the election, we will talk and we will listen. Our preference is for a left-led government. Let the other parties tell us if they are willing to implement a republican programme for government," said McDonald.
Setting down some red lines for entering into government with another party, she said:
"If we have the chance to deliver housing and healthcare, to stand up for people and deliver a fair deal for families, to deliver on Irish Unity. Then that is the only basis on which Sinn Féin would enter government."
Earlier today, the delegates at the Sinn Féin Ard Fheis rejected a motion that would have limited the party's ability to enter into a coalition government in the South after the next general election.
The party also voted in favour of a motion which stated that any coalition programme for government must include commitments on "progress towards a united Ireland". 
McDonald said that within the next decade a united Ireland will be achieved, and called for a referendum on Irish unity to be held within five years 
"The days of partition are numbered. Change is in the air. Brexit has changed everything.
Many people, for the first time, are now considering their future in a United Ireland.
The Irish government and all who say that now is not the time to speak of unity are wrong.
A referendum on unity will happen, as set-out in the Good Friday Agreement.
It is not a question of if, but a question of when. Now is the time to prepare.
She called on the Irish government to convene an All-Ireland Forum and to map the transition to a united Ireland. 
"The referendum must happen in the next five years. Let the people have their say!"
In other election pledges, McDonald said Sinn Féin will cut rents, and reduce rents by up to €1,500 a year through a tax relief. McDonald said she also wants to reform the healthcare service, stating that an Irish National Health Service – similar to the NHS in the UK – is needed.
On the issue of getting the Northern Ireland Institutions up and running, she said it is not sustainable for the stalemate to continue 
"We are ready to do business. Sinn Féin has never been the obstacle to power-sharing or good government or doing a deal," she said.
I challenge the DUP and both governments to step forward. To resolve the issues and get government back in action.
"We don't need a drawn-out talks process. The issues have been well-rehearsed. We need a good faith, purposeful engagement by political Unionism. Sinn Féin negotiators stand ready," she added.