A CONTROVERSIAL MCDONALD'S restaurant planned for a site near three schools in Co Wicklow will not go ahead.
The drive-thru plan would have seen the fast-food chain located 30m from the grounds of a school campus in Greystones that's home to three schools.
One of the schools had been granted leave to a seek a judicial appeal to the plans, but it's now been confirmed that Lidl, which owns the site, will pursue other plans for the lands.
Locals opposed to the McDonald's plan had been seeking clarification from Lidl about its plans for the space and the company now say it will not include a McDonald's.
In an email to campaigners, the retailer says they want to build a new store on the site that will not include a McDonald's:
'We intend to actively engage with Wicklow County Council in the coming weeks to gain approval for a new state of the art Lidl store. Pending positive engagement with Wicklow County Council Lidl will submit plans for this development.
"Due to the larger space required for this store design a fast food restaurant will not be accommodated on the site."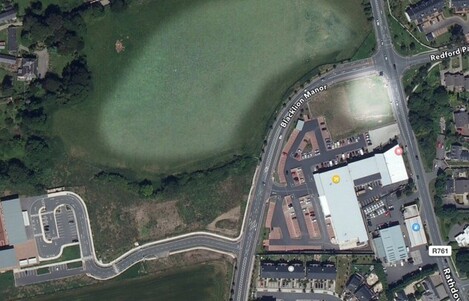 Source: Google Maps
The highlighted area within the retail centre on the map above was the proposed McDonald's site. The buildings across the road on the left of the map are the three schools.  
One of those leading the campaign to prevent the McDonald's from being built is local man Basil Miller, he says tonight's decisions comes following a "huge effort" by people in the locality.
He said he wanted to thank all those involved:
"A huge effort by many people to assemble the exhaustively comprehensive appeal to

Bord

Pleanala, the continued public pressure for No Fry Zones, on Lidl to withdraw their offer of land for the McDonald's and the unswerving support we received from public representatives in

out

area. All of these went towards making this moment possible."