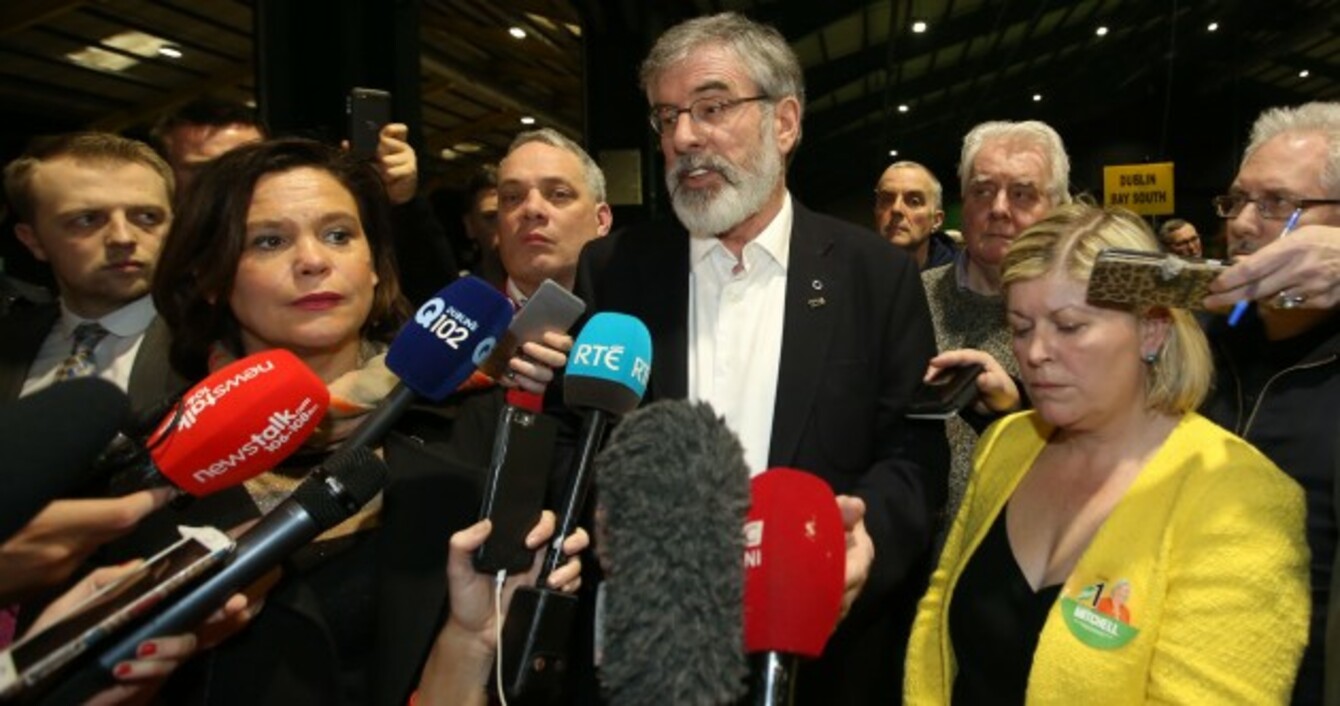 Gerry Adams and Mary Lou McDonald flanked by Sinn Féin members at the RDS today
Image: Sam Boal/RollingNews.ie
Gerry Adams and Mary Lou McDonald flanked by Sinn Féin members at the RDS today
Image: Sam Boal/RollingNews.ie
Updated 4.40pm 
GERRY ADAMS HAS said Sinn Féin will try to go into government with the mandate it has been given.
The party has increased its national share of the vote and could come close to doubling its number of seats from the 14 it won in 2011. However it will trail well behind Fine Gael and Fianna Fáil in the final Dáil seat numbers.
"We will try to go into government on the mandate that we were given," Adams told reporters at the RDS in Dublin today.
https://vine.co/v/i6lxpYLgz3t
If we don't have the numbers, we don't have the numbers. If we do have the numbers, then we'll honour that.
He said it had been a good election for Sinn Féin where candidates have been elected on transfers. He hit out at opponents both in politics and the media, accusing them of "a very, very negative campaign".
"I actually think the big thing that's happened in the election is the realignment continues. It's a work in progress and it's painfully slow but it's continuing," he added.
The two big parties which dominated politics here weren't able to muster as much as 50% when they used to just be supreme over everything. The other parties, including ourselves, the smaller parties, the independents, the Right2Change candidates, formed the other side of it.
Adams said Sinn Féin would now reflect on whether it is going into government or opposition, but repeated that it will not be a junior coalition partner to either Fine Gael or Fianna Fáil.
Any possible Sinn Féin-led government could include candidates who were not elected on the Right2Change platform that Sinn Féin and others signed up to before the election, Adams said.
Adams also said his party had put its candidates and elections teams on alert for a second election this year, saying:
"We said to people: 'We wonder how this going to turn out, stay on alert, take your posters down, save them, they could be going up again very soon.'
"Now, like everybody else, we'd rather not have to fight another election but I'm mindful that this process of change took a step change in this election, moved forward a few notches.
It will take more elections to do that. Whether it happens in the short-term or not, I don't know at this stage.
McGuinness defence
Earlier, Adams's colleague, Martin McGuinness, launched a staunch defence of his leadership of Sinn Féin in the wake of criticism of Adams's performance in the campaign.
Adams came in for criticism for an apparent lack of grasp of detail. His performances in debates were also considered sub-par by many commentators – particularly the last TV debate, helmed by Miriam O'Callaghan in which he dropped the 'Who's Senator Cahill?' clanger.
Former Fianna Fáil taoiseach Bertie Ahern weighed into the debate on the eve of the election – saying he reckoned Sinn Féin had "blown" ten seats because of Adams' position as leader.
Speaking today, the North's deputy first minister McGuinness suggested people's criticism of his longtime party colleague was misplaced, telling reporters: "I wonder why they say that.
In 2011 we had four seats. And he moved from West Belfast to Co Louth and we won 14 seats. And now we've come out of this election and we've upped our vote by 50% and brought in a whole new batch of TDs.
"My view is very clear. Those people who say that always give the impression that they would want Sinn Féin to do better if Gerry Adams wasn't there. But of course they don't want Sinn Féin to do better.
In my opinion the people who make that case couldn't lace Gerry Adams's boots.
Source: Daragh Brophy/YouTube
Sinn Féin look set to clinch a seat at the expense of Fine Gael's James Reilly in Dublin Fingal.
Paying tribute to their candidate in the sprawling north county constituency, Louise O'Reilly, McGuinness said she was an example of the sort of strong republican female leadership now emerging in Ireland.
- additional reporting from Hugh O'Connell