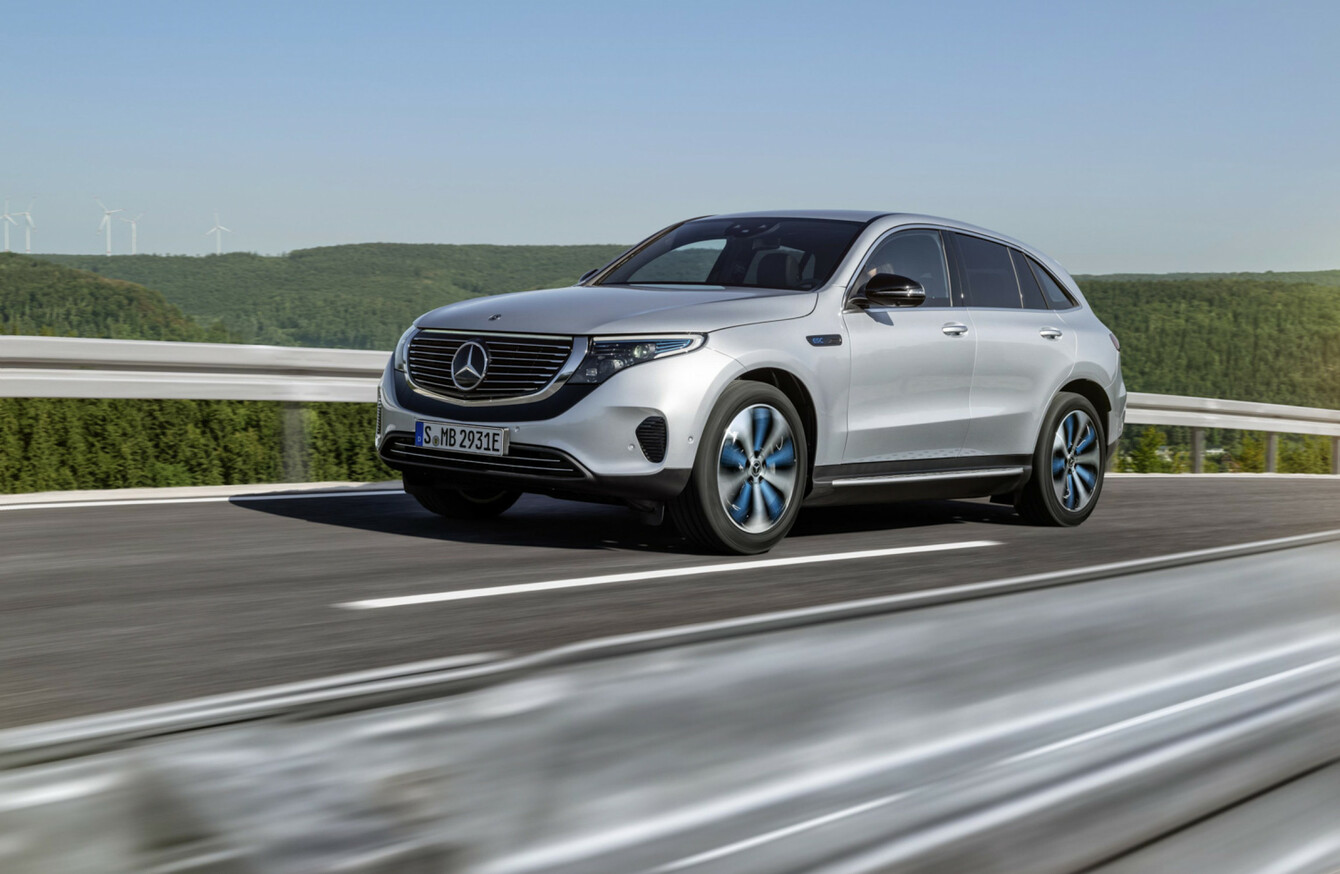 Image: Newspress
Image: Newspress
MERCEDES HAS LAUNCHED its first all-electric SUV, the EQC, which will be the first model released under Mercedes' sub-brand, EQ. 
It is the German manufacturer's first serious entry into the high-end EV market, where the Tesla Model X and Jaguar I-Pace also compete.
The most striking feature of the all-electric crossover is the large black-panel front surface that encloses the headlamps and grille. The black panel is bordered at the top by an optical fibre as a visual link between the torch-like daytime running lamps. At night this creates an almost uninterrupted, horizontal light band. There are hints of a coupe roofline and the rear end features a strip of LED lighting across the full width.
Mercedes is calling the interior a "avant-garde electro-look" saying that the ribbed edge of the instrument panel resembles the cooling ribs of a hi-fi amplifier. Another visual highlight are the flat air vents with key-shaped, rosé-gold coloured louvres.
The large display screens are part of Mercedes' multimedia system MBUX – Mercedes-Benz User Experience – which has numerous EQ-specific functions such as displaying the range, charge status and energy flow. EQ-optimised navigation, driving modes, charging current and departure time can also be controlled and set via MBUX.
The EQC is equipped with the latest generation of Mercedes-Benz driving assistance systems. In the Driving Assistance package, these include new functions such as predictive speed adjustment when approaching the end of a tailback: when a tailback is detected, Active Distance Assist DISTRONIC reduces the speed to around 100km/h as a precaution. In a tailback on the motorway, the lane guidance system keeps the vehicle off-centre to leave space for the emergency services.
As the first Mercedes-Benz model to be launched under the new product and technology brand EQ, the EQC features an all-new drive system development with compact electric drivetrains at each axle. These give the EQC the driving characteristics of an all-wheel drive. Combined, the motors generate an output of 300kW (408hp) and a maximum torque of 765Nm.
The battery has a capacity of 80kWh (double that of a Nissan Leaf), which should, according to Mercedes, give the EQC a range of over 450km (NECD) putting it near-enough to the I-Pace and Tesla Model S. A fast charge at a normal EV charging point should take the battery range from 10 per cent up to 80 per cent within 40 minutes.
The EQC goes into production next year and should be hitting Irish roads in September 2019.
Want to make sure you don't miss out on anything going on in the world of motors? Like us on Facebook and follow us on Twitter for the latest updates.