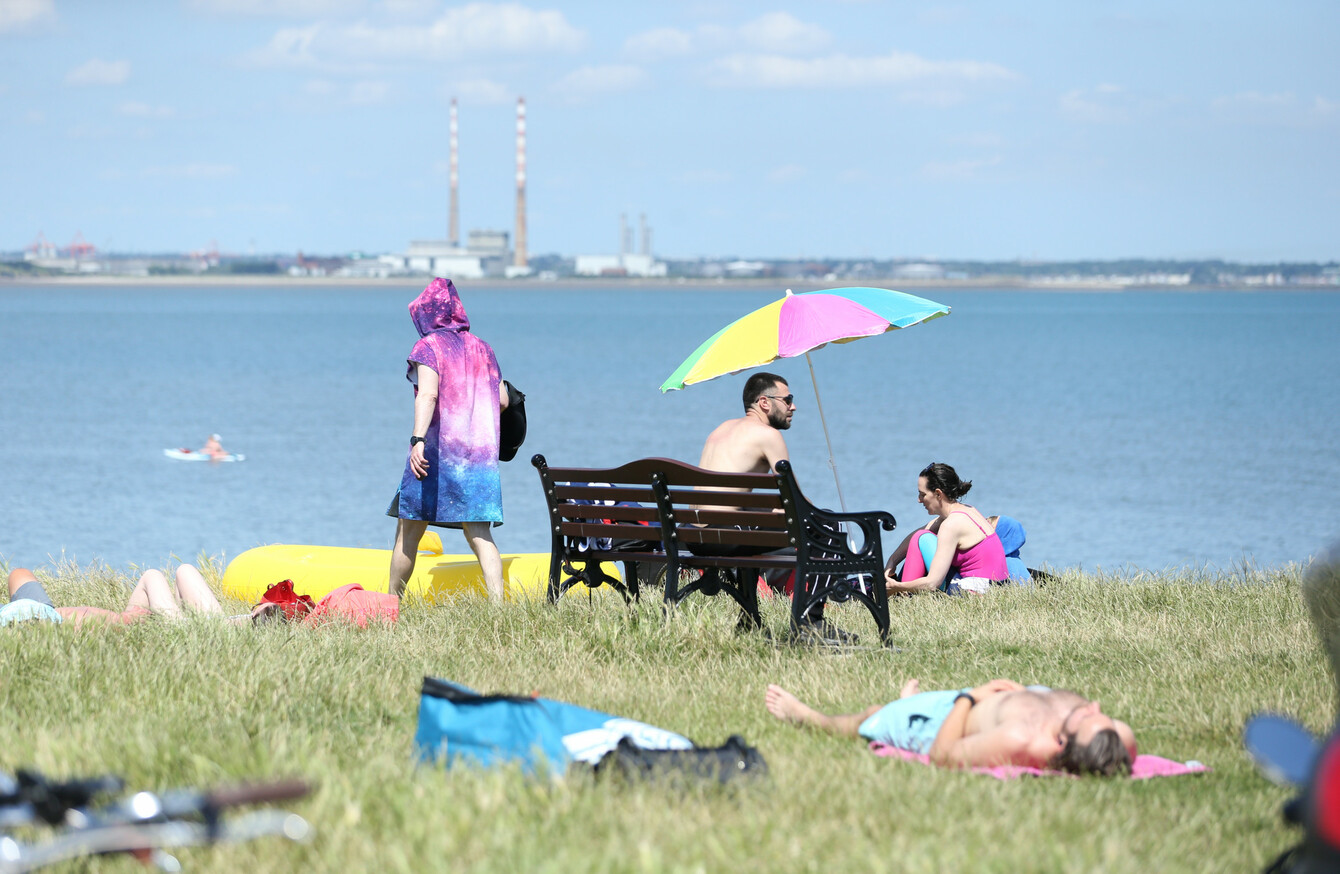 People enjoying the good weather at Sea Point/Blackrock
Image: RollingNews.ie
People enjoying the good weather at Sea Point/Blackrock
Image: RollingNews.ie
Updated Jul 20th 2021, 1:20 PM
MET ÉIREANN HAS upgraded a high temperature alert to a Status Orange warning for six counties.
A Status Yellow warning was initially issued for the entire country this morning, as hot conditions continue.
However, a Status Orange alert has now been issued for Cavan, Monaghan, south Leitrim, Roscommon, Longford, Westmeath.
The Orange warning will begin at 2pm today and remains in place until 9am on Friday.
Maximum temperatures are expected to exceed 30 degrees in affected counties with overnight temperatures dropping no lower than around 20 degrees.
The Yellow warning is valid for the remaining 20 counties and kicks in at 1pm today. It will also last until 9am on Friday. 
Met Éireann has warned that high temperatures will continue this week with hot conditions by day and staying very warm and humid at night. 
Speaking to The Journal shortly after the Yellow warning was issued earlier, Evelyn Cusack, head of forecasting at Met Éireann, said it was put in placer "in particular because the nights are going to be exceptionally warm and humid for Ireland". 
"People obviously can handle high temperatures by day, people are used to going abroad and all that," Cusack said. 
"It's the nighttime, people are finding it hard to sleep, say vulnerable people, sick people and children. Let's say most people are trying to go to bed between 10pm and midnight, the temperature is still 25 degrees," she said. 
In Northern Ireland, the UK Met Office has issued an Amber weather warning for the six counties. It will kick in at 8am tomorrow and remain valid until 11.59pm on Friday. 
Met Éireann says is expected to stay dry for the most part, however, there is a chance of a few heavy or possibly thundery showers breaking out in the north midlands and west in the late afternoon and evening. 
Highest temperatures today will range between 25 and 29 degrees. 
Mist & fog patches clearing this morning, then hot & mostly sunny again today. 😎☀️

Staying dry for most, though there's a chance of a few heavy or possibly thundery showers breaking out in the north midlands & west later. ⛈️

Highs of 25 to 29°C, cooler on coasts. 🌡️🍃 pic.twitter.com/FDeKdWf95o

— Met Éireann (@MetEireann) July 20, 2021
Last night saw temperatures still above 20 degrees in some areas at 11pm. 
The hottest temperatures in Ireland was 29 degrees, recorded at Gurteen, Co Tipperary. 
Looking ahead, the next few days will continue very warm and largely dry as high pressure continues, with daytime temperatures widely reaching the mid to high 20s, with 29 or 30 degrees expected in parts of the midlands. 
Met Éireann says it'll also feel warm, humid and very muggy during the nights this week with most places seeing temperatures remain in the high teens overnight. 
Wednesday night and Thursday night especially will be warm, with temperatures expected to still be around 20 degrees at midnight in some parts.
The Department of Agriculture has issue an Orange Forest Fire Warning due to the hot and dry conditions. This will remain in place until 12pm on Friday. 
📣Reminder
🚨🔥 #FireWarning 🚨🔥
🟧 Condition Orange 🟧

🔥We have issued an Orange Forest Fire Warning arising from weather patterns and expected level of risk, which is expected to peak on Friday.

🕛Warning in place until 12pm on Friday, July 23.

➡️ https://t.co/FRcjfn7ohV pic.twitter.com/L9IaCypX6Z

— Dept of Agriculture, Food and the Marine (@agriculture_ie) July 19, 2021
Staying sun safe
People are being advised to take extra care when outdoors and follow advice from Health Ireland and the HSE as UV levels will be high to very high each day this week. 
Chief Medical Officer Dr Tony Holohan said people should "regularly and liberally apply sunscreen that has a sun protection factor of at least 30+ for adults and 50+ for children, wear light and loose-fitting clothing and that covers skin, wear a hat and sunglasses". 
Dr Holohan said other risks to be mindful of during this spell of hot weather are heat exhaustion and heat stroke. 
Signs of heat exhaustion include headache, dizziness and confusion, loss of appetite and feeling sick, fast breathing or pulse, high temperature of 38 degrees or above and being very thirsty. If not treated this can lead to heatstroke, which means the body is no longer able to cool itself down and this needs to be treated as an emergency.
"If you feel unwell, or you or your children display any of the above symptoms immediately move to a cool place, rest and hydrate. If needed, seek medical attention," Dr Holohan said. 
"Look out for others around you, especially individuals who may be more vulnerable to the effects of heat such as older people, young children and babies," he said. 
"Finally, please continue to follow relevant public health advice to keep you and those around you safe from Covid-19." 
Enjoy the beautiful weather and be #SunSmart
☀️ Regularly apply sunscreen
👕 Wear light loose-fitting clothing
👒🕶️ Don't forget a hat and sunglasses
💧 Stay hydrated
⚠️ Follow #COVID19 public health advice

Read more from @CMOIreland https://t.co/Z1HHEYo2tz pic.twitter.com/Qa8EMZohye

— Department of Health (@roinnslainte) July 20, 2021
Meanwhile, older people are being urged to be careful and take necessary precautions in the heat. 
Alone, the charity that supports older people, has said older people can be more vulnerable during warmer weather conditions, and are at a greater risk of heat exhaustion and heat stroke, especially those living alone, those with health issues and those with limited ability. 
Members of the public are being encouraged to check in on older neighbours, friends and relatives. 
Road safety
Road users, particularly drivers, are being reminded to be aware of the dangers posed by 'sun glare'.
Sun glare can result in drivers being temporarily dazzled or blinded by the intensity and brightness of the sun, the Road Safety Authority (RSA) said. 
The RSA is advising drivers to:
Reduce the risk from sun glare and of being dazzled by wearing sun glasses. Be aware of the dangers of sun glare when travelling east in the mornings and west later in the day.
Be prepared and ensure you have adequate supplies of water, any delays to journeys could result in road users being stuck in traffic for a period time in hot conditions. Children and pets are particularly at risk during these hot spells of weather.
Ensure your windscreen is clear of grease or grime inside and out. Make sure you have plenty of window washer fluid to clear flies/insects and excess dust from the road when driving.
Watch out for vulnerable road users such as pedestrians, cyclists, horse riders and motorcyclists. Slow down and allow extra space when passing.
#Open journalism No news is bad news Support The Journal

Your contributions will help us continue to deliver the stories that are important to you

Support us now
Pedestrians, cyclists and motorcyclists are advised to:
Beware of the dangers that sun glare can cause, especially when crossing the road and at junctions.
Follow current health messaging around the use of sun block when out walking and cycling.
Transport Infrastructure Ireland (TII) has said road surface temperatures will rise significantly in the hot weather and surface dressed roads ("tar and chips") will be prone to softening of the bitumen. This will lead to bitumen slicks occurring on more minor roads. 
Road users are advised to slow down and exercise caution when braking in such situations.
How long will the warm and sunny weather last? 
Met Éireann says current indications suggest the heatwave will last for much of this week as high pressure remains across Ireland. 
However, it says there are signs the high pressure could break down over the weekend, bringing an end to the very high temperatures. 
It will still likely be quite warm with highest daytime temperatures currently looking to remain in the low 20s, with an increased chance of some showery weather.