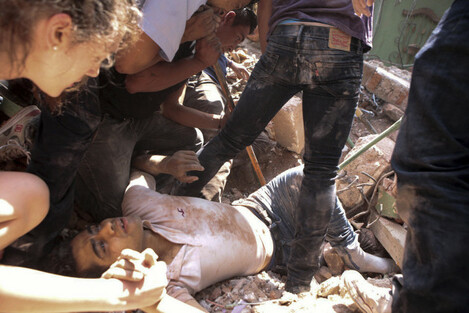 A man is rescued from a collapsed building in the Condesa neighborhood after an earthquake struck Mexico City. Source: Pablo Ramos via AP
Updated at 9.15pm
RESCUERS CONTINUE TO frantically search for survivors of a powerful earthquake that killed more than 200 people in Mexico on the anniversary of another massive quake that left thousands dead and still haunts the country.
At daybreak, firefighters, police, soldiers and volunteers were still swarming over the ruins of some 40 buildings that collapsed in the capital.
They had worked through the night after yesterday's 7.1-magnitude quake, hoping to find survivors beneath the mangled remains of collapsed buildings, in scenes echoed across a swath of central states.
"We are continuing to search for people," Mexico City mayor Miguel Angel Mancera told Televisa TV.
At least 40 people have been found alive in two of the collapsed buildings.
The structures of some 600 other buildings whose walls swayed and cracked were being inspected.
The most agonising search was at a school in the capital where 21 children – aged between seven and 13 – and five adults were crushed to death. At least 30 children were still missing.
"No one can possibly imagine the pain I'm in right now," said one mother, Adriana Fargo, who was standing outside what remained of the school waiting for news of her seven-year-old daughter.
The nation's attention was fixed on the school, the Enrique Rebsamen elementary and middle school on Mexico City's south side.
The woman's husband was among hundreds of soldiers, police and volunteers who wrestled with the wreckage through the night, trying to extract a teacher and two students found alive beneath the rubble.
Rescue workers search for people trapped in a collapsed building in the Piedad Narvarte neighborhood of Mexico City. Source: Rebecca Blackwell via AP
One rescuer, speaking on condition of anonymity, told AFP there were signs of life in the rubble below.
"It seems that some 20 children are safe with a teacher inside a classroom," the rescuer said as he clambered down from the mountain of bricks, concrete and twisted metal.
There also appeared to be nine lifeless bodies in the debris, he said.
Suspicion was already mounting of shoddy building standards at the school.
The three-story building "ought to have had in-built earthquake resilience," said geoscience professor David Rothery of the Open University in Britain.
"Had it been properly constructed it should not have collapsed, and I expect questions will be asked about whether the appropriate building codes were adhered to."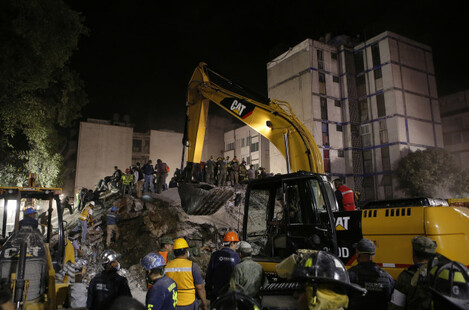 A magnitude 7.1 earthquake has stunned central Mexico, killing more than 100 people as buildings collapsed in plumes of dust. Source: Rebecca Blackwell via AP
Nowhere to go
Many residents spent the night in parks and plazas, in tents or makeshift shelters, unable or unwilling to return to their homes as authorities reported 22 aftershocks and urged the utmost public caution.
"If you don't feel safe, you are advised not to stay in your home," warned Carlos Valdes, head of the national disaster centre.
Mexican Foreign Secretary Luis Videgaray thanked the international community for offers of help in an unusual special intervention at the UN General Assembly.
"We have identified which countries have the teams and equipment that we need right now to support rescue efforts."
A building demolished by a 7.1 earthquake sits in pile of rubble, in Jojutla, Morelos state, Mexico Source: Eduardo Verdugo via AP
Israel said it was sending a team of 70 soldiers including engineers and search and rescue specialists which would arrive Friday.
'Haunting memories' 
The destruction revived haunting memories in Mexico on the anniversary of another massive quake in 1985 that killed more than 10,000 people, the disaster-prone country's deadliest ever.
Yesterday's quake struck just two hours after Mexico held a national earthquake drill, as it does every 19 September to remember the 1985 event.
Adding to the national sense of vulnerability, the earthquake struck just 12 days after another quake that killed nearly 100 people in southern Mexico.
Experts said the two quakes did not appear to be related, as their epicentres were far apart.
Mexico sits atop five tectonic plates, making it particularly vulnerable to earthquakes.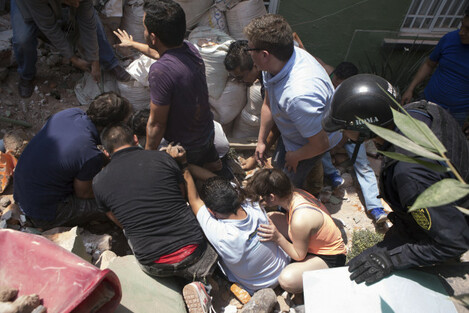 People prepare to pull out a man alive from a collapsed building in the Condesa neighborhood after an earthquake struck Mexico City Source: Pablo Ramos via AP
The death toll as of mid-morning was 225, the head of the national disaster response agency, Luis Felipe Puente, wrote on Twitter.
There were 94 dead in Mexico City, 71 in Morelos, 43 in Puebla, 12 in Mexico state, four in Guerrero and one in Oaxaca, he said.
Rescue workers reported that families were getting WhatsApp messages pleading for help from desperate relatives trapped under debris.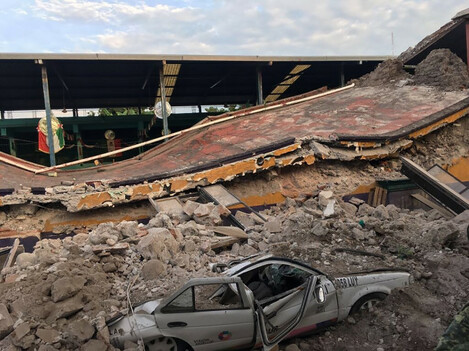 A car sits crushed, engulfed in a pile of rubble from a building. Source: Carlos Rodriguez via AP
Patients were evacuated from the capital's hospitals, wheeled out on beds and wheelchairs.
Mexico City's international airport closed for more than three hours following the quake. The stock market was forced to shut but was set to reopen today.
In Puebla, a picturesque colonial city near the quake's epicentre, several churches were damaged and one collapsed, killing 11 people, officials said.
Condolences
Condolences were streaming in from world leaders, among them US President Donald Trump, German Chancellor Angela Merkel and Pope Francis, who said he was praying for Mexico.
"In this moment of pain, I want to express my closeness and prayer for all the beloved people of Mexico," he said during his weekly general audience today in the Vatican's Saint Peter's Square.
Trump, who has forged an antagonistic relationship with Mexico, tweeted his sympathies.
"God bless the people of Mexico City. We are with you and will be there for you," Trump wrote.