AN AUSTRALIAN NAVY ship has detected new underwater signals consistent with aircraft black boxes, the search chief said today, describing it as the "most promising lead" so far in the month-old hunt for missing Flight MH370.
Retired Australian defence force chief Angus Houston said the acoustics, emanating from deep down in the Indian Ocean, showed that the multinational search by ships and planes seemed to be "very close to where we need to be".
The apparent breakthrough comes as the clock ticks past the 30-day lifespan of the emergency beacon battery fitted to the black box of the Malaysia Airlines jet, which vanished on March 8 with 239 people on board en route from Kuala Lumpur to Beijing.
"The towed pinger locator deployed from the Australian defence vessel Ocean Shield has detected signals consistent with those emitted from aircraft black boxes," Houston told a press conference.
"We have not found the aircraft yet, we need further confirmation," he said, while describing the information received over the past 24 hours as "very encouraging".
One of the contacts continued for two hours and 20 minutes with the second lasting for 13 minutes. "On this (second) occasion two distinct ping returns were audible," Houston said.
"Significantly, this would be consistent with transmission from both the flight data recorder and the cockpit voice recorder.
"This is a most promising lead and probably in the search so far it's probably the best information that we have had," the former air chief marshal said.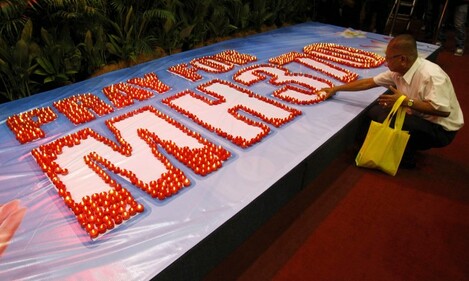 Source: Lai Seng Sin
"Nothing happens fast"
Houston called on the public to treat the latest information cautiously, given the sensitivities of the families of those presumed lost.
"It could take some days before information is available to establish whether these detections can be confirmed as being from MH370," he added.
"In very deep oceanic water, nothing happens fast."
The Ocean Shield is using a "Towed Pinger Locator" lent by the US Navy. The Australian vessel and Britain's HMS Echo had been scouring separate ends of a 240-kilometre track, converging on each other, when it detected the acoustic noise.
Both ships and their towed-pinger equipment operate at significantly reduced speed to plumb depths of three thousand metres or more.
Houston's Joint Agency Coordination Centre (JACC) said that in total up to nine military planes, three civilian planes and 14 ships were scanning the search zone around 2,000 kilometres (1,250 miles) northwest of Perth.
The latest acoustics were picked up after the Chinese vessel Haixun 01 detected two signals about 300 nautical miles away which officials said were on a frequency used for aircraft flight data and cockpit voice recorders.