Updated at 11.25pm
THE MALAYSIAN GOVERNMENT has given a new official account of the last words spoken from the cockpit of flight MH370 to air traffic controllers.
The country's transport ministry says it can confirm that the last contact took place at 1.19am Malaysian time, and that the cockpit signed off with "Good night Malaysian three seven zero".
According to the ministry:
The authorities are still doing forensic investigation to determine whether those last words from the cockpit were by the pilot or the co-pilot.

The minister has instructed the investigating team to release the full transcript, which will be made available during the briefing to the Next of Kin.
Some context, from BBC News:
The BBC's transport correspondent Richard Westcott says the new version of the last words is more formal and more in keeping with the way a pilot might usually speak to air traffic control than the wording previously reported.

It is not clear why it has changed or why it has taken the authorities this long to determine this, he says.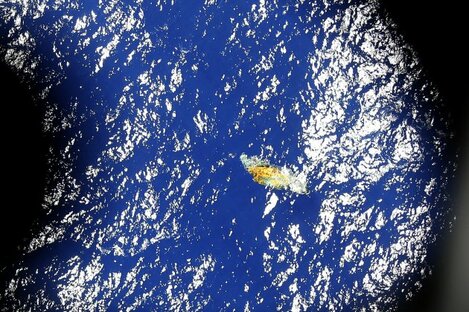 A piece of unknown debris floats just under the water in this photo taken from a NZ jet involved in the search effort [Rob Griffith/AP/PA Images]
Earlier, officials confirmed a cluster of orange objects spotted by a search plane was just fishing equipment and not related to the missing Malaysia Airlines jet.
The crew of an Australian P-3 Orion saw at least four orange objects that were more than 2 metres in size yesterday, and the pilot, Flight Lt. Russell Adams, dubbed the sighting their most promising lead in the search for Flight 370.
Today, however, Australian Maritime Safety Authority spokesman Jesse Platts said an analysis had confirmed the objects "have nothing to do with the missing flight."
It's a frustrating pattern in the hunt for the Boeing 777, which vanished while flying from Kuala Lumpur to Beijing on March 8 with 239 people aboard: Search crews have repeatedly spotted multiple objects floating in the search area of the southern Indian Ocean, only for officials to later rule out links to the missing plane.
Australian Prime Minister Tony Abbott today acknowledged the search was incredibly complex, but said officials were "well, well short" of any point where they would scale back the hunt.
"I'm certainly not putting a time limit on it. … We can keep searching for quite some time to come," Abbott said at RAAF Pearce, the Perth military base coordinating the operation.
Includes reporting from AP. First posted at 8.04pm.